Carly Phillips guests on R@R today with Giveaway!
Reader Reaction to Characters & Giveaway
When I wrote Serendipity, book 1 in the series, I thought Nash, the middle brother, was justified with his anger at his oldest sibling who returns to town after ten years to make amends. I also thought that Nash, whose story is DESTINY, in stores tomorrow, would be a straight-forward character – A man who has to learn life isn't black and white. In the writing, I discovered that Nash had so much to learn and so much growth to experience. And it's a good thing I put him through his paces!
Why? Because as it turns out, after reading Serendipity, readers reacted very strongly to Nash. And by strongly I mean almost negatively. Readers bonded with Ethan, the hero in Serendipity, and were angry with Nash for not forgiving his brother for abandoning him for ten years. I'm so glad I didn't know about this reaction while I was writing the story!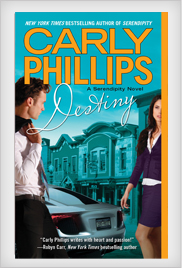 As it turns out, although I, the author, felt Nash's anger at his brother was justified, I also recognized the fact that he saw things in black and white, no shades of gray. So I put him through the wringer in DESTINY and made him earn his happily ever after. But I think if I'd known how strongly readers felt about his character, I'd have suffered from real writer's block writing him!
Anyway, I hope you all will give Destiny a try. You can read the book alone, but reading Serendipity first will make DESTINY that much richer!
To help, I'll give away 3 copies of SERENDIPITY to get 3 lucky readers started! Comment for a chance to win! Have you ever had such a strong reaction to a character in one book, you weren't sure you'd like them in their own story? (Which?)
Carly will announce the winners in this post — check back to see if you won! GOOD LUCK!
Carly's Serendipity Series
Serendipity – out now
Karma – .99 eBook novella – out now!
Destiny – 1/3/2012
Karma – 5/1/2012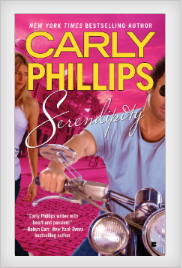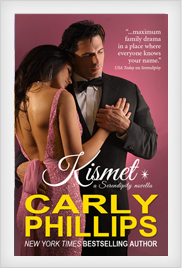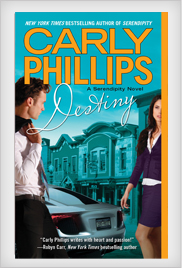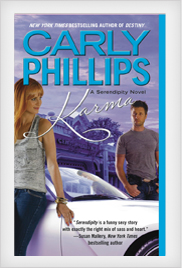 BIO
N.Y. Times and USA Today Bestselling Author Carly Phillips has written over 30 romance novels with contemporary characters that today's readers identify with and enjoy. She's a writer, a knitter of sorts, a wife, and a mom to two daughters (15 and almost 20!) and two crazy dogs (a 1 year old Havanese named Brady and a 4 year old wheaten terrier named Bailey). In addition, she's a Twitter and Internet junkie and is always around to interact with her readers.
Carly lives in Purchase, New York and would love for you to like and follow her on the 'Net!
Find Carly on the web:
Carly's Website – www.carlyphillips.com
Carly on Twitter – www.twitter.com/carlyphillips
Carly on Facebook – www.facebook.com/carlyphillipsfanpage
Carly's WINNERS:
ANN M –
Cate Sparks
Cheryl English –
Congrats!