Getting Out Of Dodge by Sally Eggert + 3 book #Giveaway!!
When we meet Josie, the main character of my debut novel, In the Dark, she is doing her best to live under the radar. She has given up the things most of us spend our whole lives working for, and taken a dead-end job, and a tiny, luxury-free apartment. She's sleeping with a guy she doesn't expect to be there for her, and who she is sure will never make a commitment to her. What in the world would prompt anyone to do all of these things? In Josie's case, the trigger was simple and extreme. She suffered a major trauma, both physically and mentally and, in the process, found out the hard way that the Mr. Right she had been engaged to couldn't be counted on to put her first, even when her life was on the line. She felt betrayed. She felt wounded. She felt as though she would never trust anyone, ever again. Everything about the life she had been living up until that point reminded her of what she had been through, and she needed desperately to escape. Her way of doing that may have involved throwing the baby out with the bathwater, and it probably wasn't the healthiest way to cope with the post-traumatic stress she was dealing with, but it got the job done quickly. It left her free, with no need to depend on anyone, which meant no risk of being let down again anytime soon. Read more
#CoverReveal – Awakened by Virna DePaul
AWAKENED is perfect for fans of J. R. Ward, Nalini Singh, and Lara Adrian, bestselling author Virna DePaul's thrilling series of paranormal romances invites readers into a seductive and dangerous world where vampires secretly exist among the general population, while the FBI tries to keep the Rogues among them from preying on humans—for killing, for turning, for pleasure.
Read more
#TinaOnTuesday – Free Snippet from Wild Hearts on sale in the New Year
Thanks for stopping by! Every Tuesday we'll have weekly snippets introducing you to the Justiss Alliance, the J-Men – hot, hunky heroes – an elite team of men out to do right.
Last week Risk gave you the lowdown on what landed him with the J-men – this week you see more of the team and their banter, learning more about the clusterfuck they encountered — can you say alpha? LOL, I hope you love these guys as much as I do – enjoy!
The Justiss Alliance is an elite team of heroes out to do right. In Wild on You, one untamable SEAL meets a woman who handles the wildest sort of animals—until she herself becomes the hunted. Read more here
Snippet: Read more
#CoverReveal – Tangled Thing Called Love by Juliet Rosetti
Introducing the hilarious new heroine, Mazie Maguire, in Juliet Rosetti's irresistible debut novel that follows the outrageous adventure of a woman on the run.
Read more
Super Saturday Sampler – she took coming of age and made it real, Monica Murphy dazzles with One Week Girlfriend
Breakout sensation Monica Murphy takes the New Adult genre by storm with the deeply emotional, completely addicting story of Drew and Fable.
ONE WEEK GIRLFRIEND by Monica Murphy, Excerpt by Random House Publishing Group
#Cover Reveal – Plain Jayne!
In Laura Drewry's funny, heartwarming Loveswept debut, Plain Jayne, a man and a woman learn the hard way that a little bit of love makes staying friends a whole lot harder. Read more
In my own words . . Wesley's POV (Switched by Cassie Mae) Free for Readers
You ask, I deliver… More Wesley for all you SWITCHED fans
And for those of you who haven't read SWITCHED yet, it's not too spoilery, so no worries
In Kayla's POV, we heard a bit about how disastrous Wesley and Reagan's date was, but we never got to see it. So here's a little bit with them in a karaoke bar. Enjoy!
Wesley

"Ooh, we should do Summer Nights," Reagan says, tapping the pen against the karaoke sheet. She's doing that thing with her teeth—when she clacks and clacks while cocking her head back and forth. I loved it when she did that. No, not past tense. I still love it. It's adorable as hell. Yeah…

"Or The Time of my Life," she says between her clacking. "I like when you do your Patrick Swayze hip thing." Read more
Burned out on lists? NPR agrees and has created a Concierge List of Bests
NPR's Concierge, and More Bests
NPR realized their list of year-end book picks had gotten a little out of hand, with 20 lists in late 2012. "You love lists. We love lists. Everyone loves lists. And in the past five years, NPR has brought you more than 80 year-end book lists — the best book club books, the best cookbooks, the best gift books, the best guilty pleasures. We listed.
You clicked. Everyone was happy."
Read more
A Very Kennedy Synchronicity by Ava Miles
Synchronicities are an interesting phenomena, I have to admit.
We stumble upon them when we least expect them. So, I had a moment of pure gratitude—so appropriate on this past Thanksgiving weekend—realizing that as we are all honoring the 50th anniversary of President Kennedy's assassination, I am about to release the next iteration in the Dare Valley series, which is set right as President Kennedy takes office.
I was like, seriously? I didn't plan this. Read more
Heather Sands from The Book Reading Gals shares favorite Holiday reads
I love reading holiday romances. There's just something magic in the air at this time of year, especially when it comes to falling in love. My very cynical mother in law would tell me it's because I meet and fell in love with my husband in December, but the truth is I have always felt this way.
As a kid I loved the fact that it was love that made the Grinch return all the presents to the citizens of Whoville. As a teenager I would glom all the romance Christmas stories. But what I really enjoyed reading was the Christmas love stories in series I already loved. Read more
Super Sampler Saturday featuring Flirt author Cassie Mae's New Adult romance, Switched
Cassie Mae redefines the New Adult genre with a novel that answers the eternal question: What do you do when you're head over heels for your best friend's guy? Read more
"It's the most wonderful time of the yeeeaaaarrrr……" by Sharon Cullen (with recipe!)
We have now entered one of my favorite times of the year and you know what my MOST favorite part of the season is?
The baking.
I love to bake. Always have. Cooking dinner? Not so much. But I can bake up a storm, especially around Christmas. Read more
Happy Thanksgiving from Maggie McGinnis
I'm Thankful For … Ribs?
Tis the season of thankfulness, and like most parents, I do my level best to make sure that spirit doesn't get lost in the flurry of Black Fridays and Cyber Mondays and Techno-Thursdays and the seventeen pounds of toy catalogs in the mailbox. I have to admit, though, that my kiddos beat me to the punch last week when they asked me to cut out a bunch of hearts so they could decorate the windows for Thanksgiving.
Read more
A Feast of Thanksgiving on the Wagon Trail ~ author, Mona Hodgson
Granted, the Boone's Lick Wagon Train Company had every intention of wrapping their journey long before our traditional Thanksgiving Supper in November. But every illness overcome and every broken wagon wheel repaired, every raging river forded and every mile walked that took them closer to their westerly destination no doubt filled the overlanders' hearts with thanksgiving.
Gratitude calls for a feast. And that thought begs the question: How would a Thanksgiving feast on the Oregon Trail in the 1860s, the setting for my inspirational historical romance, PRAIRIE SONG (WaterBrook Press Trade Paperback), differ from yours and mine today? Read more
Thanksgiving Thoughts
I've been thinking a lot about Thanksgiving. Like with many of us, my holidays have changed over the years, have gone from platters heaped with too much food and houses heaped with never-too-many people, to quiet times, like walking in splendid solitude on South Beach at Martha's Vineyard.
No matter how I've spent Thanksgiving, I have always tried to remember to reflect on those people in my life for whom I am forever grateful. There are the expected names: Mom, Dad, of course, and Aunt Lois. Then there are the names that might seem totally obscure – names like Dee Ufferman.
In the spirit of full disclosure, I've never met the woman. Read more
How Did I Come Up With That? by Christie Craig + Giveaway!
New York Times bestselling author Christie Craig joins us today on Romance at Random: When I write, the bits and pieces that make up my stories are pulled from my imagination. But my imagination draws from the true-life data filed away in my memory bank. Considering I write about bizarre situations, it should offer a clue to the craziness that happens in my life.
In the first scene of The Cop who Stole Christmas, my November 25th release, my heroine, Savanna Edwards, is soaking in a tub with a cup of moisturizing mayonnaise in her hair and a skin-toning Smurf-blue mask on her face. When she hears clanking in her front yard, she leaves her relaxing soak, dons a pink fuzzy robe, and finds a Santa Claus-dressed wrecker driver stealing her car.
Savanna's neighbor, and my hero, Mark Donaldson, is glancing out the window with his first steaming cup of wake-up juice (wearing only his boxers) when he witnesses the scene. His first muddled thought is: a Smurf takes on Santa Claus. Read more
#ReleaseDay ~ An interview with Samantha Kane & Devil in My Arms
Happy Release Day! Author Sharon Cullen interviews Samantha Kane about her new book DEVIL IN MY ARMS – enjoy!
I was thrilled to be able to interview Samantha Kane, especially after I read DEVIL IN MY ARMS. This was a very fun book and I loved the hero, Hil. And I always like a heroine who is stronger than everyone gives her credit for.
Just a little bit about the book: Read more
#MostWantedMonday with J Kenner – get your snippet here . . .
Welcome to another #MostWantedMonday excerpt as we countdown to the January 7 release of Wanted by J. Kenner, book one in the Most Wanted series of erotic romances that wilI be followed by Heated in May and Ignited in September!
Enjoy! Read more
Now just .99 – Limited Time only – Book Review: Play with Me by Lisa Renee Jones **Spoiler Alert
May Contain Spoilers
Review by Julie at Manga Maniac Cafe:
I haven't read anything by Lisa Renee Jones before, so I was eager to start Play with Me. From the first sentence I was sucked into the story. I loved Kali's voice. She's a no nonsense young woman who knows what she wants, and she's not afraid to work to achieve her goals. After suffering a major setback in her plan to reboot her life, she takes a temporary position as Damion's personal assistant. She quickly discovers that he's a beast to work for. An attractive beast, but a beast none the less! Relying on a strong sense of self, though, she quickly lets him know she won't let him push her around.

Read more
Sneak Peek Sunday – Tie Me Down by Tracy Wolff
For fans of Sylvia Day, E. L. James, and J. Kenner, the author of the edgy and erotic Full Exposure delivers another explosive tale of seduction and suspense.
As the only woman on her homicide squad, star investigator Genevieve Delacroix maintains a tough-as-nails attitude that keeps men at arm's length. She never gives in to her secret fantasies—until she meets a mysterious stranger who teaches her how little control she really has over her mind or her body. Click here for FREE Snippet! Read more
Super Saturday Sampler with Yours to Keep by Serena Bell from #Loveswept
Serena Bell makes her Loveswept debut with the captivating story of a woman living on the edge—and the man who's destined to love her. Read more
Just for you! ~ Snippet of Love the One You're With by Lauren Layne
Brand new excerpt from Love the One You're With.
Jake Malone has a bad habit of getting into Grace's cab . . . a habit she's starting to like – Enjoy!
Grace wouldn't admit it out loud even if someone paid her, but she had no idea what made Jake Malone tick. Like, none.

The man had taken Cole's public pronouncement that Jake was hot and heavy for Grace with a fair amount of dignity, and Grace thought for sure she had the upper hand . . . for all of about two days.

Right up until the moment Jake climbed into the backseat of her cab following Alex Cassidy's birthday celebration at a trendy West Village gastropub. Read more
Interview with Dare to Love author Carly Phillips + BIG #Giveaway
New York Times author Carly Phillips (recent release DARE TO LOVE) is visiting us on R@R today — *waves, hi Carly* — thanks for being here and please feel free to ask Carly a question of your own – Happy Hump Day!!
When you write, do you know where the story is headed exactly or do the characters surprise you? Read more
Super Sampler Saturday with Erotic Romance Tie Me Down by Tracy Wolff
For fans of Sylvia Day, E. L. James, and J. Kenner, the author of the edgy and erotic Full Exposure delivers another explosive tale of seduction and suspense. Read more
Culture Clashes in Contemporary Romances by Megan Mulry and Serena Bell
MM: I'm so excited to be here at Romance@Random with you, Serena!
SB: Me, too, Megan! Thanks so much for including me in this conversation.
Why don't we start by talking a bit about our Culture Clash Heroes and Heroines?
SB: Yours to Keep's hero is Ethan Hansen, a sexy pediatrician—white, well-off—with a deep protective streak that only needs the right woman to unleash it. Ana Travares, is a Dominican Spanish tutor living in the U.S. without documentation—she's done a great job of making a life for herself, but she's never allowed herself to love or be loved. Ana's whole life is a culture clash, because she can't even tell her friends the most basic truths about who she is, or risk being deported. Plus, Ethan and his son, Ana's tutoring student, live in a wealthy town in a big house, while Ana is crammed into a tiny apartment with her siblings, niece, and nephews. And of course Ethan never has to worry about money, the language barrier number, or whether the local police will help him or deport him. But despite the cultural divide, Ana and Ethan are oddly kindred, because neither of them feels like they quite belong where they are.
MM: I have lots of culture clashes going on, with both the main characters and secondary characters. My heroine, Claire, is a very wealthy British aristocrat whose assets have been depleted by her husband (NOT the hero) and subsequently frozen. She moves to NYC to start over; she gets a job (perish the thought!) and reconnects with her first boyfriend from the summer before she got married. The hero, Ben, is Lebanese-American, super academic background, driven, kind of bitter, but really straightforward. When they reconnect after twenty years, the two of them often misconstrue even the most basic interactions: when Claire thinks she is being demure, Ben thinks she is being an icy bitch; when Ben thinks he is being passionate, Claire thinks he is angry. (Well, he was a little angry that one time.)
Read more
Book Review: Yours to Keep by Serena Bell, reviewed by Mia's Point of View
Yours to Keep is such a wonderful sweet story!It's probably one of the sweetest stories I have ever read!!
It's a true romance! Read more
Winners Chosen: The Way Home by Cindy Gerard + Giveaway!!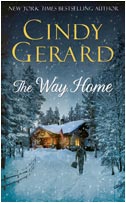 Many of you may know that I got my start at Loveswept many, many books ago. I always loved writing Loveswepts because I was never required to stay within a specific 'box' as so many category lines require. I could write about cowboys, or do something comedic, or write suspense or even delve into paranormal. So the Loveswept line is still much beloved to me even though I now write single title suspense. Read more
Interview with Sharon Cullen and her new release Loving the Earl
In Sharon Cullen's, LOVING THE EARL, Claire Hartford is determined to have the adventure she'd been denied when she was younger. A young widow held under the thumb of her abusive late husband, Claire vows that she will have her fun no matter what. But Lord Nathan Ferguson has other ideas. Tasked to watch out for Claire by her overprotective brother and on a mysterious mission of his own, Nathan has no idea what he's getting into…
Interview by Samantha Kane, Devil In My Arms releases later this month! Read more
Deleted Scene (love them!) ~ Wild Child by Molly O'Keefe
I wrote a blog post at Smart Bitches Trashy Books about how women learn about sex and how we talk to girls about sex and the important role that romance novels play in that education. This was something I thought a lot about while writing Wild Child, about how sex creates women's identities, how formative those "birds and bees" conversations can be not only for kids, but for adults having the conversation.
Originally, in Wild Child I was planning on Jackson's sister Gwen, realizing she was gay. But there was already so much going on in the book, I backed off that idea because I knew I wouldn't be able to give it the word count it needed. I did however write a scene between Jackson and Gwen in which he attempts to "have the talk."
So this is a deleted scene from Wild Child. I hope you enjoy. Read more
Super Sampler Saturday with Wild Child by bestselling author Molly O'Keefe
Monica Appleby is a woman with a reputation. Once she was America's teenage "Wild Child," with her own reality TV show. Now she's a successful author coming home to Bishop, Arkansas, to pen the juicy follow-up to her tell-all autobiography. Problem is, the hottest man in town wants her gone. Mayor Jackson Davies is trying to convince a cookie giant to move its headquarters to his crumbling community, and Monica's presence is just too . . . unwholesome for business. But the desire in his eyes sends a very different message: Stay, at least for a while.
Jackson needs this cookie deal to go through. His town is dying and this may be its last shot. Monica is a distraction proving too sweet, too inviting—and completely beyond his control. With every kiss he can taste her loneliness, her regrets, and her longing. Soon their uncontrollable attraction is causing all kinds of drama. But when two lost hearts take a surprise detour onto the bumpy road of unexpected love, it can only lead someplace wonderful. Read more