Ruthie's Reality: When It Rains, It Pours
Ruthie's Reality: When It Rains, It Pours
Welcome back to Ruthieland, everyone! It's rainy here in my reality today. Rain, rain, rain. Read more
Ruthie's Reality: On First Impressions and Sex in Hammocks + Giveaway
Ruthie's Reality: On First Impressions and Sex in Hammocks
Welcome back to my reality, everyone! The status of my reality is Unknown, since I woke up and wandered out to the living room to find a blanket and what is obviously a puke bowl (empty, but strategically positioned just in case) next to one chair. I don't know who's sick or how sick, because the rest of the household is asleep, but it doesn't look good. Read more
Ruthie's Reality – It's All About the Chest Hair
This week we're going to try out a new format. I've been thinking about how to bring you a glimpse of my "reality" through this column — but the Reality of Ruthie is that I spend most of my time sitting in a purple chair in my office, writing books.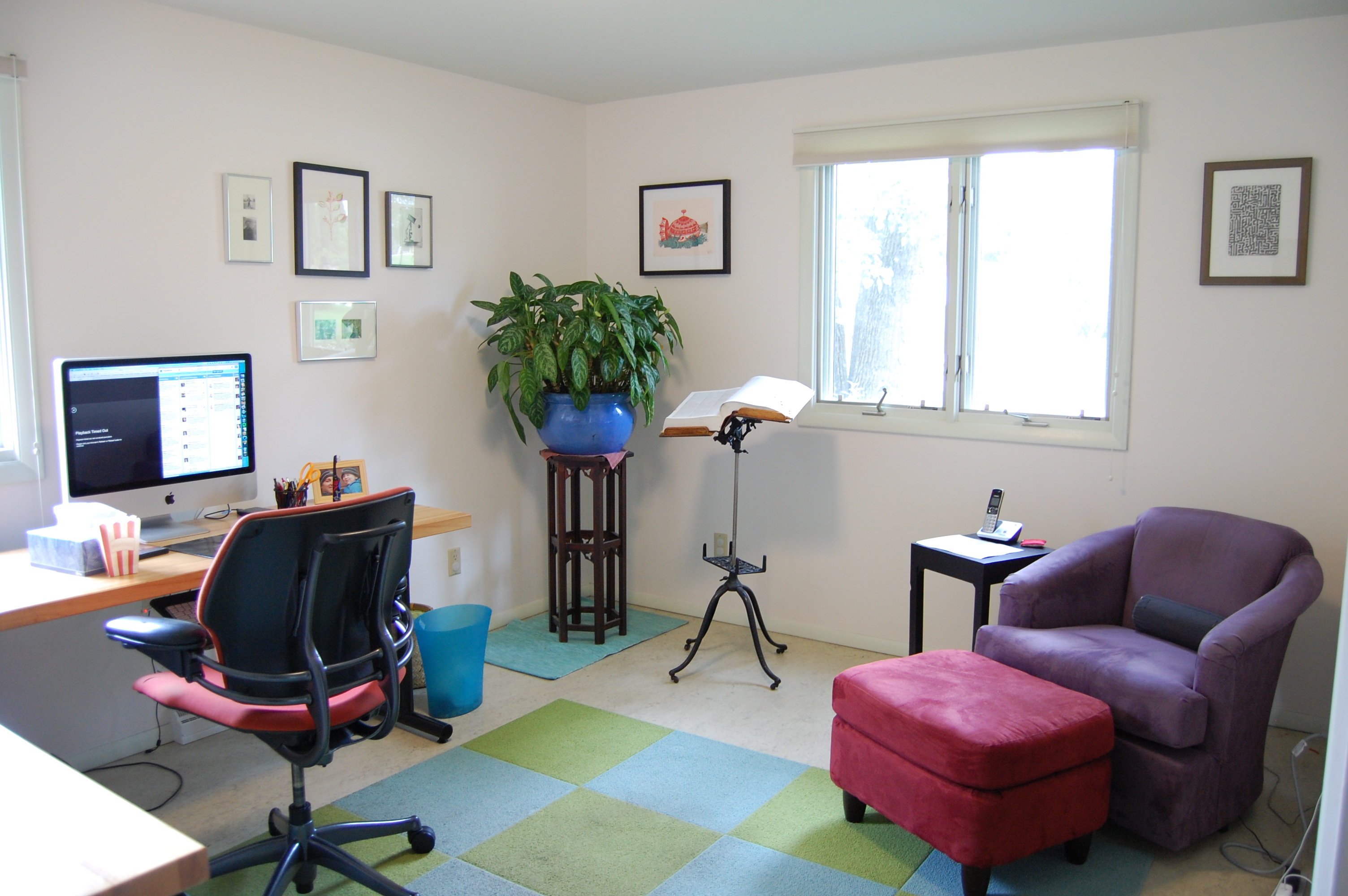 (See? There's my purple chair.)
My life this morning consists of thoughts like "I have to throw another load of towels in the wash" and "If I have to transform Kidlet's insecticon thing one more time I'm going to scream" and "Last night I had a dream about Pete Rose."
My reality is writing this blog post and thinking about the enormous amount of work I have to do this week and wondering if it is even remotely possible that I'll get it done around all the Kidlet-chauffering and random doctor's appointments and life interruptions. It's a good reality. But it's probably not all that different from yours, except that my work is writing books, whereas yours might be something else. Read more
Ruthie's Reality – Truly on Wattpad, yeah it's cool
Watt? An Introduction to Wattpad
A week ago Monday, I began serializing my novel Truly on Wattpad. Read more
Ruthie's Reality: Four Questions for Debut Author Lauren Layne + Giveaway!
It's release day for Loveswept debut author Lauren Layne's fabulous After the Kiss (which I got to read in advance, nyah-nyah), and I managed to buttonhole Lauren long enough to get the inside scoop on the novel.
After the Kiss made me laugh out loud several times. You think it's going to be all fluffy fun and then it keeps tricking you with these hilarious and intelligent close observations that you don't quite expect. Read more
Ruthie's Reality: Between the Sheets with Molly O'Keefe + #Giveaway
Welcome back to Ruthie's Reality! Did you miss me? Of course you did.
I've been living the glamorous life of the romance writer, most recently in Iowa, where I attended a family pig roast (as one of two token vegetarians) and glamorously hobnobbed with my relatives. I got to hold a lot of babies, and I noticed that they were all more cheerful than my baby had ever been. What's up with that? Read more
Ruthie's Reality: Amour et Chocolat et Sex on Cold Marble Countertops
Today, I'm welcoming Laura Florand to Ruthie's Reality. Because, well, I'm kind of in love with her books. Mary Ann Rivers is the one who introduced me to her, through much poking and prodding (reeeeeead it, read it read it read it) and also when that didn't work she bought me The Chocolate Thief, so then I had to. Read more
Ruthie's Reality: Making it Last, Release Day!! #RWA13 There is romance in marriage. + #Giveaway
That's the thesis of Making It Last, the fourth book in my Camelot series, which releases today from Loveswept.
"The thesis?" you say. "Since when does a romance story need a thesis?" Read more
Ruthie's Reality: Meet Robin York, Ruthie Knox's alter ego
So some of you might already know this, but a few weeks back I made a big announcement on my website: I'm splitting into two different people!
Or, okay, maybe that was a bit melodramatic. The truth is, I'm adopting a second pen name—Robin York—under which I'm going to write New Adult romance for Random House.
So why this new thing? Well. Reasons. We'll start with the easy bit: Why "Robin York"? Read more
Everything You Need To Know about Flirting with Disaster in Seven Random Questions + Giveaway
Today is release day for Flirting with Disaster, the third installment in my Camelot series. Yay!
I feel as though all discussions of Flirting should begin with the phrase "And now for something a little different…" RT Book Reviews agrees: RT made Flirting with Disaster a "Top Pick" for the month of June, and reviewer Morgan Doremus leads her assessment (4.5 stars out of a possible 4.5!) with the declaration, "You have never met a romance hero quite like Sean Owens."
Indeed, you have not. Read more
Ruthie's Reality: Ruthie Interviews Elisabeth Barrett
Welcome back to Ruthie's house! Today I'm talking to Elisabeth Barrett, whose third Star Harbor book was just released with Loveswept. Star Harbor is a beautiful, charming Cape Cod village of the sort where one would like to live. It is quite unlike my fifth-grade memories of Cape Cod, which involve crowded tourist traps, saltwater taffy, and long hours spent browsing at the Fashion Bug.
But I digress. Hello, Elisabeth! Read more
Ruthie's Reality: The Glamorous Wardrobe of a Romance Writer + $10 EGC giveaway!
Long, long ago, when I became a freelance editor, my dear friend Rebecca started telling me every time she saw pajama pants on sale. Because I worked at home, you see, she assumed that I never wore real pants. Why would I, if I didn't have to?
Ah, the glamorous wardrobe of the work-at-home writer. I do, in fact, wear pants, almost every day. My writing uniform is jeans, retired running shoes (currently hot pink, because they were on sale), and a long- or short-sleeved T-shirt, depending on the season. I have never owned a feather boa. Read more
Ruthie's Reality – $10 EGC Giveaway + sequel to About Last Night!!!
Hey, everybody! I have an announcement! Do you have your typesetter's tray full of punctuation marks at the ready? Because this is going to require ALL the exclamation points.
Read more
Ruthie's Reality: Bring Your A-Game for Romancelandia's Version of March Madness
March Madness can suck it.
Wait, did that sound harsh? Okay, maybe a little. But while NCAA basketball is all well and good, romance readers have something better–DABWAHA!
Book Trailer – Along Came Trouble, by Ruthie Knox – on sale today!
Order now, just $2.99
Ruthie Knox's Camelot series continues in this sizzling eBook original novel, featuring two headstrong souls who bump heads—and bodies—as temptation and lust bring nothing but delicious trouble.
An accomplished lawyer and driven single mother, Ellen Callahan isn't looking for any help. She's doing just fine on her own. So Ellen's more than a little peeved when her brother, an international pop star, hires a security guard to protect her from a prying press that will stop at nothing to dig up dirt on him. But when the tanned and toned Caleb Clark shows up at her door, Ellen might just have to plead the fifth.
Back home after a deployment in Iraq and looking for work as a civilian, Caleb signs on as Ellen's bodyguard. After combat in the hot desert sun, this job should be a breeze. But guarding the willful beauty is harder than he imagined—and Caleb can't resist the temptation to mix business with pleasure. With their desires growing more undeniable by the day, Ellen and Caleb give in to an evening of steamy passion. But will they ever be able to share more than just a one-night stand? Read more
Ruthie's Reality – What Is It About Military Men? + Giveaway!
With the release of Along Came Trouble coming in just a week, I've been writing a lot of blog posts and thinking about different sorts of military heroes.
The hero of Along Came Trouble, Caleb Clark, is a charmer. A noncommissioned officer and fifteen-year veteran of the Military Police, he's a hard worker, a caretaker, fond of wry humor and incapable of cutting himself a break if he hasn't gotten the job done. He's more G.I. Joe than Elite Fighting Machine — an ordinary guy who's spent most of his life in service to the military and is ready, now, to take care of his family instead.
What I love about Caleb — and military heroes more generally — is not their physical strength or their tendency to be commanding. As I am constantly reminding my four-year-old son, I don't like being ordered around, and if a man's biceps get too big, I'm more likely to mock than swoon. Read more
Ruthie's Reality: About Swag + Giveaway!
Mostly when I think about swag, I think "yar," because the word reminds me of pirates, and pirates remind me of the word "yar," which I like very much. Yar!
But let's not get distracted by pirates, even if we'd like to talk about what a great pirate Johnny Depp made in the Pirates of the Caribbean movies. And let's not talk about Johnny Depp, either, even though it's tempting. Because, swag!
Specifically, I'm thinking about author swag — those goodies authors give away to readers at signings and conferences or send in the mail as prizes alongside autographed books. Swag = bookmarks, monogrammed flashlights, scented soaps, stickers, postcards with bare-chested men on them — fun freebies that remind you of the author and/or the book being promoted. Read more
Ruthie's Reality: Interview with Elise Sax + Giveaway!
Welcome back to Ruthie's Reality, chickens! Today author Elise Sax agreed to chat with me about her debut novel, An Affair To Dismember, which releases on January 29. If you like Janet Evanovich or are generally a fan of first-person heroines who struggle to keep their act together but nonetheless manage to attract the attention of various hunky men–and let's face it, the appeal of this particular scenario is difficult to resist–you'll want to check out this book.

Welcome, Elise! Okay, let's start off with a tough question: the heroine of your Matchmaker Series, Gladie Burger,
has been compared to Stephanie Plum — but I can't help but note the similarities between hapless, disorganized Gladie and the official Elise Sax author photo. (Also, the presence of ice cream and Cheez Puffs.) Care to comment?
I love Stephanie Plum, and I'm a big Janet Evanovich fan, but it's true, I'm pretty similar to my heroine, Gladie Burger. Recently I was at lunch with my editor and publisher, and they told me that I spoke exactly like I wrote. I didn't know how to take that since I write pretty wacky characters and scenes….And yes, I eat a large amount of garbage while I write, unfortunately. It's cosmically unfair that I write better when eating chips, peanut M&Ms, and Sour Patch Kids. Come to think of it, pizza would be great for breakfast this morning! No, I didn't say that. Forget I mentioned carbs. (I'm trying to learn to love egg whites.) Read more
Ruthie's Reality: An interview with Stefanie Sloane + Kindle & $50 GC Giveaway!
I'm delighted to have Stefanie Sloane here today to talk about The Scoundrel Takes a Bride, the latest release in her Regency Rogues series.
Stefanie burst upon the historical romance scene with 2011′s The Devil in Disguise, which was nominated for the Romance Writers of America's RITA award for best first book. Her historical romances have witty dialogue, strong heroines, and lots of intrigue. I was lucky enough to have my Christmas novella collected alongside Stefanie's in the Naughty and Nice Christmas anthology. Read more
Ruthie's Reality: On Molasses Cookies and Hero-Speak + Cookie Giveaway!

It's that time of year again . . . if by "that time of year" you mean "the time of year when we have to bake a lot of cookies, mail a lot of packages, and frantically try not to think about the work we're not getting done so as to remain in the 'holiday spirit.'" Or maybe that's just me.
In any case, pass the spiked eggnog, will you?
When I was a kid, I thought eggnog was a very grown-up, festive beverage. My grandparents served it to me (unspiked) in a grown-up glass, sprinkled with nutmeg, and it always made me feel very worldly and mature to drink it.
These days, I can hardly choke it down, it's so sweet and thick. But I might be able to manage with a stiff shot of brandy… Read more
Ruthie's Reality: "Men Who Cook and the Women Who Drool on Them" + Giveaway!
Fantastic sex weakened her resolve. That, or the sight of Nev wearing pin-striped trousers and nothing else while cooking her dinner was just way too good to pass up. When he chopped garlic and pepper and tomatoes into tiny pieces, the muscles of his forearms flexed, and her eyes were drawn to the small, sure movements of his fingers and hands on the knife. It was terribly sexy.

—Probably Ruthie's favorite moment in About Last Night, a.k.a. the part where Nev cooks vegetables half-naked
Ruthie's Reality – join her in a discussion about sex scenes, plus a giveaway!
In Praise of Bad Sex Scenes
I love a good sex scene. I mean, of course I do, right? I write erotic romance! It's practically in my job description. But I really do feel that there's nothing like that moment when the characters get together for the first time — the strong emotion, the (expected or unexpected) intimacy, the pleasure and its aftermath.
And yet it occurred to me the other day that my very favorite sex scenes aren't actually the good ones. They're the bad ones. Read more
Ruthie's Reality: My fascination with Royal fairy tales
I was four years old in 1981, the year that Diana married Prince Charles in that gigantic, poofy, fairy-tale dress. I had a long, gauzy curtain to play dress-up with, and a pair of sparkly silver shoes (size 10) inherited from my mother. I put the curtain on my head and the shoes on my feet, and I clomped up and down the hallway, pretending I was walking down the aisle. I was beautiful. I was enacting my happily-ever-after. I was . . . Olive Oyl.
No. I don't understand it, either. I will say, however, that I've always been rather short. Perhaps I envied her height.
Read more
Ruthie's Reality – her thoughts on Banned Book Week
It's here - Banned Book Week officially begins 9/30 ends 10/6 and this year is its 30th anniversary! Amazing to see some of the books that have made the list – looking back, it seems ridiculous those books were included. Now for Ruthie's point of view, always interesting!!
"In Praise of Troubling Ideas"
Today kicks off the thirtieth annual Banned Books Week, an event sponsored by the American Library Association to highlight "the value of free and open access to information." According to the ALA, "Banned Books Week brings together the entire book community –- librarians, booksellers, publishers, journalists, teachers, and readers of all types –- in shared support of the freedom to seek and to express ideas, even those some consider unorthodox or unpopular." Read more
Ruthie's Reality – thanks for stopping by!
*taps microphone*
Is this thing on?
Can you hear me in the back?
Right! Okay, so. Welcome to Ruthie's Reality!
I'm your hostess, Ruthie Knox, lover of all things smutty, funny, brainy, bookish, and swoony. Read more
Ruthie's Reality – she's sexy, sassy & witty, that's Ruthie!
Ruthie Knox will regale you with thoughts about everything! She'll inform you about what she's reading, what she's writing in that Ruthie Knox 'tell it like it is' style. Stop and meet Ruthie and see what she's up to . . . . here's a sneak peek!


Welcome to the reality of Ruthie Knox! I write witty, sexy romance novels for grownups. If you like your heroines sassy, your heroes tortured, and your endings happy, you're in the right place.
#4

I'm between releases now, but I've been writing writing writing, and I have a lot of exciting stuff in the pipeline.
In the meantime, About Last Night continues to win readers' hearts. Or maybe that's Nev doing it. Either way, my June 11 release has received a lot of love and rave reviews! It's a top pick with five stars at The Romance Reviews, where reviewer Bridget said, "Every once in a while, a book comes along that not only reminds us why we love romances, but completely justifies that love. This book was heartfelt, honest and moving, and I love every moment of it, right up to the perfection of its final scene." Thanks, Bridget!
RT Book Reviews gives About Last Night 4.5 stars and says, "Knox creates beautifully flawed characters that are as charming as they are real. Readers will cheer for the cautious Cath and wish that they had a their own Nev — a proper English gentleman (who is not so proper in the bedroom) — waiting for them at home!"
Anyway – glad to be here & we'll talk more Monday – See ya!
Rk