SWEET REWARD, author Christy Reece is reviewed by Danielle – Must Read! Enjoy
Danielle reviews, SWEET REWARD:
Jared Livingston not only likes living life on the edge, but his job as an operative for Last Chance Rescue gives him all the rush he needs. His new case happens to hit close to home when his ex wife calls with her baby has been kidnapped. Although they don't get along he feels like he needs to help out no matter what it may cost in the end.
Mia Ryker is an ex-Last Chance Rescue operative who now runs her own rescue business in Chicago. When the case starts not to make compete sense she is brought in to help Jared put all the pieces together to get the baby back safe. This includes working with the sexiest man she has ever encountered.
Sparks start to fly as Jared and Mia start to work very closely together. Mia takes a chance and decides she wants to go undercover, but Jared isn't sold on the idea. She is bringing out feelings in him that are more than confusing so he tends to try to ignore them as the case starts to progress. In the battle with himself he finds it more difficult than he has expected.
Reece brings you on ride that is emotional and action packed from the beginning to the very end. I wouldn't say I fell in love with this book but it was a book that kept me on the edge of my seat wondering what in the world is going to happen. Jared is a hero that you easily like or instantly don't. I found myself on the fence about his character throughout reading. In the beginning he is so cold and hard, I got the feeling he would never soften, but as the story did progress it became clear on why he was the way he was. So when he does a 180 i have to admit I was more than pleased.
I loved the fact that Mia brought in her emotions in everything she did. They were both just so different that they ended balancing each other out very well. Mia didn't end up being so kick ass as I first thought of her to be, but none the less she was the perfect heroine for Jared. The way she doesn't back down to him or anyone else makes him want her even more than he would have ever expected. The way she ends up gets to him is really is a classic.
No relationship is ever easy especially not there's. They will have to work at their relationship to keep it in balance. Although the case takes you on turn after turn, you can't help but feel the tension between these two which to me was the best part of the story. Sweet Reward will leave you with just that… a reward that will leave you with an ending that you will never forget.


AND MORE from USA Today:
By Mary Grzesik, USA TODAY
CAPTION
Genre: Romantic suspense
Sweet Reward is the final book in Christy Reece's Last Chance Rescue series. It's a book I wanted to savor but raced through because of the non-stop excitement.
Jared Livingston is an LCR operative. He is a tough, aloof and tortured hero and an adrenaline junkie. He has no family and has drifted away from his only friend, Lucas Kane, a fellow LCR operative.
Mia Maxwell, the younger daughter of a diplomat, is the dynamo who runs Ryker's Rescue. Mia suffered debilitating injuries during a kidnapping when she was younger, and her tough road back to health has made her sassy and smart-mouthed, tough and graceful at the same time. She originally worked for Noah McCall at LCR but was fired for not following op team rules.
Just as Jared is finishing a rescue op, his ex-wife, Lara, calls him because her baby daughter has disappeared. He rushes to Paris to try to help her and her husband. On the other side of the ocean in Chicago, Mia is helping drug addict Sandi Winston in her search for her baby. Sandi sold her daughter but, now that she's sober, is regretting her actions. Mia calls on Noah for info. There's buzz about infant kidnappings in various parts of the world, and she wants to know if they're connected.
Jared is sent to Chicago to meet with Mia. Their chemistry is off the charts. Mia is nervous in Jared's presence and comes off a bit flaky. For the first time in years, Jared finds himself smiling and wanting to laugh. He can't resist her charm and grace and underestimates her skills as an operative. He just can't believe that this whirlwind sitting on the floor wrestling with her five dogs is capable of working with him. Of course Mia rises to the challenge, and you'll cheer her on.
During their investigation they see a few names that are connected to one person. Mia is shocked because she briefly dated this man, whose worst sin, to her, was being full of himself and boring. Philippe Ricard runs the Ricard Charitable Foundation. He is a conceited megalomaniac operating under the guise of a caring, generous citizen. His foundation helps build schools and libraries in impoverished areas. His newest endeavor is under the radar, taking children from questionable circumstances and placing them with deserving families for large amounts of money. He made an exception with Lara's child. At a fundraiser Philippe overheard Lara, who is a doctor, complaining of being tired because of her baby, and he considered that reason enough to take her.
As the relationship between Mia and Jared heats up, Mia realizes that she is the way into Philippe's inner circle. Jared is against it, but Mia has Noah's support. Jared has to listen in while Mia goes on "dates" with Philippe. She finds him distasteful, but her "interest" feeds Philippe's massive ego. He sees her as perfect wife material for him. Meanwhile, Mia hates that Jared is listening to every word of their chats. But Jared can hardly stand to listen. The only thing that helps them both is that Jared is waiting for Mia at the end of each "date."
When their covers are blown, Mia and Jared must not show their feelings for each other. The only way to survive is through sheer will. Eye contact is their only form of communication until they can make their move, and this poignant moment in the midst of such heart-racing suspense is just incredible. I loved Mia and Jared's banter and chemistry. I loved seeing how Mia's joy and heart altered Jared's perception of the future he thought he'd have. This book is definitely a "sweet" end to the series.
Mary Grzesik is a book lover, beta reader and contributor at the Romance & Oreos Book Club.
You might also be interested in HEA's reviews of Christy's Sweet Justice and Sweet Revenge and HEA's interview with Christy.
Sweet Reward by Christy Reece
Sweet Reward by Christy Reece
WHEN RISK IS THE REWARD—LET THE DANGER BEGIN
Adrenaline junkie Jared Livingston has found the perfect blend of exhilaration and danger in his new job at Last Chance Rescue. Raised to depend only on himself, Jared tried marriage, but the end of the relationship renewed his belief that he was meant to be a loner. Now a desperate plea from his ex-wife puts Jared in the unique position of using the skills she despised to rescue her missing daughter. The case brings Jared face-to-face with Mia Ryker, the only agent ever fired from LCR—for playing too far outside the box. Now Mia's back, and as a team, they're as compatible as fuel and fire—blowing off tension in each other's arms, blowing open the secret life of a wealthy philanthropist and his shameful dealings. Their search for the innocent child takes them to places neither have been before—to the edge of danger and to the edge of their hearts.
IF I SHOULD DIE by Allison Brennan + Giveaway!
One of my favorite things about blogging is talking about books.
Writers are readers first, and I discovered my love of reading young. The first series I remember was Trixie Belden. Now, Random House is reissuing the series. My copies, all in trade paperback, are yellowed and well read, and my 8-year-old daughter is now reading them.
After Trixie, I graduated to Nancy Drew, then moved to Agatha Christie by the time I was 11. Sure, I read Judy Blume and Paula Danziger and Lois Duncan and many other "young" young adult books, but there were very few books published for tween and teen-age girls in the 70s and 80s. Today, my kids have a far bigger selection of YA books, but when I was a young adult, the YA section of my library was tiny.
I always loved mysteries (which may be pre-ordained considering my mother named me after a character in an Ed McBain book) but after Agatha Christie, there wasn't much of interest to pre-teen. I read police procedurals by Lillian O'Donnell and others, though I was probably too young for them. The romances my mom had on her shelves were the sweeping, epic sagas or glitzy books that I didn't care for, with the one exception of the John Jakes Kent Family series.
So maybe it's no surprise that I, like many of my YA peers, moved into "adult" books early. At 13 I discovered Stephen King through THE STAND—still one of my all-time favorite books—and I've read most everything he's published. In the 90s I started reading romantic suspense—the early Nora Roberts books from Bantam, Jayne Anne Krentz, Susan Anderson, and more. And I realized that I loved the genre—the mystery and suspense I craved coupled with a happy ending between two worthy people. Unfortunately, I couldn't find enough to read in the genre.
Fast forward more than a decade. At 31, I was on maternity leave after giving birth to my third child. I had a career, a mortgage, a husband, and now three kids. I didn't realize that one of the sacrifices I made was reading less. It was one of those gradual things that happens—like gaining weight—where all of the sudden you look at yourself in the mirror and realize you're twenty pounds heavier. I'd gone from being a 4+ books a week reader to 1 book a month reader because of all the demands on my time.
I stacked all the books I wanted to read on two shelves and started in. During the four months I was on leave, I read 77 books.
I have always been a writer as well as a reader, but like many women, family and career took precedence over dreams. It wasn't until I read THE SEARCH by Iris Johansen and THE THIRD VICTIM by Lisa Gardner that I realized not only did I miss reading, I missed writing. They books were gritty, edgy, heavy on the suspense and light on the romance. But because they were romantic suspense, they had a happy ending—and after what Iris and Lisa did to their characters, they deserved the happily-ever-after. These were exactly the types of books I'd been waiting for. This was what I wanted to write.
Those two books changed my life. They not only rekindled my love of reading, they motivated me to finish one of the over 100 stories I'd started.
When I "discovered" Nora Roberts and Susan Anderson, and later Lisa Gardner and Iris Johansen, I soaked up their backlist—through the library, borrowing from my mom, or buying new.
What are some authors you discovered them then bought their backlist – or more books in the same genre because you found a whole new world of books to love?
Remember 5 books are given to randomly chosen commenter's weekly — winners announced on Sunday – good luck!
If I Should Die is Allison Brennan's 17th romantic thriller, and the third book in the Lucy Kincaid series. Fresh fiction says of If I Should Die, "Non-stop action, spine-tingling suspense … a wonderful addition to a great series." And Joyfully Reviewed made it a recommended read. "If I Should Die is a spine-tingling chiller that will wrap you up in its mystery and take you on a heart-pounding race to the breathtaking finale!" Allison lives in Northern California with her husband and five children.
If I Should Die by Allison Brennan
If I Should Die by Allison Brennan
A TRIP TO THE DARK SIDE
Aspiring FBI agent Lucy Kincaid and her P.I. boyfriend, Sean Rogan, are heading to the Adirondack Mountains for a pleasant romantic getaway when they detour to help troubled friends, owners of a new resort who are battling malicious vandals. After Lucy and Sean pursue an arsonist into an abandoned mine shaft, Lucy stumbles upon an even more heinous crime—and the perfectly preserved remains of its victim.
The only thing more disturbing than the discovery of the corpse is its sudden disappearance. While the local police remain skeptical, Lucy is dead certain that there's a connection between the sabotage at the resort and the murder—one that the less-than-neighborly citizens of Spruce Lake seem to have a stake in keeping hidden. Then, when a cold-blooded sniper targets Sean and Lucy, FBI agent Noah Armstrong enters the fray to ensure that more bodies don't hit the ground. Now three outsiders race to untangle a violent conspiracy before they end up like the rest of Spruce Lake's secrets: dead and buried.

It's a one-day readers event (limited to only 50 romance authors) and Meg Cabot, Christina Dodd and Gail Garriger are keynote speakers.
Know thy Enemy / Villain + Giveaway!
If You Hear Her, by Shiloh Walker – NOW on sale!
Know thy Enemy / Villain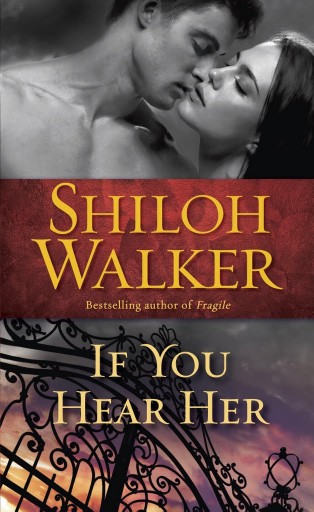 I've been thinking a lot about villains.
Maybe it's because I just got back from the Moonlight & Magnolias Conference in Atlanta, Georgia and I hit three workshops on romantic suspense and villains–Mary Burton & Kate Brady in particular did astounding jobs.
Maybe it's because I'm spazzing about my new trilogy, the Ash books–If You Hear Her, If You See Her and If You Know Her.
Maybe it's because I'm finishing up a new book with an interesting villain–this villain is rather enamored with the heroine, in a unique sort of way.
But I'm focused on villains. Bad guys. One thing that those two workshops seemed to hit on was making sure the bad guy isn't just a cookie cutter characters…a cartoon sort of villain. They focused on setting, on pacing…and on the villain.
We need to get to know him.
What makes him tick.
What makes him creepy.
What makes him human.
One of the freakiest villains I can think of…Hannibal Lecter, the character portrayed in the book and movie, Silence of the Lambs. Freaky. Scary. Yet he seemed to have a soft spot for the heroine, Clarice Starling.
It humanized him. It didn't make me root for him, but that humanity gave him a deeper aspect and it also gave that much more depth to the book.
Who are some of the freaky, scary villains that stand out in your mind?
Can you name one aspect about that villain that also somehow made them seem just a little human?
For Lecter, in my opinion, it was his soft spot for Clarice.
Before you go, I wanted to share a short snippet from the first book of the Ash Trilogy…
If You Hear Her
Right now, she could see…
Right now, she could touch.
And more…she could be touched.
As he ran his hands down over her body, stripping away her clothes, Lena lifted her eyes upward and stared at the sun again.
Lost herself in the warm golden glow and the feel of a man's hands on her body.
She could see…
She could touch…
She could feel…
She could hear—
"Help me!"
*
Lena came awake with a gasp. Her heart knocked against her ribs and she shivered as cool air danced over her sweat-slicked body. A breeze drifted in through the open window.
It was cool…not cold. But she was freezing.
Hearing one low, questioning yip, she held out her hand. Puck pressed his nose against her palm and she heaved out a breath. The dog's body was tense—all over tense and he had his hackles up.
"Sorry, boy. Just had a bad dream," she muttered. She'd gone and freaked her dog out.
As she started to lie back down, she heard it.
A voice.
"…help me…"

Shiloh Walker
http://shilohwalker.com

remember 5 winners chosen every week to win a free book – winners announced on Sunday – good luck!
If You Hear Her by Shiloh Walker
If You Hear Her by Shiloh Walker
A CRY IN THE WOODS
The scream Lena Riddle hears in the woods behind her house is enough to curdle her blood—she has no doubt that a woman is in real danger. Unfortunately, with no physical evidence, the local law officers in small-town Ash, Kentucky, dismiss her claim. But Lena knows what she heard—and it leaves her filled with fear and frustration.
Ezra King is on leave from the state police, but he can't escape the guilty memories that haunt his dreams. When he sees Lena, he is immediately drawn to her. He aches to touch her—to be touched by her—but is he too burdened by his tragic past to get close? When Ezra hears her story of an unknown woman's screams, his instincts tell him that Lena's life is also at risk—and his desire to protect her is as fierce as his need to possess her.
Book Review by Anne – SWEET REVENGE & Giveaway!!
SWEET REVENGE by Christy Reece
(Book #8 in the Last Chance Rescue Series)
Reviewer: Anne
Grade: A
"Revenge is sweet and not fattening." Alfred Hitchcock
In a case of mistaken identity, Jamie Kendrick is abducted and abused by a maniac – then sold to another madman for his evil son's entertainment. Dylan Savage, an operative working for Last Chance Rescue serves as her knight-in-shining-armor when he rescues her from Stanford Reddington's grip. With a his-word-against-her-word complaint, no actual physical proof, and the use of his wealth and powerful influence in Spain, Reddington remains free of prosecution. Now Jamie wants revenge for what was done to her, but even more importantly she wants this monster locked away where he can never hurt anyone again. Justice will be the sweetest revenge of all.
Armed with a few secrets of her own, Jamie seeks assistance from Noah McCall, the head of Last Chance Rescue, to prepare her physically for a face off with her abuser. When Noah balks at Jamie's plans for revenge, she issues a "with or without your help" ultimatum. Confronted with his choices, Noah McCall agrees and assigns Dylan the job of training Jamie. What is unknown to Jamie is that neither Noah or Dylan have any intention of letting her play the avenging angel. The training is only a pretext for getting the information she keeps to herself and keeping her safe while LCR takes down Reddington alone.
No plan is ever failsafe and this one blows up in Dylan's face when his trainee proves to be more than she first appeared. He underestimates her strength and willpower as his own falters when he and Jamie become intimate. Their chemistry is sizzling and the author's extremely well written dialogue between the lovers sweetly intensifies each encounter.
From the first page to the last, you are caught up in a story masterfully thredded with danger and desire. Emotionally intense, positively captivating, heart wrenching and drool worthy, the love story between Jamie and Dylan is one that won't disappoint those of us who enjoy a full impact romance. This couple is irresistible, their romance a memorable one, and their HEA just perfect!
SWEET REVENGE is an unforgettable story, with an equally unforgettable cast of characters. You want to savor each and every detail. As with all the other books in this series, reappearances by former characters add an extra dose of sweetness to this one as well. Still going strong and packing a wallop of a punch, the 8th book in the popular Last Chance Rescue series exemplifies all the reasons why I'm a huge fan of both the series and its author, who, in my opinion, writes some of the very best romantic suspense on the market today.
QUESTION: Do you think there is ever an instance when revenge is the only answer? If so, would you be prepared to invoke that revenge?

remember every week 5 commenters will win a free book – winners announced on Sunday's good luck!!

NIGHT MOVES, Stephanie Tyler & 5 copy Giveaway !!
When Blood Isn't as Thick as Water
by Stephanie Tyler
If you've read any of my series – HOLD, SHADOW FORCE, and even the Croft ACRO series, you know that I love exploring the theme of what makes a family a family. Obviously, I believe that family isn't always blood, and that family can be about the people you choose to surround yourself with. Not everyone's lucky enough to be born into a family that loves and supports them, and many of my characters find their own support system outside the bloodlines of family and hold that tight.
Characters, like people, don't exist in a vacuum, and I like showing them surrounding by, teased by, yelled at by those who love them.
Bobby Singer's character in Supernatural says something like, "They're family – they're not supposed to make you feel good." And I think family, born or chosen, is there to tell you when you've done good, and when you've massively screwed up.
The Shadow Force group do that for one another, and some of my favorite parts to write are when they're all together, back at Mace's bar, planning or just celebrating. As each new person is brought into the group, they're accepted and they find themselves the family they've been missing.
My heroes have that there till the end kind of friendship and realize that no hero's an island, even when he thinks he wants to be.
My editor and I describe Night Moves, book 4 in the Shadow Force series, as a buddy book, an on the run adventure with two best friends and the woman who's perfect for both of them in the sense that she will let them stay best friends, not tear them apart, and that's not an easy feat.
All the heroines in the Shadow Force series share that trait – they respect what they've walked into, which is a grouping of alpha males who serve and protect, sometimes outside the law. They're rough and they're not easy, but the heroines fit them perfectly.


In Night Moves, Reid is slowly trying to bring Reid back to the land of the living. Teddie, our heroine, brings him all the way there and together, they form a new kind of familial bond.
Kell and Reid for sure spar in the book. Kell's road back isn't easy, but neither is Reid's. They both have guilt and both have difficult jobs, people whose lives literally depend on them. But in the end, these strong bonds help the men do what's right and save the world in the process.

Do you have a favorite buddy book or movie? Tell me about it in the comments for the chance to win one of the five copies of Night Moves I'm giving away today!

Coming Soon
November 11, 2011
SEAL of My Dreams: An Anthology
Featuring Stephanie's novella, "Holding On"
"Holding On" is a novella, set in the Hard to Hold world, after Hold on Tight.
All proceeds pledged to the Veterans Medical Research Foundation. More info about the SEAL of My Dreams anthology coming soon!
Trailer for "One for the Money"
Some of you may remember Janet Evanovich from her romance-writing days. Well, the love triangles in the Stephanie Plum series are still red-hot, and now there's a movie adaptation coming! Check out new trailer for "One for the Money"! What do you think about the casting choices for studs Morelli and Ranger?
What's your favorite line in the trailer? Tell us here!
Don't forget to check out Janet Evanovich's latest installment, "Explosive Eighteen," on sale in November!
Unsinkable Heroines by Christy Reece + giveaway!
Unsinkable Heroines
When I was a little girl, I remember watching a movie called The Unsinkable Molly Brown. I don't remember that much of the storyline but I do remember the main character, Molly Brown, played by Debbie Reynolds. I remember her determination and fortitude—her unsinkable spirit. Years later, after The Titanic came out, I recalled Molly Brown and why I admired her so much. She was the kind of person that persevered. No matter what happened, she had the strength and will to survive.
Anyone who has read my Last Chance Rescue series knows that my characters are flawed. I don't shy away from the fact that they sometimes make terrible mistakes and the consequences of those mistakes often change their lives forever. Though I write fiction and thoroughly enjoy making things up, I try to make my character's flaws realistic and believable. Then, I take it a step further by showing how each character faced up to their mistake, overcame it and became a better person. A Nietzsche "What does not destroy me makes me stronger" mentality.
In SWEET REVENGE, the eighth book in the LCR series, my heroine is the most unsinkable character I've ever created. She just would not quit. Many bad things happened in her life—things that might destroy many people. Unlike many of my characters, Jamie Kendrick didn't make mistakes that caused her misfortune. She's not perfect by any means, but circumstances more than bad decisions created her problems.

When it appears that the man who held her hostage and mentally tortured her is going to get away without punishment, Jamie's determination is kicked up several notches. She's been a victim too many times and can't allow this man to get away with what he's done and continues to do. Not when she has the ability to stop him.
Enter LCR operative Dylan Savage, the man who rescued Jamie. Dylan has three things on his agenda: Keep Jamie safe; train her to defend herself; bring the man who hurt her to justice. A tall order for anyone, but not for the motivated, focused and oh so sexy Dylan Savage.
I loved watching these two spar, verbally and physically, and all the while they were falling in love. Jamie's determination to become what she needs to be to go after her abuser is matched only by Dylan's determination to protect her. This kind of conflict makes for some interesting sparks! And funnily enough, one of the things Dylan loves the most about Jamie is her unsinkable spirit.
Do you love strong, resilient characters? Who is your favorite unsinkable fictional character and why?

5 Randomly chosen commenters each week to win a free book — winners announced on Sunday – good luck!
ON SALE TODAY! Night Moves by Stephanie Tyler
Night Moves by Stephanie Tyler
Anything can happen under the cover of darkness.
Kell Roberts has walked the thin line between life and death for so long that it now feels like home. He is a soldier, a survivor, and a loner. Still, Kell cannot turn his back on the beautiful woman caught in his firefight against the drug lords of Mexico. She says her name is Teddie, but Kell senses there's much more to her story—and it's about to pull him into a mission he didn't sign on for: keeping her alive.
Teddie knows this lean, mean rescuer just saved her life, but the steel glint behind those soft gray eyes seem to be hiding something deep. The men after Teddie are deadly, but the man who holds her life in his hands and tempts her with his wicked touch is even more dangerous. He could make her dream about living and loving again. And if they can survive, maybe, just maybe, they can stop fighting the world and each other—and simply surrender.
Sweet Revenge by Christy Reece
Sweet Revenge by Christy Reece
Jamie Kendrick went on a trip to hell at the hands of Stanford Reddington, a monster protected by money and power. Now, asking for Last Chance Rescue's help, Jamie makes plans for her revenge. And Dylan Savage, one of LCR's most skilled operatives, is given an assignment he despises but can't refuse—to train the lovely Jamie but thwart her revenge plot at all costs. With tender ruthlessness, he pries open her most intimate secrets, and the attraction they've both tried to deny explodes into a scorching love affair—an affair that Dylan has to end. Months after Jamie stormed away from Dylan and LCR, the two meet again—at the home of Stanford Reddington. In the grips of hurt, anger, desire, and undercover danger, Jamie and Dylan will risk more than broken hearts: they're risking everything to stop an evil fiend from destroying more lives, including their own.
Sweet Justice by Christy Reece
Honor Stone is a young, idealistic FBI agent when her path collides with Seth Cavanaugh. For a girl who has never walked on the wild side, the dark and dangerous Seth is a temptation she can't refuse. But then Seth walks out the door and out of her life. Five years later, Honor is an operative with the elite Last Chance Rescue organization and Seth is a desperate ex-cop searching for his missing niece—one of many young women who have mysteriously vanished from college campuses. Going undercover, Honor will attract the maniacal cult leader behind the kidnappings and find a way to work with Seth—while steering clear of the passion and need that's just one touch away from explosion. Seth knows he had all the right reasons for the wrong he did five years ago. And from the moment he sees her—and takes her in his arms again—this former undercover man will risk everything for one more chance with Honor.
Barbara Vey of PW interviews Christy – enjoy!

SWEET JUSTICE RELEASE DAY PARTY!
Prizes and fun galore! We'll start around 10:00 AM (CST) and wrap it up around 6:00 PM (CST). I'll have giveaways every other hour, including signed LCR books, bookstore gift cards, restaurant gift cards, and a few surprises too! I hope you'll stop by frequently.
Then, on Wednesday, I'll start our month long giveaway extravaganza. Every day until Oct. 4, which is the release of SWEET REVENGE, I'll have a daily giveaway – Christy Reece Visit Christy at http://christyreece.blogspot.com/
Honor Stone is a young, idealistic FBI agent when her path collides with Seth Cavanaugh. For a girl who has never walked on the wild side, the dark and dangerous Seth is a temptation she can't refuse. But then Seth walks out the door and out of her life. Five years later, Honor is an operative with the elite Last Chance Rescue organization and Seth is a desperate ex-cop searching for his missing niece—one of many young women who have mysteriously vanished from college campuses. Going undercover, Honor will attract the maniacal cult leader behind the kidnappings and find a way to work with Seth—while steering clear of the passion and need that's just one touch away from explosion. Seth knows he had all the right reasons for the wrong he did five years ago. And from the moment he sees her—and takes her in his arms again—this former undercover man will risk everything for one more chance with Honor. Order Here
Prey, by Linda Howard
In this captivating novel of romantic suspense, New York Times bestselling author Linda Howard brings us deep into the wild, where a smart and sexy outdoor guide and her ruggedly handsome competitor must join forces to survive—and avoid becoming what they never expected to be:
Thirty-two-year-old Angie Powell has always spoken her mind, but in the presence of Dare Callahan she nurses a simmering rage. After all, why give Dare the satisfaction of knowing he can push her buttons and push her to the edge?
Three years ago, Dare returned home to rural western Montana and opened a hunting business to rival Angie's. Complicating matters is the fact that Dare has asked Angie out (not once but twice) and has given her a gift of butterflies in the process. Angie has no patience for butterflies. They only lead to foolish decisions. And now the infuriatingly handsome Iraq war vet has siphoned away Angie's livelihood, forcing her to close up shop.
Before Angie is to leave town, she organizes one last trip into the wilderness with a client and his guest, who wants to bag a black bear. But the adrenaline-fueled adventure turns deadly when Angie witnesses a cold-blooded murder and finds herself on the wrong side of a loaded gun. Before the killer can tie up this attractive loose end, a bear comes crashing through the woods—changing the dark game completely.
Luckily, Dare is camping nearby and hears the shots. Forced together for their very survival, Angie and Dare must confront hard feelings, a blinding storm, and a growing attraction—while being stalked by a desperate killer and a ferocious five-hundred-pound beast. And neither will stop until they reach their prey.
On Sale 8/2 – In The Air Tonight by Stephanie Tyler
With danger closing in, all they have is each other.
Haunted by a mission he barely survived, Delta Force operative Mace Stevens still carries a soldier's burden. Running a small bar in upstate New York, he remains a stone-cold warrior who guards dangerous secrets and stays ready for anything. Anything except beautiful, vulnerable Paige Grayson, who shows up at his door, demanding answers about her heroic stepbrother's death under his command.
Paige bears burdens, too. She's plagued by demons unleashed by an older brother who committed mass murder before her eyes. But here in this snowy haven with Mace, she almost feels safe from the menacing promises of her insane sibling. As a nurse whose hands can read the deepest thoughts of anyone she touches, Paige knows that Mace needs her as desperately as she needs Mace. And when a faceless killer begins unleashing fresh terror, Mace proves just how far he will go to save the woman who means everything to him.
Pre-order now – enjoy the sexy stories from Stephanie Tyler
Suspense! Thrillers! Mysteries!
If you love romance mixed with a bit of excitement, you'll love this collection of excerpts. With authors like Lisa Gardner, Allison Brennan, and Suzanne Brockmann, these page turners are perfect for readers like you. Read them below or on Scribd, and enjoy the action, suspense, and romance.
Read an excerpt of Linda Howard's VEIL OF NIGHT!
NEW YORK TIMES BESTSELLER
In this thrilling novel of romantic suspense, Linda Howard cordially invites us to an elaborate wedding—one in which rings will never be exchanged, kisses will never be shared, and the bride will never see the light of day, because a killer has been waiting under a VEIL OF NIGHT…
Jaclyn Wilde is a wedding planner who loves her job—usually. But helping Carrie Edwards with her Big Day has been an unrelenting nightmare. Carrie is a bridezilla of mythic nastiness, yet the unpleasant task at hand turns seriously criminal when Carrie is brutally murdered and everyone involved with the ceremony is accusing one another of doing the deed. Assigned to the case, Detective Eric Wilder finds that there's too much evidence pointing toward too many suspects. Compounding his problems is Jaclyn, now a prime suspect, with whom he shared one deeply passionate night before Carrie's death. As the heat intensifies between Eric and Jaclyn, a cold-blooded murderer moves dangerously close. And this time the target is not a bride but one particularly irresistible wedding planner, unaware of a killer's vow.
Read an excerpt of Veil of Night