Guest Post from Emilie Richards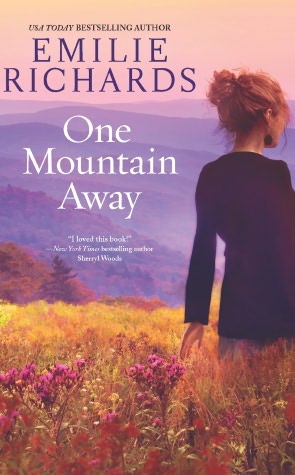 What to write . . . Emilie Richards tells us what inspires her writing – enjoy!
A writer friend once told me I should stay away from lists of topics publishers never want to see, because the moment I read one, I immediately plotted novels about each and every subject. And in a way she was right. I've always most enjoyed writing about issues or situations that are edgy or difficult, framing them in ways that make them interesting and engaging enough to pique my readers' interest.
That said, even I knew that writing One Mountain Away, my latest novel, was going to be a challenge. Because Charlotte Hale, the major character, is a woman who's made numerous mistakes. And let's peek at those "other" lists, the bestseller lists. How many of those novels are peopled by characters the reader doesn't like and doesn't want to read about? By definition at least the second can't be true.
Still, that creates a quandary, doesn't it? In any novel characters have to change, or there's no story to tell. For me, the most interesting changes are always the biggest ones. And if big changes are needed, then the character must have serious flaws to overcome.
Thus began my journey into Charlotte Hale's life and deeper, into her heart. Why do people make mistakes? Fear for themselves? Fear for loved ones? Is one more forgivable than the other?
What about background or age? After all Scarlett O'Hara was a child of privilege, but we were able to rise above her faults, even when she didn't necessarily rise above them herself. Of course Scarlett was young, and we knew in our hearts that eventually she would grow up. Charlotte isn't seventeen.
Sometimes the journey into a novel is as much the novelist's as the reader's. Once I began to think seriously about Charlotte's life and motivation, I was hooked, always a good sign. Most important, I realized that the story I wanted to tell didn't begin with the unlikeable Charlotte, but with a Charlotte who realizes that time is running out to right the wrongs she's committed. And so One Mountain Away became a story of personal redemption, as well as highlighting my own conviction that we can always change, we can always make a difference, that we never have to stop trying, even when we know we might fail.
In the end One Mountain Away is, like all my stories, about relationships. Once she opens her eyes, Charlotte realizes she's surrounded by others, each with his or her own story, sorrows and triumphs. By finally daring to reach out to them, Charlotte discovers what many of us have. Loving and being loved can heal decade-old wounds.
Love is the ultimate redemption.
As it turned out, One Mountain Away wasn't really about a woman who made mistakes. It was about the courage to overcome them. Now that was a book I wanted to write.
And I did.
Do you enjoy this type of story? What mistakes have you tried or have overcome? Comment below!
Author Bio:
I'm the author of 60 something novels. I find relationships fascinating and write about them no matter what genre I'm exploring at the moment.
Find Emilie on her website| Twitter | Facebook
Buy Here