Guest Post: True Spies by Shana Galen + Giveaway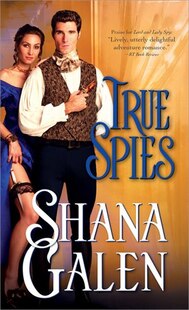 In Adele's hit song, "Set Fire to the Rain," there are two lines that sum up the relationship between my hero and heroine at the beginning of my new release True Spies.
"There is a side to you

that I never knew, never knew.

All the things you say,

they were never true."
Lines about a failed relationship don't seem like a promising start to any romance. To make the romance a little more complicated, what if the hero and heroine are already married? What if the side the singer, or character, never knew was in fact the other person's real side? The side you thought you knew was a cleverly crafted social mask?
My novel True Spies is about happily married couple, Winn and Elinor Keating. Winn and Elinor have been married for fourteen years, and have two daughters. Winn is the poster child for the absentee husband. Elinor has raised their children on her own, the perfect mother and Society wife. She has no idea that her husband isn't busy visiting his estates. Winn is an elite spy for the Barbican group and has been putting his life in danger saving the world—or at least the sovereignty of the British empire.
Elinor married Winn as a very young woman who had hopes of love growing between them. Her dreams have been smashed and she's ready to walk away. But Winn wants her back. He'll have to be brutally honest about all the lies he's told in his role as a spy, and then Elinor must decide if she can love a man who is all but a stranger.
Of course, there's a lot of adventure and danger for both Winn and Elinor. They're forced to call upon veteran spies Adrian and Sophia from Lord and Lady Spy for advice. But most importantly True Spies is a passionate book about finding lost passion.
He was standing across the room, shirtless, hair tousled, and he turned as she opened the door. The first thing she noted was the fatigue in his eyes. He'd always had the most beautiful, clear green eyes. He'd once given her a pair of emerald ear bobs, and she thought if he had been a woman, they would suit him better, for they matched his eyes perfectly.
The second thing she noticed was it had been quite some time since she had seen him without clothing.
His chest was bronzed and hard. He had broad shoulders, powerful arms, and a flat stomach. When he'd turned to look at her, the muscles in his abdomen had bunched and rippled in a way that left her all but breathless. And she still hadn't caught her breath, because she noted he had lost a little weight.
His trousers were loose at the waist and hanging at his hips, where a line of dark hair trailed temptingly downward.
She had the mad notion to put her tongue on that trail and follow it down with long, wet strokes. She shook her head. Where had that idea come from? Elinor forced her gaze back to her husband's face. He had a day's worth of stubble and what appeared to be the beginning of a bruise on one cheek, and for some reason, it made him look rather rough and dangerous. That and the length of his wavy hair. How long had it been since he'd had it trimmed? She had never seen it this long. For a moment, she wished he were some dangerous stranger who would cross the room, take her in his arms, and kiss her until she forgot to breathe.
Are you a fan of second chance at love stories? Do you like reading about a hero and heroine that are already married?
GIVEAWAY – 1 copy of True Spies. 1 winner, US and Canada only – Good Luck!
WINNER CHOSEN BELOW — thanks for blogging with us!!
TRUE SPIES BY SHANA GALEN- IN STORES SEPTEMBER 2014
He's Getting Tired of Deception…
Baron Winslow Keating is honor-bound to finish one last mission as an elite spy for the Barbican group even though he just wants to go home and be with his family. But after years of secrecy and absence, his daughters hardly know him and his wife has given up on him…
She Wants to Try a Little Intrigue…
Lady Elinor has had enough of domestic boredom. She contemplates an affair with a rakish spy, only to discover a world of intrigue and treachery that she never knew existed. Even more shocking, her neglectful husband is suddenly very attentive—quite the jealous type—and apparently there is much more to him than she ever knew…
ABOUT THE AUTHOR
Shana Galen is the author of fast-paced adventurous Regency historicals, including the Lord and Lady Spy Series, the Jewels of the Ton Series, as well as the Sons of the Revolution Trilogy. A former English teacher in Houston's inner city, Shana now writes full time, and is working on more regency romance novels!
She's happily married to the Ultimate Sportsfan and has a daughter who is most definitely a romance heroine in the making. Shana loves to hear from readers: visit her website at www.shanagalen.com or see what she's up to daily on Facebook and Twitter.
To Purchase True Spies:
Amazon
Barnes and Noble
Books-a-Million
IndieBound
Chapters/Indigo
iBookstore
Sourcebooks