HOLIDAY HOP! 12/2-12/6/2011 Lots of books to win!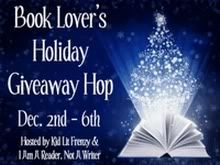 Click on the image to see other participating sites
5 winners will be Randomly chosen from the list created below – CLOSED
Happy Holidays & Good Luck! Winners must be US and will be announced in this post prior 12/8/2011
Winners are:
Evan Blanc
Gail Hurt
Shari Jung
Kim Cagle
Annette Jenkins – Congratulations!!!