Winners Announced below – Leap with Books GIVEAWAY Hop

Click the GIVEAWAY HOP image to visiting other participating sites.

5 Random Winners will be chosen — to win FREE romance books from Random House — to be eligible, comment below & 'LIKE' our Facebook page – click here

Best of luck & don't forget to take a look at our new release from Loveswept, RIDE WITH ME by Ruthie Knox – a ride you'll never forget! Just $2.99


Ten 5 Star Reviews on Amazon
"Get ready for a wonderful ride with this book. I loved it. " Kathleen Kelley
"I'm a sucker for road-trip books, and this one definitely fit the bill. " Smexybooks
"The best Romance I have read… I think… ever!" Erin
& More!
CONTEST HAS ENDED – Winners announced here:
mamabunny13
Kendra
Lauren
Kim
BJ
Thank you all for blogging with us!! Join us for our Lucky Leprechaun Hop!
HEA USA Book Review of Stephanie Tyler's Night Moves
Written By Lea Franczak, USA TODAY
CAPTION
Night Moves is the fourth book in Stephanie Tyler's dark, fast-paced Shadow Force series, which chronicles the lives and loves of a group of tough elite Special Forces-trained mercenaries. Tyler's crisp, gritty prose and dialogue suit these hard-core lethal warriors who embrace the adrenaline rush provided by the dangerous missions they undertake. A prologue takes readers back to when Kell Roberts and Reid Cormier met as young emotionally scarred adolescents living in the same foster home. They forged a tight bond that strengthened during their years in the military. Kell and Reid are as close, if not closer, than brothers.
Kell and Reid continue to contend with the devastation caused by a Delta Force mission gone wrong that cost the life of one of their teammates, and left surviving team operatives, including Reid, fighting for their lives. In the wake of the rescue of his friends, Kell went rogue, spending three months in the jungle of Sierra Leone hunting down and exterminating the remaining terrorists from Dead Man's Hand (DMH). Reid has pulled Kell in, but he struggles with guilt related to the circumstances surrounding the failed mission, and he feels disconnected, as if he left a piece of his humanity in the jungle. Leaving the military behind, Kell agrees to work a mission with Reid as part of the clandestine mercenary group formed and led by ex-Delta Force operative Dylan Scott.
Kell and Reid are about to complete the covert operation in Juarez, Mexico, when photographer Teddy Lassiter crashes into their lives, bringing a truckload of trouble in the form of mercenaries firing automatic weapons. The men are left with little choice but to spirit Teddy away, resulting in a roller-coaster ride of suspense, danger and desire as deadly threats move in from all sides. Despite Teddy spinning a web of lies related to her reasons for being on the run, Kell can't help but be drawn to the mysterious, antagonistic woman.
Not only is Teddy on the run from a deadly threat from her past, she has the law looking for her, having given the U.S. Marshals Witness Protection Program the slip. She is tough and strong-willed but floundering in her efforts to prove the innocence of someone close to her and gain freedom from suffocating witness protection. The trio take flight to a safe location ferreted out by Reid. While en route, they run into more trouble: An enemy from Dylan's rather colorful past is intent on vengeance.
At its heart, Night Moves is a story of two tortured souls who find comfort and love together under the most harrowing of circumstances. There are plot twists a'plenty, and the incessant danger amplifies the desire shared between a hero and heroine who grab fleeting moments of intimacy when and where they can. Readers are treated to a two-pronged love story as sparks fly when the seductive uberalpha Reid meets Grier Catherine-Grace Vanderhall, a tough, no-nonsense U.S. Marshal tasked with finding Teddy and returning her to protective custody.
Tyler paints an enticing portrait of a highly trained group of lethal alpha warriors who often function outside the law to protect innocents. She provides nail-biting suspense, loads of action spiced with one-on-one fight sequences reminiscent of a Jason Bourne movie. Further, this author isn't afraid to integrate military-style kill scenes into her plots. Kell's lethal weapon of choice? A pen. Readers can expect bullets flying, surprises at every turn and, for an added punch, passion in the midst of a raging hurricane.
The narratives of all four of the Shadow Force novels are complex, with multiple intersecting subplots and story arcs that culminate in Night Moves. It is for this reason I feel it is crucial for readers interested in this series to read the books in order. The Shadow Force team is brought full circle in Night Moves. The remaining members of this tight-knit family of mercenaries and their heroines make appearances, and Tyler pens an unconventional HEA for Kell and Teddy. As for Reid? Well, all I'll say is fans will hunger for closure to his story.
The Shadow Force novels: Lie With Me, Promises In the Dark, In the Air Tonight and Night Moves.
Lea Franczak lives in Toronto with her family, which includes three dogs and one cantankerous geriatric cat. She has been blogging and reviewing since 2008 and is a contributor at Book Lovers Inc. and Desert Island Keepers as well as an active member at Goodreads.
Check out all of Stephanie's books here
Guest, Nicole Jordan + Giveaway!!
Princess Charming, by Nicole Jordan
I admit it: I'm a sucker for a horse. My hunter mare Riva is the love of my life, second only to my husband. Sailing over a fence astride this magnificent equine creature brings a rush of joy to my heart—and plot ideas to my mind.
As I was writing Princess Charming, Book 1 in my Legendary Lovers Regency historical series, I knew that my hero, Ashton Wilde, Marquis of Beaufort, was determined to win the heart of his unlikely Cinderella. Maura Collyer wasn't looking for a prince, but she was desperate to reclaim her beloved stallion, which her wicked stepmother had gambled away to an evil viscount. What else was Ash to do but help Maura rescue her magnificent horse?
With Ash's romantic gesture on my mind and February 14 right around the corner from Princess Charming's release day (today!) I thought it would be fun to ask my readers to share memories of their favorite Valentine's Day gift, an actual present or, as in Ash's case, an action that took their breath away. Every day on my Facebook page through February 13, I'm sharing an entry that has touched me—or made me chuckle.
One reader wrote that her husband surprised her on Valentine's Day with a card into which he'd tucked a certificate for an AAA membership. He wrote in the card that he wanted to be sure she was safe on the road when she was without him. Don't you just love that?
Another reader, whose wedding anniversary (like mine) is January 29, and whose birthday is February 3, said Valentine's Day was usually a non-holiday for her and her husband, because by February 14 they'd done their share of celebrating. One year she told her husband that Valentine's Day should be in August, when they didn't have anything else going on. That year her husband gave her a Valentine on August 14 and took her out to dinner. Score big points for this guy!
Then there was the couple who live on a small farm in West Virginia. When this reader went to Ohio to visit their children, she told her husband no buying; they had enough cows and equipment. When she returned home, her husband, who had not bought her a present in all the years they'd been married, announced he had a present waiting for her. He took her across the river to their barn to see it. There stood a little bull, white all over except for his feet, the tip of his tail, and a perfect valentine in the middle of his forehead. This one gets high points for originality, don't you think?
What about you? Do you have a fun Valentine's gift story to share? If so, tell me about it here on Romance at Random today, and I'll enter it into the competition to win a $100 VISA gift card for dinner out with your sweetheart.


But here's an exclusive contest for all of you here Romance at Random. From the Valentine's gifts/remembrances you share here today, I'll draw a name at random (no pun intended!) to win a pair of exquisite earrings selected to add romantic dazzle to any Valentine's Day outfit.
So ready, set, write!
Winners of the prizes will be chosen randomly & announced by the author in this blog – good luck to all!
Stacie D is our winner — congrats, Nicole will be in contact with you to mail you your lovely earrings!! Happy Romance – SueG
HEA at USA – Book Review of Sweet Revenge by Christy Reece


Sweet Reward
Review written by – Mary Grzesik, USA TODAY
CAPTION
Sweet Revenge is Christy Reece's latest Last Chance Rescue novel, and it starts off with a heart-racing, daring rescue. Dylan Savage, a Last Chance Rescue operative, is sneaking into a house to rescue kidnapped schoolteacher Jamie Kendrick. This first scene is very telling about these two characters.
When Dylan reaches the room where Jamie is held, she jumps on his back. Not wanting to hurt her, he drops to the floor. She says in a raspy voice,
"Touch me and I'll kill you."
Dylan feels admiration and compassion at the same time. He's relieved that she's "tough." Dylan reassures Jamie that he is there to rescue her, but she doesn't believe him. She's naked and chained by one wrist. Jamie covers herself with a sheet while Dylan picks the lock on the handcuffs then gives her his shirt. She is weak and barefoot but determined to walk out on her own. For expediency he picks her up tenderly and rushes her out of there.
Jamie's and Dylan's personalities contradict their appearances: Dylan is alpha strong with a tender middle, and Jamie is petite with an iron will. This theme weaves throughout the book and makes their interactions riveting.
Stanford Reddington is a wealthy, "respectable" businessman. He has many diverse business interests, but his human-trafficking division is hidden under layers of secrecy. He lives in a secret location with his wife and daughters. What makes this villain particularly creepy is how normal he is with his family. He loves his wife and treats her with great respect. He dotes on his daughters and toddler son, and they have everything they need, except a view of the outside world. It's another contrast: He considers the girls he kidnaps for his business "merchandise." He's angry when Jamie escapes. The law put a microscope on him, but he came out OK by saying he was taking care of Jamie in her abused condition. His older son, Lance, who was involved in the human trafficking, has been sent away to keep him out of trouble.
Jamie's sole purpose now is to stop Reddington from hurting anyone else, not just revenge. She wants to be trained by LCR so she can go after Reddington herself. The LCR team, including her sister/LCR operative McKenna, wants Jamie to return to her old life while they take care of Reddington. She deals her way in by dangling insider info she heard as a prisoner in Reddington's home. She won't divulge the info until she's trained. She spends a few grueling months at a cabin, training under Dylan's tutelage. Jamie's been in love with Dylan since her rescue. Dylan tries to keep her at arm's length but fails miserably. Their chemistry is too strong. When Jamie's training is almost complete, Dylan pushes her to divulge the insider info. To break their bond, he lies and claims that's all he ever wanted from her and she's furious and hurt at the same time. She leaves him there.
Jamie promises her sister McKenna that she is taking a teaching job in the U.S. In reality, and in disguise, she's taken a teaching job with the Reddington family. Dylan, also undercover, has worked his way into Reddington's inner circle and is invited to his private island. Dylan's and Jamie's paths converge again, although Jamie recognizes Dylan well before he recognizes her, from her laugh. They find what they came for with some unexpected help. Their late-night escape from the island is knuckle-biting. The HEA is very satisfying, even if Jamie thinks it'll never happen.
Christy does it again with another terrific couple. I loved this book for its message of hope and redemption. Jamie is one of the toughest heroines I've ever read. She bounces back from a horrific experience and balances great determination with a loving heart and a love of teaching children. Dylan is my favorite type of hero: tough, strong alpha but gentle with Jamie. He overcame a horrible childhood, obtaining a psychology degree so he can help others. He respects Jamie's strength and determination and treasures her at the same time, an irresistible combination.
I'm looking forward to the last of the trilogy, Sweet Reward.
Mary Grzesik is a book lover, beta reader and contributor at the Romance & Oreos Book Club.

Downton Abbey Mania – has it grabbed you? + Giveaway
People have been all a 'Twitter' about this PBS series, now in it's second season – listen to this recap of season 1:
The Downton Abbey estate stands a splendid example of confidence and mettle, its family enduring for generations and its staff a well-oiled machine of propriety. But change is afoot at Downton — change far surpassing the new electric lights and telephone. A crisis of inheritance threatens to displace the resident Crawley family, in spite of the best efforts of the noble and compassionate Earl, Robert Crawley (Hugh Bonneville, Miss Austen Regrets); his American heiress wife, Cora (Elizabeth McGovern); his comically implacable, opinionated mother, Violet (Maggie Smith, David Copperfield); and his beautiful, eldest daughter, Mary, intent on charting her own course. Reluctantly, the family is forced to welcome its heir apparent, the self-made and proudly modern Matthew Crawley (Dan Stevens), himself none too happy about the new arrangements. As Matthew's bristly relationship with Mary begins to crackle with electricity, hope for the future of Downton's dynasty takes shape. But when petty jealousies and ambitions grow among the family and the staff, scheming and secrets — both delicious and dangerous — threaten to derail the scramble to preserve Downton Abbey. Created and written by Oscar-winner Julian Fellowes (Gosford Park), Downton Abbey offers a spot-on portrait of a vanishing way of life.
What is it that intrigues its' viewers? The time-period? The wealth? Economic Struggles? Family?
I'm going to confess something, I've not been a avid viewer of the series, primarily because I read all the time, however, after reading the above, I thought, wow, this is similar in story to Dynasty – your classic family saga. . . isn't it, or is it more than that? Now's your chance to convince me & millions of others why this is the show to watch this season? and if not this one, what is the one show or series you are hooked on & why?
Just have to know what all of the fuss is about *grins* – every week 5 randomly chosen commenters will win a book , winners announced on Sunday – good luck!!

READER RALLY begins NOW thru 1/31/2012 – Giveaway & Grand Prize

Samantha Comp
Darline Stewart
Kimmie Lange
Diane Patricia Diamond
Yvonne Devine


Liz Cranage
All have been contacted VIA Email – thanks so much for your support & we hope you had a great time – stay tuned for more Giveaway fun on R@R – SueG
CLOSED
Enter below (ENTER TO WIN, Rafflecopter) to be part of our random 5 book giveaway drawing – then, comment in our post to be eligible for the Grand Prize drawing! Winner of the Grand Prize drawing will be randomly chosen from the comments in this post (ebook for International readers thru Net Galley, all Net Galley terms & restrictions apply; ebook (Net Galley) or print for US readers)
Reminder of our Loveswept Original ebook releasing on 2/13/2012 – RIDE WITH ME by Ruthie Knox – click here for a FREE excerpt – enjoy!

Links is closed – no new entries at this time please – thanks for visiting the other sites!!



Sweepstakes rules apply – click here for details
Weekly Winners!
Reminder to observe Martin Luther King weekend & hoping you are enjoying your day -
Thanks again for blogging with us this week — winners are below & if you are one, please send your snail mail to: romanceatrandom@randomhouse.com so we can get you your book! International commenters &/or commenters that prefer a digital copy please provide us your email addy so we may prepare your preview in Net Galley. Authors that may have offered a giveaway during the week will post their winners on those posts in the comment section — so take a look to see if you're included!
Congrats – join us this week for our Reader Rally on Tuesday — Happy Romance!!

Love and Sticking Points…or is it Just a Bad Date + Giveaway!
Love and Sticking Points…or is it Just a Bad Date
Bad Dates. We've all been on them. We all have horror stores we tell when the subject of whose bad date is the worst comes up. (I usually win most of these disastrous conversations).
Which is why the series of bad blind dates Kristan Higgins wrote Callie through in 'All I Ever Wanted'(the smelly dairy farmer or the artist who worked with human hair anybody?) made her happily ever after with Ian at the end so amazing. Susan Mallery did the same thing to Dani Buchanan, except Dani had to go through three books of dating disasters to get to her happily ever after in 'Tempting,' the final Buchanan book. But lucky for both Dani and Callie, neither of them had to marry their bad dates. They had the freedom, the choice, to walk away and find someone they loved., warts and all.
Yet when nothing else matters but love between two people, it is a beautiful thing to see. I cried happy tears as Lucinda Barrett fell in love with Robert Carraway in Suzanne Enoch's 'England's Perfect Hero.' I was so thrilled that Anne Jewell couldn't resist Sydnam Butler in Mary Balogh's 'Simply Love.' I rooted for Collis and Rose in Celeste Bradley's 'The Charmer.' And who can ever forget Christian Jervalux and his Maddie in Laura Kinsale's 'Flowers from the Storm' or the love between Lord Ian Mackenzie and his Beth?
But in Eloisa James' the 'Duke is Mine,' Olivia Lytton is in neither of those situations. Her 'Bad Date's is an extremely unwanted arranged-from-birth-betrothal. And like any of us who have gone on bad dates, Olivia voices her displeasure about her betrothal (and her fiancé) to her sister. In public, she gives her fiance' the respect he is due, standing up for him even when his own father does not. She, in truth, reacts far better to the circumstances she is forced into than most of us would.
This brings us to the most important part of this particular column. One of the things that happens when we read is that we bring our own experiences to bear on the books. We identify with some characters and revile others. We find inconsistencies, and we find truths. We laugh and we cry. And throughout the course of reading 'The Duke is Mine,' I found myself identifying with Olivia as others considered her awful(yes, for anybody wondering, there is a bad date story of my own involved). But then again, I cannot bring myself to read Georgette Heyer while others consider her classic.
Thankfully, like a bad date, we have the choice to stop reading a book we don't like, and find another one that we do.
I wish you all the best luck in finding books you love in 2012! What are the books you're most excited about this year? Let me know, and see you next month.
Mascot of romance, who would it be? + GIVEAWAY!!

   [mas-kot, -kuht]
noun
an animal, person, or thing adopted by a group as its representative symbol and supposed to bring good luck: The U.S. Navy mascot is a goat.
Silly topic, but not really, as I've been thinking about this — it seems that all important organizations have mascots, so to speak, right? KIA automobiles now has those adorable hamsters, as pictured above; Taco Bell had that little dog, what breed was he again?
Taco Bell had a big promotion a few years back and I bought three or four of those stuffed cuties!
Then of course, Geico's lizard. . . and now I've noticed they're using a pink pig in their commercials as well, weeeeeeeeeeeeeeeee!
I suppose 'Flo' on those Progressive Insurance commercials is a 'mascot' of sorts — well, her robot is, even if she is 'broken'
The romance genre really needs a mascot .. . . it doesn't seem right to call a big Best Selling author a mascot, does it? Can we call Nora a mascot, that's insulting even though she sells the most books in the genre! Nora is well respected for her work, and her support of the genre, but even so, I don't think she qualifies as a mascot — and she'd probably be very happy about that
So ladies, it is up to us! We must come up with a mascot for romance . . . . what character, animal, or alien *grins*, best represents our category — comment below! Can't wait to see your answers – LOL
Remember, 5 winners every week are chosen to win a RANDOM book – winners announced on Sunday – Happy Romance!!
A Picture Steals a Thousand Souls…+ Giveaway!
A Picture Steals a Thousand Souls…or maybe I'm just a dork by Gwen Hayes
Thanks, Sue, for inviting me to spend the day in your corner of the internets. It's lovely here. My second book, Dreaming Awake, was released a few days ago, and I'm running into a slight publicity issue that I could use some advice about. I'm hoping your readers can help me.
Every couple of months, somebody, usually somebody from my publisher, asks if I have an author photo. The embarrassing answer is always, "No."
I'm no shy wallflower, as anyone who has ever met me or read my Twitter feed can tell you, but there is something about having my picture taken that makes me want to crawl under a table and hide. I know I'm supposed to have author photos—some sort of headshot, or a glib I've-crossed-my-arms pose, or even the ever thoughtful one-hand-chin-prop…but for some reason, I recoil in horror at the thought of posing at all. Perhaps it's because I spend too much time at www.awkwardfamilyphotos.com or www.peopleofwalmart.com. I really don't want to be remembered forever for being the "Just Don't" poster child.
Maybe I'm reincarnated from a people who believe the camera steals souls (and isn't that a great idea for my next paranormal?), but I am not sure how to get over it. I've tried self-bribery. I promised myself a new outfit if I just make the call to schedule, but that opens up a whole new level of stress. What could I possibly wear that says, "Gwen" more than the pajamas I don daily to write my books? And if I'm getting dressed, surely that means I have to style my hair, which I have no idea how to do, and wear makeup the likes of which I don't really know how to apply. I am socially awkward, people!
So, my editor, my book publicist, the reporter at the Tribune, my German publisher…everyone wants me to send them a jpeg and a photo release, and I have to pretend I'm mysterious and that's why I have nothing to send them. No really, that's what I told my editor. That I'm mysterious. I know, I'm amazed I still have a job too.
I suppose I should have known before starting this gig that part of my job is publicity…but I just keep wishing that people would just go ahead and imagine me how they think I look and leave it at that. Next, people will want me to be coherent on radio shows and read my books out loud at book signings…oh wait…that's already happened. To varying degrees of success. I didn't throw up at any rate, and that's always a good thing.
Being an author really is my dream job…I just need to get over my fear of publicity, right? Maybe I should hearken back to the grand days of the '80s when romance authors had lavish photo shoots. I'll wear a feather boa, smoke a Virginia Slim while holding a small white dog, and recline indolently on a chaise in my chintz boudoir. No? I didn't think so.
Dear readers, I'm asking you…What do you do to psych yourself up for things you know you have to do but make you uncomfortable? And does anyone have a small white dog I can borrow? Remember, 5 winners are chosen every week for a random drawing of a random FREE book – good luck!


When she's not avoiding the camera, Gwen Hayes can be found at www.gwenhayes.com or, even more likely, at www.twitter.com/gwenhayes.

The Peach Keeper by Sarah Addison Allen
Paperback on sale soon – Order Here
It's the dubious distinction of thirty-year-old Willa Jackson to hail from a fine old Southern family of means that met with financial ruin generations ago. The Blue Ridge Madam—built by Willa's great-great-grandfather and once the finest home in Walls of Water, North Carolina—has stood for years as a monument to misfortune and scandal. Willa has lately learned that an old classmate—socialite Paxton Osgood—has restored the house to its former glory, with plans to turn it into a top-flight inn. But when a skeleton is found buried beneath the property's lone peach tree, long-kept secrets come to light, accompanied by a spate of strange occurrences throughout the town. Thrust together in an unlikely friendship, united by a full-blooded mystery, Willa and Paxton must confront the passions and betrayals that once bound their families—and uncover the truths that have transcended time to touch the hearts of the living.
Sarah Addison Allen is the author of Garden Spells and The Sugar Queen. She was born and raised in Asheville, North Carolina.
Praise for The Peach Keeper
Allen juggles smalltown history and mystical thriller, character development and eerie magical realism in a fine Southern gothic drama. The underlying tension will please and unnerve readers, as well as leave them eager for Allen's next.
-Publisher's Weekly
Praise for Sarah Addison Allen's The Girl Who Chased the Moon
"Captivating . . . Sarah Addison Allen produces tantalizing fiction."—The Roanoke Times
"A dusting of magic, the aroma of sugary cakes swirling through the breeze, and a girl who unwittingly brings change to a town of misfits make for a sweet summer story filled with hope and forgiveness."—Beth Hoffman, author of Saving CeeCee Honeycutt
"Charming and entertaining . . . Don't miss this spellbinding tale."—Asheville Citizen Times
"Allen clearly knows that all the fun is in the journey. . . . Sit back, open this book and join her."—Greensboro News & Record
"An enjoyable read [with] doses of magical realism and romance."—Associated Press
"Easy to devour in one sitting." —The Atlanta Journal-Constitution

Discussion Questions:
1. What do you think the title The Peach Keeper means? Who is the peach keeper in the story?
2. Superstitions played a big part in Willa's grandmother's life, and in Willa's life, by extension. What superstitions did you grow up with? Why do you think superstitions exist?
3. Several of the characters in The Peach Keeper struggle with how people used to see them as opposed to who they are now. Who were you in high school? Do you miss that person? Or are you glad to leave that time in your life behind?
4. Willa spent her formative years as The Joker, acting out and sparking controversy that she wouldn't become aware of until she was an adult. What do you make of her past actions? How does it connect to the way she acts in the novel? How does it affect her relationships as an adult?
5. The characters in The Peach Keeper live in an extraordinarily beautiful area, one surrounded by waterfalls. Yet Willa once remarks, "When you see it every day, sometimes you wonder what the big deal is." Do you think you get so used to beauty that you stop seeing it? What are some natural wonders in your area? Does Willa's comment also refer to people?
6. The Blue Ridge Madam takes on a life of its own in the novel, becoming much more than a building. What do you think it represents for the town? For Willa and Paxton?
7. There's a wisp of something supernatural following the characters in the story, seemingly brought into their lives by the discovery of buried bones under a peach tree. What are your thoughts on the supernatural? Do you think disturbing a grave upsets the spiritual side of things? Have you ever had a paranormal experience?
8. One of the prevailing themes in The Peach Keeper is friendship. Agatha and Georgie are elderly, and have been friends all their lives. Paxton and Willa have a newly formed friendship. The book posits that friendship is "a living breathing thing, something that comes to life the moment it happens and doesn't just go away when it's no longer acknowledged." If there is no big break-up, just a gradual separation, do you think the friendship still exists? Do you think once you are a friend, are you always a friend? Have you ever reconnected with an old friend and found that you still share a bond with them?
9. Sarah Addison Allen's books usually have themes of forgiveness and food. Have you read Sarah's other books? How is The Peach Keeper similar? How is it a departure? Did you recognize the reference to the main characters in her debut novel, Garden Spells?
10. Paxton, Willa, and even Willa's father, deal with parental expectation. Do you think that who we become in life is due in part to what our parents wanted us to be, or who are parents were? If you have children, how do they fit the pattern?
11. How do you take your coffee? Do you think that says something about you? Do you believe, like Rachel, that how someone takes their coffee says something about their personality?
12. What do you think of Paxton and Sebastian's relationship, and how it evolves over the course of the novel? Have you ever had a similar relationship in your life? How do you feel it fed into the overall themes of The Peach Keeper?
13. Willa and Colin have a complicated relationship from the start – what do you think is the strongest force pulling them together? Do you think their relationship would have worked had they met in another time and place?
14. In the end, Agatha keeps a secret she promised to keep seventy-five years ago. In this information age, we are not a private society. How hard is it to keep secrets? Would you be capable of keeping a secret that long?
15. The theme of roots runs through the novel – from the peach tree, to Colin's work, to the characters struggling with their place in Walls of Water. What about the town and its history draws people to it and entices them to put down roots? On the flip side, what about it causes others to deny their roots and move away? Have you had a similar experience with your home town?
Guest JoAnn Ross – and Giveaway!
Once upon a time in Oregon, a boy and girl fell in love. It was not, as their parents continually insisted, merely puppy love. But the Real Thing.
Years passed. When the girl was eighteen-years-old, the boy took her to the Oregon Coast, where he bought her a white paper bag of saltwater taffy, then proposed.
Naturally, the girl said, "Yes!"
And, many, many years later, I'm still so happy I did.
The magnificent coast has always been a special place for me. Even before that memorable proposal. But on that day it became my most romantic place in the world. Which is why, when I returned to my romance roots, writing comfort stories about families and falling in love, I wanted to invite readers home to Shelter Bay with me.
Shelter Bay is a magical place. Not magical in the paranormal woo-woo sense, but magical because it's a town that not only shelters (thus its name), but heals. Where life moves at a slower pace, where people genuinely care about each other, and where even the most guarded heart is no match for love.
Combining my hobbies of photography and scrapbooking, I've made a scrapbook video of the town, which, although fictional, borrows from several beloved coastal towns we love to visit. Those familiar with the coast may recognize several of the locations and sights, although I did photoshop the names of the Grateful Bread and Sea Mist restaurants.
I'm going to share a little secret. Those of you who've been reading my Shelter Bay series may have been suspecting that Sedona, the CPA turned baker from Take the Cake, would be my next heroine. Which is exactly what I'd planned. But hottie SEAL medic Lucas Chaffee turned out to have a different idea about that. Although he definitely found Sedona appealing, they just didn't click. I was getting concerned about this problem when I woke up one morning with what turned out to be the opening line of On Lavender Lane in my head:
"Madeline Durand was braising short ribs in an Omaha department store when her husband's sex video went viral."
Suddenly, celebrity chef Maddy appeared on the scene to save the day! And better yet, I discovered that Lucas was the "summer boy" who'd broken her heart years ago.
Which is how On Lavender Lane turned out to be a reunion story, and although Lucas believed he had a good reason for what he did back then, he has a lot of explaining to do. But having let Maddy leave Shelter
Bay once, he's not about to let her get away this time. After all, he's a SEAL on a mission, and with the help of some Shelter Bay matchmakers, he whips up with his own special recipe of passion, patience, and perseverance to win her over.
Of all the books I've written, I honestly had the most fun writing the final chapters of On Lavender Lane, when a determined Lucas pulls out all the stops. You can read the first chapter and some lovely reviews on my website. Always willing to sacrifice for my readers (lol), I gained ten pounds while test cooking every meal that appears in the book. All which will eventually appear with other yummy Shelter Bay recipes in a free e-cookbook, so stay tuned for that.

To celebrate Lucas and Maddy's story's publication, I'm giving away autographed copies of the first two books in the series — The Homecoming and One Summer — to three people, chosen at random, who comment. To give everyone time, the winners will be announced here, in the comments section, on Thursday, so please check back here!
I'm also having a month-long Find Lucas contest, where I'll be giving away either a Nook Simple Touch, A Kindle Touch, or a B&N or Amazon gift card for the equivalent. Details can be found on my website.
Wishing everyone the most fantabulous, best year ever, and happy reading!
WINNERS –
Connie Fischer, Patti P, and Nancy Davis! Congrats & thanks for blogging with us!
Carly Phillips guests on R@R today with Giveaway!
Reader Reaction to Characters & Giveaway
When I wrote Serendipity, book 1 in the series, I thought Nash, the middle brother, was justified with his anger at his oldest sibling who returns to town after ten years to make amends. I also thought that Nash, whose story is DESTINY, in stores tomorrow, would be a straight-forward character – A man who has to learn life isn't black and white. In the writing, I discovered that Nash had so much to learn and so much growth to experience. And it's a good thing I put him through his paces!
Why? Because as it turns out, after reading Serendipity, readers reacted very strongly to Nash. And by strongly I mean almost negatively. Readers bonded with Ethan, the hero in Serendipity, and were angry with Nash for not forgiving his brother for abandoning him for ten years. I'm so glad I didn't know about this reaction while I was writing the story!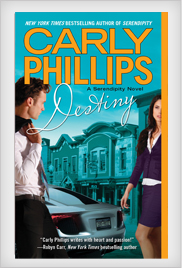 As it turns out, although I, the author, felt Nash's anger at his brother was justified, I also recognized the fact that he saw things in black and white, no shades of gray. So I put him through the wringer in DESTINY and made him earn his happily ever after. But I think if I'd known how strongly readers felt about his character, I'd have suffered from real writer's block writing him!
Anyway, I hope you all will give Destiny a try. You can read the book alone, but reading Serendipity first will make DESTINY that much richer!
To help, I'll give away 3 copies of SERENDIPITY to get 3 lucky readers started! Comment for a chance to win! Have you ever had such a strong reaction to a character in one book, you weren't sure you'd like them in their own story? (Which?)
Carly will announce the winners in this post — check back to see if you won! GOOD LUCK!
Carly's Serendipity Series
Serendipity – out now
Karma – .99 eBook novella – out now!
Destiny – 1/3/2012
Karma – 5/1/2012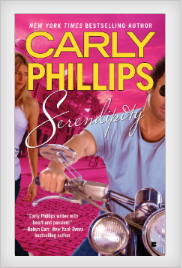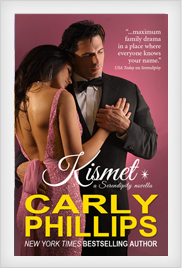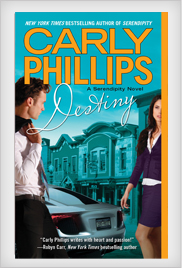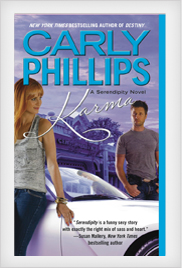 BIO
N.Y. Times and USA Today Bestselling Author Carly Phillips has written over 30 romance novels with contemporary characters that today's readers identify with and enjoy. She's a writer, a knitter of sorts, a wife, and a mom to two daughters (15 and almost 20!) and two crazy dogs (a 1 year old Havanese named Brady and a 4 year old wheaten terrier named Bailey). In addition, she's a Twitter and Internet junkie and is always around to interact with her readers.
Carly lives in Purchase, New York and would love for you to like and follow her on the 'Net!
Find Carly on the web:
Carly's Website – www.carlyphillips.com
Carly on Twitter – www.twitter.com/carlyphillips
Carly on Facebook – www.facebook.com/carlyphillipsfanpage
Carly's WINNERS:
ANN M –
Cate Sparks
Cheryl English –
Congrats!
New Years – again??? What's your resolution – giveaway!
New Years time – another resolution has to be made & although I love to make them I'm not the best at keeping them – you?
I've made all kinds of resolutions through out the years:
Diet, oh yeah, usually every other year for this one
Exercise — an annual resolution, urgh
Become more involved in our church / community
Become more computer savvy – oy . . .
and sooooooo many more!
What are some of your resolutions — new ones, old ones, maybe one of yours will work for me – goodness knows, the resolutions I make I can't seem to keep *Grins*
Remember, every week, 5 winners are Randomly chosen to win a FREE book — winners announced on Sunday – good luck!
The Romance Studio + Giveaway!!
We are big fans of romantic fiction here at the The Romance Studio. And that fact alone was the biggest reason that we created this site. We wanted to build a place on the web for all fans of romance.
But we fans of the romance genre are a diverse group, yes? All of us are readers. But some of us are writers, published authors, agents, book sellers, cover models, publishers and more. Keeping that in mind, we designed a site that, we hope, has something for everyone.
The Romance Studio is an interactive site that is kept fresh and new by user entries. Most every page on the site is generated by user input, most of which is posted instantly to the site. Basic membership is free and allows users to post romance industry news items, information about writing contests, conferences, conventions – even post classified ads. Featured Members get even more options and opportunities to promote themselves and their businesses. Plus there is a database containing the records of all registered users who are industry professionals. The database is easy to search by name, specific genres and more. You can advertise your books or business with us, too. We have fabulous release parties monthly with our biggest event yet to take place for the holidays from December 19 – 23, 2011. Everyone, author and reader alike, is invited to attend and/or participate.
www.theromancestudio.com
Our question for readers: What are you favorite online events, pertaining to the books we love, to attend and why? Remember, 5 winners every week are randomly chosen to win a FREE book – winners announced on Sunday! Good luck!

Christmas Memories + Giveaway – Ereader from Jessica Scott
Christmas Memories
I'm writing today and celebrating. This is an incredibly special Christmas for my family. My husband is finally home from Iraq and for the last time. The war is over, he won't be going back.
My kids have been little the first couple of Christmases my husband was gone. I doubt they remember the Christmas that he and I were both deployed. I remember it well. There were little Christmas lights hanging in the TOC (tactical operations center) and I distinctly remember a few lonely ornaments hanging on a tree outside the CHU (containerized housing unit) I was fortunate to share with my husband.
Funny, I remember the green and the particular shade of blue of those ornaments. They stayed there the rest of the year but I remember seeing them that first morning when I woke up in Mosul and realized I would not be spending Christmas with my children. It's odd how major holidays are just another day when you're deployed, except for the food served in the DFAC (dining facility).
I have to confess, I love playing Santa but what's weird is that I love playing Santa for complete strangers. I love buying gifts for the Angel Tree or donating a toy to Toys For Tots. I think maybe it feels good knowing that someone gets to have something that they might not otherwise have. Maybe it's a selfish reason for enjoying it, but I do.
Christmas this year was made simpler by the fact that we did not buy gifts for the adults in either side of the family. We did a gift exchange on my husband's side and on my side, we only bought for the kids. I enjoy that so much more than spending hours trying to decide what to buy.
Christmas this year has also spawned a novella. For those of you who are dying to find out what happens with the secondary characters in BECAUSE OF YOU, Trent and Laura, you'll get to see them experience their own Christmas miracle. It will take a miracle for them to work through the miles of separation that have kept them apart. Trent and Laura's story is one that most military families have experienced in some degree or another. How do you reconnect to children who have grown into different people while you were gone? How do you help a spouse around the house when he or she has been doing everything since you were gone?
Christmas this year, though, is extra special. My husband is coming home just like so many other husbands and wives, sons and daughters. He's coming home to a 12 year old dog who is eagerly awaiting him. A stupid little black dog who probably won't recognize him. The goofy yellow lab who we can tell is not pure breed because she does recognize him when he comes home. A black cat, his arch nemesis, who will no doubt filet his arm open inside of ten minutes when they start fighting. And a little grey cat, who just wants to knit his belly and remind him that he's fluffy in some places too.
But it's my daughters who get the best Christmas this year. They get their daddy back. For the first and last time, they saw him walking across the parade field. I never took them before because they were too little but this time, I wanted them to remember it. They got to feel the crowd as it surges forward, each person looking for their soldier in the crowd. They got their daddy back. He made it. Four combat tours. Hundreds of convoys.
I get my Soldier back. And that, folks, is the greatest Christmas gift, I could get.
In the spirit of Christmas, I'd like to give away a Nook or a Kindle one last time before the end of the year.
Leave a comment today and tomorrow and tell me why this Christmas is special to you. I'll pick a winner on Tuesday!
Celebrating the Return of our Military + Giveaway
As we celebrate the return of US military personnel from Iraq, many more are still deployed, stationed overseas, or just unable to return home. Although being away from home can be a challenge, it also offers unique ways to celebrate the holiday season. I asked my "sisters in arms" at the RomVets, www.romvets.com, to share how they celebrated the holidays during their military service.
From Merline Lovelace, USAF
Al and I were in Vietnam for the Christmas of 1971. He was at Danang, I was in Saigon but managed to catch a hop up to spend Christmas Eve and Day with him. I hauled enough cheese, crackers and other goodies from the PX at Tan Son Nhut for us to throw a party for his troops at his hooch. They provided the booze .
We had a great time singing slightly risqué versions of Christmas carols then, just before midnight, we piled into jeeps and drove across base for midnight mass at the chapel. Halfway thru mass, I heard these rousing snores start coming from the pews behind me. The chaplain, bless his heart, just kept on with it. We managed to wake everyone up and get them safely back to their hooches before the first round of rockets came in about 3 am.
When my son joined the Marines, his boot camp went through the holidays. To try and make his Christmas special, I contacted his kindergarten teacher and asked if her class would make Christmas cards for his platoon. She agreed. When I went to the elementary school to pick up the cards, not only had her class made cards, but other teachers had heard about what I was doing, and their classes also made cards as well. I was so moved by the incredible and thoughtful wishes those children had written, I still cry thinking about it. When my son opened the package of Christmas cards from his first grade teacher in Marine Corps boot camp, he was blown away. Best, he shared them with the other Marines.
The Navy sent us to Riyadh, Saudi Arabia for two years in the early '80s. Because it was illegal to practice Christianity in that country, we decided to celebrate Christmas this way: Before we left the U.S. we packed white tree lights, cookie cutters, and several spools of red ribbon. We knew that whatever the circumstances, we could bake cookies and hang them on an indoor plant for our "Christmas Tree." As to religious services, families met together in our western compound and held illegal services. It made us think about what it must have been like to be an early Christian. (It makes us appreciate a choir singing out in church to this very day!) We explained to our children, ages 6 and 8, that whether or not the Saudis confiscated the Bible that we hid in our household goods or took the gold cross from around my neck, nobody at Customs could check our beliefs. It was a valuable lesson for all of us to know that no one can take away the thoughts, feelings, or beliefs that we hold dear.
From Susan Charnley/Rue Allyn, USN,
When we were stationed at the Naval Facility in Argentia Newfoundland, my DH (also a Veteran) and I spent one Christmas Eve dancing Irish jigs in the
kitchen of some friendly locals. Afterwards we enjoyed our first (and so
far my only) caribou steak dinner.
I share my own unique experience from the Netherlands. We attended Christmas Eve Mass in the Caves of St. Peter. Located near Maastricht, centuries of quarrying for marl provided underground caverns that the locals often used during seiges by invading neighbors. During WWII, the American Army used the caves to hold Christmas Eve Mass before engaging the German army in the Battle of the Bulge. Our modern mass paid homage to those brave men.

I invite you to share how you have celebrated the holidays – tradition or unique. One commenter will win a 2012 Hawaiian Calendar. Winner will be announced in this post – good luck!
Kim Adams is an Air Force Veteran and Air Force spouse in Hawaii. Her blog, SOS Aloha, promotes romance reading, military families, and Hawaiian culture at www.sosaloha.blogspot.com.
It's the little things…+Giveaway!
It's the little things…
By Cassandra Carr
It's December, and that means the holidays, no matter what religion you do (or don't) practice. The holidays can pass by in a blur of buying, baking, and booking – from house to house or party to party – or they can be a time for quiet reflection on life's blessings. I understand how hard it is to get everything done but still take time to appreciate the season. After all, I have a child and both sides of my family live in the area, but I do what I can.
During the holidays, it's the little things that matter – the smile on your child's face when you let her help with cookie decorating, the thank you from the bell ringer when you throw some spare change into the Salvation Army kettle, or the feeling of connectedness you feel with your family the first time you turn on the lights on the Christmas tree. Those are the things you remember – those are the things that matter.
So if your cookies are overdone or you can't find just the right present for someone, don't sweat it. Remember – it's the little things that count!
What are some of your "little things"?
remember 5 commenters every week win a free book – winners announced on Sunday – good luck!

BIO: Cassandra Carr is a multi-published erotic romance writer who lives in Western New York with her husband, Inspiration, and her daughter, Too Cute for Words. When not writing she enjoys watching hockey and hanging out on Twitter. Her debut novel, Talk to Me, was released by Loose Id on March 22, 2011. Head Games, Buffalo Intimidators book 1, released on November 2, 2011 from Siren Bookstrand, Caught will release December 13, 2011 from Loose Id, and Impact is coming in early 2012 from Ellora's Cave. For more information about Cassandra, check out her website at http://www.booksbycassandracarr.com, "like" her Facebook fan page athttp://www.facebook.com/AuthorCassandraCarr or follow her on Twitter at http://www.twitter.com/Cassandra_Carr.
Seven Wonders of the Romance Bandits Lair by Anna Campbell + Giveaway!!!
Seven Wonders of the Romance Bandits Lair by Anna Campbell
We're back, Sue! What a great day we had yesterday! Thanks again for inviting the Romance Bandits to invade Romance @ Random.
As promised, no poetry today. I'm Anna Campbell (www.annacampbell.info), qualified Bandit wrangler. I'm delighted to introduce seven more Romance Bandits who are giving us a glimpse of their Holiday plans.
Just in case you missed out on yesterday's post, the Romance Bandits emerged from the finalists in the 2006 Golden Heart Award. With 19 of us (and a rather wicked Golden Rooster who is inclined to take over proceedings unless we keep an eye on him), there's always something happening in the Bandit lair. You can find us at www.romancebandits.com
Loucinda McGary aka Aunty Cindy (http://www.loucindamcgary.com/) is off cruising as she is wont to do. Her latest release is THE SIDHE PRINCESS, a prequel to her debut THE WILD SIGHT.
Aunty Cindy leaned back in her deckchair and took a long sip from her frosty margarita. The door opened and cool air and music from the ship's rock band drifted out — their fifth rendition of Jingle Bell Rock. And though the waiters weren't quite as cute as the Lair cabana boys, and the drink wasn't quite as tasty as one of Lars's, Aunty knew this was her best holiday ever.
Tawny Weber (www.tawnyweber.com), who pens steamy romances for Harlequin Blaze, is also thinking of relaxation right now. Her latest release is SEX, LIES AND MISTLETOE, the first of her "Undercover Operatives" series.
The holidays are always frantic so this year I think I'll have Sven create a spa in the lair. Massages, facials and mani/pedis while sipping champagne cocktails with audio versions of the Bandits books playing in the background. That sounds wonderfully relaxing, right?!

Sounds great to me, Tawny.

Thriller (with steamy bits) author K.J. Howe (kjhowe.com) is our international woman of mystery. For Christmas, she's off for some covert operations that she's cunningly disguised as harmless sightseeing, but she did drop a hint she's having cocktails with James Bond in London. KJ runs ThrillerFest www.thrillerfest.com, and this year just happens to be the 007 year. Coincidence that she is meeting James Bond? I think not.
K.J. Howe is jetting to the magical cities of Salzburg, Vienna, and London—but are the holidays just a perfect cover to mask clandestine meetings with a former Cold War spy and a MI6 contact???

Multi-award winning Nancy Northcott (www.nancynorthcott.com) is contemplating mayhem closer to home for Christmas – after a relaxing start. I hope she plans to eat up big of those pancakes. Wrangling the rambunctious men of the lair takes a lot of energy!
We'll decorate the tree, listen to Christmas music, and enjoy having our boy home from college. On Christmas morning, we'll have our usual Swedish pancakes, made by the dh. I'll also be in the Lair Christmas day, refereeing–er, supervising–the gladiators and cabana boys, who tend to get a bit territorial over the meal.

Donna MacMeans (www.donnamacmeans.com) has been eavesdropping on the characters from her Romantic Times Top Pick historical romance REDEEMING THE ROGUE. Luckily she had her notebook with her so she captured all the drama:
Rafferty : Irish whisky, the perfect gift!
Lady Arianne: Look at what I found for Phineas.
Rafferty: A stick?
Lady Arianne: It's a wand. I thought he could use it in his magic performance.
Rafferty (smiling): Perhaps he could make your brother, the duke, disappear.
William, Duke of Bedford: I heard that!

OK, I lied about the poetry. Golden Heart finalist and all-round good egg Caren Crane (www.carencrane.com) squeezes in a really nice haiku about the joys of the Season:
Baking for loved ones
Making, finding perfect gifts
Singing hymns of praise
Suzanne Ferrell (http://suzanneferrell.com/) is celebrating the print release of her seductive debut for Ellora's Cave, THE SURRENDER OF LACY MORGAN, with some traditional Christmas family activities.
The night before Christmas and not a creature is stirring. Okay, I'm up wrapping the stocking stuffers. Christmas stockings are a big deal at our house. This year I made two. Each item inside is wrapped, even toothbrushes. Hubby fills mine and the kids sneak a small gift into their siblings. We spend 30 minutes opening just the stocking gifts.

Wow, that sounds wonderful, Suz. And it makes me wonder what everyone wants to find in their stocking this year. Tell us! Be creative! We have PRIZES!!!!!


Commenters today will go in the draw for:
A signed copy of MY RECKLESS SURRENDER by Anna Campbell
A $10 Barnes and Noble gift card courtesy of K.J. Howe
A signed copy of REDEEMING THE ROGUE by Donna MacMeans
A signed copy of SEX, LIES AND MISTLETOE by Tawny Weber
A signed copy of SEX, LIES AND MIDNIGHT by Tawny Weber
A signed copy anthology MUST HAVE BEEN THE MISTLETOE including the novella "A Babe in Toyland" by Tawny Weber
A signed copy of THE SURRENDER OF LACY MORGAN by Suzanne Ferrell
Good luck!
Congratulations to all the Romance Bandits invasion winners. Please email me on anna@annacampbell with your snail mail details and we'll organize your prizes.
Day 2:
Signed copy of REDEEMING THE ROGUE by Donna MacMeans – Amy Conley
MUST HAVE BEEN THE MISTLETOE anthology (novella by Tawny Weber) – Deb
Signed copy of THE SURRENDER OF LACY MORGAN by Suzanne Farrell – Sheila
Signed copy of SEX, LIES AND MISTLETOE by Tawny Weber – Beebs
Signed copy of SEX, LIES AND MIDNIGHT by Tawny Weber – Patti P.
$10 B&N Gift Card courtesy of K.J. Howe – Stacey Siferd
Signed copy of MY RECKLESS SURRENDER by Anna Campbell – Charlotte Skipper
Release Week, something everyone should experience + E-Reader giveaway!!!!
Release Week Wrap Up, by Jessica Scott

On Facebook
It's been almost 3 weeks since Because of You debuted here at Romance at Random. I've got to tell you, I really had absolutely no idea what published authors were always talking about when they said don't plan on doing anything during release week. Honest to goodness, what else could there be to do? I wrote the book, worked through revisions. Did a few pre-positioned blog posts.
Honestly, who would have thought release week was such a major, overwhelming event?
Yeah, it really was. And please, in no way take this as a complaint, because I'd do it all over again in a heartbeat: I am thrilled at the excitement I lived through for the last couple weeks. It was terrifying as the clock ticked down to midnight on November 13. What if no one liked it? What if everyone hated Carponti? What if this book got me banned from all NYC publishing houses for life because it completely sucked?
I couldn't sleep and yet, but worse, I couldn't write, either.
Yes, all this and more can be yours the night before release day. I fully admit to keeping a little busy the week prior to release day. I completely remodeled my kitchen, which, if you follow me on Twitter (@JessicaScott09), you know that manual labor is how I cope with a lot of things includding writer's block, random stress, you name it.
Anyway, so release day came and well, I um didn't move from my computer. All. Day. Twitter went nuts, and I had a little bit of a moment when I saw my name in Sue's post on USA Today. Suddenly, the last five months of building were here. And it was totally freaking awesome.

You know that feeling when you're the belle of the ball and suddenly everyone wants to be your friend? – hang on there's a cat tearing up a Christmas tree ornament, I'll be right back – Okay, I'm back.
So all of a sudden, I had readers emailing and dropping posts on Facebook and Goodreads and…it was completely awesome but also completely overwhelming.
There was all this noise in my head and I couldn't think.
I'm told by writers, who are far more well versed in this than me, that release week is like this all the time.
So to be better prepared next time, here's a few things I'll do differently:
I will go on leave if at all possible. I will not try to mix Army work and release week again. While I didn't fail any missions at work, I also felt like I was completely distracted from my main focus. I will also not take vacation to places where the internet does not exist. I spent the second week in Maine where all I had was my cell phone access. I'm pretty sure I missed information during that week and hopefully, my editor isn't too irritated
I will ensure I have a better means of tracking emails, which ones I've responded to, which ones I still need to respond to. I've already migrated my email over to imap, so that I can better keep track. If I didn't respond to anything you've sent me, by all means, shoot me a reminder so I can follow up.
The blog hop was great, and it was really awesome to be able to get info out there to so many different readers. Next time, I'll spend more time giving in depth and varied answers. I know that many readers of the different blogs are not going to be the same audience, but I know that when I'm eagerly discovering a new author, I want to find out everything I can and so I'll work on making the blog hops unique in some way for each site.
Facebook: I'm moving most of my Facebook stuff to my page. I already unplugged my twitter feed from my facebook as folks told me it was incessantly annoying having so much twitter traffic spamming their walls. Which means having a plan to manage the social network aspect across the board, not just during release week.
And everyone say it with me: I will not plan major hosting changes to my website during release week/day/month. Crashing your website is never a good plan and doing so when you're using Facebook ads to drive traffic to your page? Not good. For my own sanity's sake, I need to do better scheduling, a way to stay up on where the blogs are due, what's current and where I need to be commenting.
All in all, release week was an incredible experience that I will cherish. I had such amazing support from my fellow authors and I can only hope that I can somehow repay the debt of gratitude that I owe to so many people. My debut book, Because of You, has been really well received and I'm incredibly grateful to all the readers out there who bought it, read it and enjoyed it.
To say thank you, one more time before the holidays, I'd like to give away either a Nook or a Kindle to one commenter today (US only) as well as a copy of Because of You.
Tell me who you'd like to give an ereader to and why?
**Winners will be announced in this post — Jessica will choose & mail your prize – good luck!!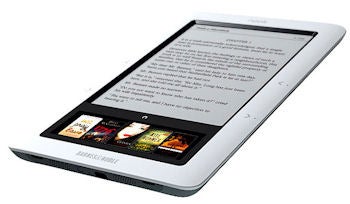 Janice Bennett & Lynn Reynolds – CONGRATS!
Random Thoughts with Stefanie Sloane – Exclusive!
The Girl's Gotta Have It!
Peeps, I have a confession to make: I am not a patient person. Typically, this does not work to my advantage—nor anyone else's, for that matter. But there's a first time for everything!
See, I'm the type of reader who looks early and often for new books. A premise might interest me. Or a gorgeous cover. Maybe the author's background or a glowing quote from one of my favorite writers. Whatever it is, it captures my attention and will not let loose, even if the book isn't due out for months.
Months? Months! Argh! How can I be expected to wait when all I want are the words in my hot little hands?
Well, turns out I don't have to. Now that I wield the power of the Random Thoughts column, I can legitimately harass ask authors to share tasty excerpts and treats from their upcoming books.
Sneaky, right? But oh-so effective!
My first victim author is Heather Snow, who makes her debut this coming February with the historical, Sweet Enemy. It is the first in Snow's Veiled Seduction series and features a newly minted Earl and a brilliant female chemist. According to legendary author Julie Garwood, Sweet Enemy is filled with "historical intrigue and heart-pounding passion."
Sign me up!
So, without further ado, here for your reading pleasure is an exclusive excerpt from Heather Snow's forthcoming historical, Sweet Enemy. Stefanie Sloane, author of The Regency Rogues Series

Excerpt:
Beakers and ball gowns don't mix, so when a lady chemist goes undercover as a husband-hunter to investigate the earl whose family she thinks may have murdered her father, romance isn't part of her formula. But it only takes one kiss to start a reaction she can't control…
Just before this scene, Geoffrey, Lord Stratford, has evaded two determined marriage-minded misses who'd stalked him through the darkened hallways of his country home at a house party arranged by his mother. Find out what happens when he literally catches our heroine, Liliana Claremont, in his library after he knocks her from a rolling ladder. Though Liliana was, in truth, scouring the library for evidence, Geoffrey understandably mistakes her intentions…
"If you think getting yourself 'discovered' alone with me will win you a husband, Miss Claremont, you are sadly mistaken."
Liliana Claremont's gasp of outrage sent her flying from his arms. The sight might have amused Geoffrey . . . if he weren't so damned irritatingly aroused. Her shocked expression, the delicate hand spread across her chest in a "how dare you accuse me" gesture. Oh, she was good. No doubt about that. Geoffrey ruthlessly shoved aside the part of him that wondered, given their recent embrace, what else Miss Claremont would be good at.
He exhaled as the burning pain that speared through his lower back eased a bit. He shouldn't have held her so long. Geoffrey willed his discomfort into the background and instead focused on the fiery woman standing before him.
Her eyes sparked, sending embers sizzling through his chest. The flame she'd roused when he'd met her earlier this evening flared back to life. He squelched it.
Geoffrey raised a brow, waiting to see what excuse she would give.
Miss Claremont took a deep breath and stiffly lowered her hand to her side. Her pouty lips opened, then snapped closed and firmed. Geoffrey thought he could actually see her mind working through the accusation he'd leveled at her.
He watched this transformation from accused innocent to affronted angel with fascination. God, she was exquisite—for a conniving little actress.
Click Here for the rest of Heather's story
Visit StefanieSloane.com | Find Stefanie on Twitter & Facebook!
Contemporary Native American Stories + Giveaway!
Contemporary Native Americans by Michele Stegman
We are all curious about how other people live. It's why archaeologists dig up burials, why the paparazzi follow famous people around, and it's one of the reasons we read fiction—to get a glimpse of how other people live.
In historical romances, Native Americans live a different lifestyle from other Americans. The author often gives us a picture of that lifestyle gleaned from anthropological reports, historical records, and old photographs. It is also often terrifying for the heroine of a romance book if she happens to get captured by Native Americans. There was a long-standing war between natives and incoming European-Americans, after all. The men were warriors and hunters, yet lived in communion with nature.
But what about Native Americans today? When I started doing research for Mr. Right's Baby, I didn't know much about how Native Americans live now. Which traditions and customs do they carry with them today?
As I read and talked to people I began to realize that, just like any other American, Native Americans live, work, dress, and think in a wide range of ways. I just had to decide how my hero, Adrian Wright, was going to live.
I made Adrian part Comanche because the book is set in Texas. And I had a very good source for information on modern day Comanches. A neighbor is married to a Comanche and gave me a lot of help.
I had fun creating my modern day Native American hero. I enjoyed showing his family's kinship patterns, customs, and unusual heirlooms they have in their homes, such as beaded vests and moccasins. Although poverty and high unemployment plague many Native Americans as well as many non-native Americans, I made Adrian wealthy and educated. Not every Native American lives on a reservation, and neither does Adrian.
The main issue in Mr. Right's Baby is Native American legal rights. Over the years, many Native Americans lost their children because of adoption, or having them taken away and sent to schools where they were forced to accept American customs, language, dress, and ideas. Native Americans are still fighting for their children—but now in the courtroom instead of on the battlefield. The courts are finally favoring their suits.
Adrian's child had been put up for adoption without his knowledge or consent. But once he knows he has a child, he is determined to find her—and get her back.
Carly's now-single adoptive mother, Katie, is facing a terrible dilemma. How can she keep the child she has grown to love?
It was interesting to explore the world of modern Native Americans and it was fun to take my heroine, Katie, along with me, letting the reader see this other part of America through her eyes.
Do you prefer reading about a contemporary Native American hero or a heroine? 5 commenter's are chosen weekly to win a FREE book — good luck!

Bio:
When she spent a year's sabbatical in San Antonio with her husband, Ron, and their two daughters, Kira and Shana, Michele Stegman never knew it would inspire a contemporary Native American romance. After all, she lives in an 1840′s log cabin, spins, weaves, makes her own soap, and writes historical romance. But when the plot for Mr. Right's Baby just popped into her head one day, she knew she had to write the story. www.michelestegman.com
WINNERS announced in comments — see if you're one!!
Weekly Winners –
Winners on Romance At Random
Hi everyone! Thanks again for blogging with us this week — winners are below & if you are one, please send your snail mail to: romanceatrandom@randomhouse.com so we can get you your book! Or email if you prefer a digital copy. Authors that may have offered a giveaway during the week will post their winners on those posts in the comment section — so take a look to see if you're included!
Now . . . R@R's Weekly Winners . . .
Congrats to all:
3- OliviaKelly
and a few more for Thanksgiving – Thankful for our R@R commenters:
Don't miss, debut Cecilia Grant & her new book A Lady Awakened, on sale 12/27:

Shiny Happy Heroines & Giveaway!
Shiny Happy Heroines
By Melina Kantor
After I finished graduate school, I struggled to build a life in New York City. I was determined to find a job and create a social life.
Sadly, I wasn't very successful at either. At the time, I was living in a studio that didn't hold much more than my twin bed and stacks of books. I'd ride the subway and look at other women my age dressed to their professional gills in their fitted coats and stylish shoes, on their way to what I imagined were fantastic, glamorous jobs. In my mind, they were all married, or at least on their way to being engaged.
I used to whine about this to my mother. Regularly. She got sick of it, and quickly. One day she snapped and told me, "You've been reading too many of those books with pink covers."
In other words, too much chick lit and contemporary romance.
Now, I think we'd all agree that there's no such thing as too much of any kind of romance novel. Her point was that I was reading about too many twenty-seven year old single girls in New York, living the life I wanted, and having their happily ever afters.
In my mind, reading about heroines who had great shoes, cute apartments, cute pets, good jobs, great social lives, and a love interest gave me something to strive for, along with a much needed dose of hope.
But I must admit that my mother had a point (as, let's face it, she usually does). Yes, there are plenty of twenty-seven year-old women who do have a classic chick lit heroine way of life. But many of us don't. Which is why "shiny happy heroines" can play with our confidence.
I'm not saying that characters can't be happy and successful. But I do think that even in the lightest and happiest of stories, it's important that the heroine have her fair share of struggles and challenges in order to make her more like someone we can relate to.
Otherwise, readers may find it difficult to connect – especially those of us who live in real New York apartments where we keep our blow dryers on the bedroom floor because our bathrooms have no outlets and our socks in a drawer under the television because we don't have an inch of space to spare.
Now, at the age of thirty-three, I have a decent apartment. And a job, and a cute (although extremely naughty) dog. I've made friends and built a life in New York City.
But still, life's not ultra shiny. Not at all. And my friends' lives aren't necessarily glistening either.
By the way, I still devour "books with pink covers." I always will. But I do admit to being more choosey about the type of heroines I read about.
What do you think? Do you enjoy living vicariously through "shiny happy heroines" or do you prefer a heroine with some real challenges?

Perfect Timing & Giveaway!
Perfect Timing!


Have you ever tried to read a book and just can't get into it? It doesn't catch you, you read several pages but you can't even recall what you've just read? Do you put the book down? Do you force yourself to read it? Even worse, what happens if it's your favorite author??? I'll admit this has happened to me a time or two. But later when I finally pick up the book again, I discover it wasn't the author, the book or anything else that influenced it. Most times I even ended up absolutely LOVING the book! It was all in the timing. Perfect timing.
Linda Howard is one of my favorite authors, she's an absolute auto buy, even in hardcover. I haven't ever disliked one of her books. Though I will admit to having favorites… Dream Man…Yum. But when I cracked open the first pages of All the Queen's Men, the pages blurred, I couldn't remember what I had read and the plot seemed…well, dull …ugh! Not my Linda Howard, she's a perfect writer!!! She could never be considered dull!! Rather than force myself to read the book I put it back on the shelf where it stayed for nearly a year…
As I was getting ready for a conference and contemplating how I was going to pass time on a six hour train ride, I came across All the Queen's Men again and thought to myself – I'll give it a shot! Determined not to be defeated by a book I boarded the train looking for the perfect seat only to discover there weren't many seats available. Two to be exact. One next to a very angry looking passenger and the other next to a young man about my age. Ah yes, I read romances, I noticed him right off! I asked him if the seat was taken and proceeded to sit down. We had a bit of polite small talk and then he opened his book and I opened mine. All the Queen's Men, spies, espionage, CIA, covert ops and suspense ensue…
About two hours into the trip Mr. Young & Cute gets up from his seat, tells me he's getting a sandwich and asks if there's anything I would like. By this point I'm already crushing on him….but I politely decline. When he comes back we start up more small talk. This time he tells me his name is Sam Adams and he's headed to Washington DC to fly to Germany for training. Hmmm, is it because I'm reading about spies that I suddenly imagine he's already a spy? His name is Sam Adams, like the beer. After all why would he tell me his REAL name if he's a spy? And why take the train all the way from Wisconsin to Washington DC only to fly to Germany? Why not fly out of Chicago? I find him to be just a little too much like John Medina, the hero from Linda Howard's book, but so interesting that I'm hanging on his every word and trying to figure out if he truly is a spy…Well, maybe that's a little dramatic, but I still had the question of his name and the questions of why he would be travelling to Germany via DC…
By the time we arrived in Chicago I was more than a little infatuated with Mr. Nice Guy Spy. Being unfamiliar with the town, he offered to walk me to meet my cousin (he had a two hour layover before his next train left). He walked me the three blocks, carried my suitcase and waited with me until my cousin arrived…I thanked him and waved good-bye…
When I finally finished reading the book I couldn't help but wonder why I had found it dull in the first place! As it turned out, All the Queen's Men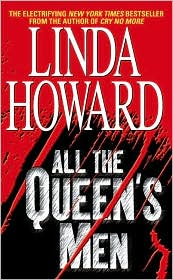 is one of my favorite books by Linda Howard. I've reread it several times, but I can't help but think the timing and the circumstances around reading it had just a little something to do with it….
Is there a right time for a book? A wrong time? Is there perfect timing for a book? Have you ever felt that reading a book at a certain time was meant to be? Have you ever gotten something different out of the book because of those circumstances?
5 commenters are chosen every week to win a FREE book – comment away! Good luck!
'NEW' Random Thoughts: Follow the Yellow Brick Road by Stefanie Sloane
Follow the Yellow Brick Road—to Seattle! Emerald City Writers' Conference 2011
Random Thoughts
Billions and billions of fleeting ideas are produced day-in, day-out, by every last person on the planet. Are you really allowed a five mile an hour cushion before it's considered speeding? Somebody needs to design the sarcasm font. Nachos! What is another word for "thesauras"? See!
As for mine? Well, mine are decidedly more romantic in nature. Not that kind of romantic. Not all the time, anyway. Who inspired Julia Quinn's Lady Whistledown? Are vampires hotter than warewolves? Rakes! How does one write the perfect query letter? Cowboys! What do booksellers want from authors?
And that's just the tip of the iceberg, people! I was raised by a romance author. I've worked as a romance bookseller. And now I'm writing romance novels of my own. You can't even imagine how much is on my mind—and now you don't have to. Random Thoughts is the column that will answer the who, what, when, where, and whys of the romance novel world—maybe even the how-on-earth-did-that-happen ones, too! Welcome to Random Thoughts, where every road leads to romance.
You might wonder what, exactly, would bring someone to Seattle at the end of October; a time when the Emerald City has quietly slipped from a mild summer into a soggy fall and quite literally slid into dark, cold days in anticipation of the coming winter. Last weekend, most Seattleites were busily dreaming of tropical locales and drinks topped with umbrellas. Not so for over 300 romance writers, readers, editors, and agents who made their way to the 22nd Emerald City Writers' Conference just east of the city, where they spent the entire weekend talking shop, getting their inspiration on, and honing their craft, despite the grey skies and pelting rain. Produced by the Greater Seattle chapter of the Romance Writers of America, ECWC is the largest regional romance writing conference in the west. The annual event attracts writers of romance and other genre fiction from around the world who are serious about building their careers.
With over 100 workshops, chats, and events offered, there was something for everyone. Friday alone featured a Master Class taught by renowned writing coach Bob Mayer, Diana Love's inspirational opening address, and the ever-popular Editor Agent panel. Attendees listened to such industry experts as Ballantine editor Junessa Viloria, Knight Agency agent Melissa Jeglinksy, and Angela James of Carina Press field questions concerning everything from what they're tired of seeing in submissions to the ideal query letter.

New York Times bestselling author Cherry Adair closed the evening in signature style by recognizing those who participated in her "Finish the Damn Book" challenge.
Feather boas went to those authors who managed to complete a manuscript within a year's time—and this year, Cherry sweetened the deal by randomly selecting eight awardees that will be given the chance to get their work in front of New York editors and agents!

Saturday and Sunday brought their A games as well, with Sherrilyn Kenyon's heart-wrenching keynote speech, the massive bookfair which featured many local authors, and the closing talk given by Sarah Wendell of Smart Bitches, Trashy Books fame.
And those are only a few of the highlights. Yes, you read that right. Only a few. Want in on the action next year?
Be sure to check out the Greater Seattle chapter's website for updates on what's sure to be an awesome conference in 2012!
Thanks!
Stefanie, host of Random Thoughts

Stefanie Sloane's Regency Rogues series burst onto the scene in 2011 with three captivating Regency historical romances that delighted readers and critics alike. The fourth book in the series, The Saint Who Stole My Heart, will be released April 24, 2012. Please visit her on the web at the following fabulous sites:
StefanieSloane.com
Facebook.com/StefanieSloane
Twitter.com/StefanieSloane

Weekly Winners !
Weekly Winners!


Winners on Romance At Random
Hi everyone! Thanks again for blogging with us this week — winners are below & if you are one, please send your snail mail to: romanceatrandom@randomhouse.com so we can get you your book! Authors that may have offered a giveaway during the week will post their winners on those posts in the comment section — so take a look to see if you're included!
Now . . . R@R's Weekly Winners . . .
Congrats to all:
3- Jenn
4-Connie
5-The Book Queen


Until next week – happy romance! SueG
Climbing Into Your Character's Skin + Giveaway!
Climbing Into Your Character's Skin


'Stay in your skin' is a phrase my shifters use in my Feral Warriors series. It means keep your claws and fangs from erupting. Stay in control. But that phrase has a slightly different meaning for me, as the writer. To me, it means keeping my characters real and true to who they are. In my case, I'm not staying in my skin so much as staying in theirs.
So who are the Feral Warriors? They're the last nine shape-shifters left in the world, each of whom shifts into a different animal—lion, hawk, wolf, jaguar, viper, etc. All are warriors, all are alpha males—big, strong, and dangerous. But each is also an individual with a distinct personality, a unique history—experiences that have formed him, wounds that have molded him. And each has something deep inside that keeps him from true happiness, a hatred that festers or a wound that refuses to heal. Each will be happiest when he finds the love of his life, but until he works past the internal roadblock that's been screwing up his life (even if he doesn't recognize anything is wrong), he'll never be happy. Not even with the woman of his dreams. Which is why it's so important for me to crawl into the skins of these males and to truly understand them—what makes them tick, what makes them ache or rage in fury. Once I understand them, I'm able to find the circumstances that will force them to face that inner roadblock, that wound that's been festering inside for decades. Or centuries. Or even millennia.
And it's in thoroughly understanding each male, inside out, that I'm able to find and recognize the woman capable of forcing him to change, the woman who, alone, can heal him. And complete him. Just as no two heroes are alike, neither are the women who will fight for their souls and, ultimately, win their hearts.
Lyon, the Chief of the Ferals, doesn't have time for love and doesn't want the weakness it brings. But he's closed off emotionally and badly needs that love. And it comes in the form of sweet Kara who brings out all his protective instincts, making him feel again.
Jag, the bad boy with the foul mouth and the fouler attitude, delights in enraging his fellow Ferals, driven by a deep self-hatred even he doesn't recognize. But Olivia, the latest target of his questionable charm, sees the truth. A warrior with a secret of her own, she's tough enough to kick his butt and, ultimately, to help him heal.
Hawke, the hero of my latest Feral Warriors novel, Ecstasy Untamed, book 6 in the series, is the kindest of the Ferals, a warrior who loves kids and is protective of all his Feral brothers' wives. So he's devastated when his imprisonment in a Daemon spirit trap leaves him with a loss of control that makes him a danger to everyone around him. His situation goes from bad to worse when the newest Feral Warrior arrives with a woman on his arm—a darling female with a smile like the sun. Faith. Hawke's far too honorable a man to ever make a move on a brother's woman even if his heart knows she's the one he's been waiting for, the only one who can truly heal him and make his life complete.

So, who is your favorite romance novel couple? I'll give away three signed copies of Desire Untamed, book 1 in the Feral Warriors series, to commenters. Winners will be announced in this post so be sure to check back! Good luck!

Weekly Winners!
Winners on Romance At Random
Hi everyone! Thanks again for blogging with us this week — winners are below & if you are one, please send your snail mail to: romanceatrandom@randomhouse.com so we can get you your book! Authors that may have offered a giveaway during the week will post their winners on those posts in the comment section — so take a look to see if you're included!
Now . . . R@R's Weekly Winners . . .
Congrats to all:
1- KA Burton
2-Diane
3- Casea
5-Kris


Until next week – happy romance! SueG
The hook . . . + Giveaway
The Hook, by Bev Nichol, Romantic Reader
My favorite opening scene has to be from MISCHIEF, by Amanda Quick.
I was recently listening to the audiobook while in my car driving home from work one rainy fall evening.
The ambience was perfect as it set the mood for the story.
Matthias, Earl of Colchester, enters the dark residence, holding a flickering candle.
As he explores the old house he happens upon a sarcophagus. Of course it is late at night and he is tired, so where do you think he decides to lay down to relax?
Our heroine Imogen and her maid Bess enter the scene & suddenly Matthias is awakened by a bloodcurdling scream!
Since having read many Amanda Quick novels, I realize no self-respecting Amanda Quick heroine would be of such a delicate nature, nor would she dare to scream. As I listen to the book the narrator explains the frightened reaction is from Bess, whom is now lying on the floor, unconscious.
While Imogen is trying to rouse Bess, her no nonsense Aunt Horatia enters the scene. Imogen is still unsure as to why Bess fainted as she did not see what caused her reaction, so together they try to sort out why Bess "a sturdy girl not at all prone to fainting" has a fit of the vapors. During the discussion, Aunt Horatia glances around the room only to see Matthias in the coffin. Alarmed by the sight, Aunt Horatia alerts Imogen to her findings & promptly yells at her to run.
Imogen, being the extremely sensible 'Amanda Quick' heroine that she is, walks right up to Matthias, making it clear that he had better explain himself or she will call the local magistrate.
Matthias groggily sits up, looks her straight in the eye, only to advise her she is the one who called upon him! Matthias had traveled, at her request, to assist Imogen and her aunt.
"Good day to you, madam. I am Colchester"
"Colchester. Cold-blooded Colchester?"
Thus begins a beautiful romance.

This opening scene sets the tone perfectly for the rest of the book. A little suspense, a little humor and a lot of interesting characters. I love the interaction of the characters. The quick witted banter is enjoyable.
Elements in the opening scene should set the tone of the book, offering the reader a glimpse of the characters, and usually something to hook you into the next chapter, and even the rest of the book.


Opening scenes are so important as they are what draw us into the story. If I begin a book and am bored for the first 50 pages, it is that much more difficult for the story to redeem itself. I do love romance and have read for more than thirty years; I have read quite a selection of romance books and am very loyal to authors & the genre. Ninety-nine percent of the time, I will finish reading a book, where some of my friends will have put the book aside; the latter seems to be typical with the majority of readers.
So, what is it that keeps us reading? What are the elements of a good beginning?
Remember 5 commenters win a free book every week — winners are announced on Sunday's – good luck!