Saturday Recipes – 'Supergrains'
Discover how delicious nutritious eating can be with 100 flavorful recipes for breakfast, lunch, dinner and dessert, featuring twelve different grains (and six of them are gluten-free). Add these nutrient-packed superfoods to your diet and you'll be cooking meals that are high in health benefits and low in calorie count. Read more
Authors Jennifer Probst & Elisabeth Barrett talk about books, cooking & more + Giveaway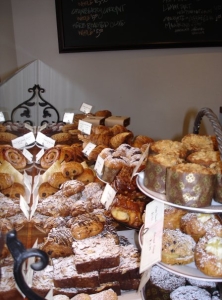 Elisabeth: Hello, Jennifer, and thank you for joining me at Romance at Random. It is a huge treat to have you with me today, especially since I LOVE the Marriage to a Billionaire series that is now sweeping the nation. I know the Marriage Merger is coming out in July, but you have a brand new foodie romance in digital format coming March 4th, right?
Jennifer: Yes, I'm really excited. It's called All the Way and pits a restaurant owner against a food critic so there's lots of yummy stuff to read about. Revenge, redemption, sex, angst, humor, and of course, tons of food!
BTW, just loving your Star Harbor series and those yummy heroes. Counting down the days to the next installment . When is it finally out? Read more
Meatball recipe, lip smackin' good!
Recipe for The Meatball Shop's MINI BUFFALO CHICKEN MEATBALLS
The Meatball Shop has quickly grown into a New York City dining destination. Food lovers from around the city and beyond are heading down to Manhattan's Lower East Side for a taste of this breakout comfort food phenomenon. Read more
Author Sarah Addison Allen on Books, Friendship, and Food
Sarah Addison Allen is the New York Times bestselling author of Garden Spells, The Sugar Queen and The Girl Who Chased the Moon. Known for combining elements of romance, magic realism and food, she has virtually created a genre all her own. In this special blog, Sarah talks about some of the book-inspired events readers have shared with her, while sharing her own delectable recipe. Sarah's latest book, The Peach Keeper, is new in paperback!
A book club reading my first book, Garden Spells, once sent me a photo of the magic apple tree from the story they'd created for their garden lunch meeting. A reader once wrote me about her book club meeting for The Sugar Queen, where she hid candy in the closet like the main character, and invited the her group to take candy from the closet. And for The Girl Who Chased the Moon, a club recently sent a photo of the members holding Blue Moon martinis.
I continue to be impressed by the creativity and care that go into book club meetings. They are events, events created around a book, a celebration of reading. How great is that? And when there's food involved, well, I think that's the trifecta: Books, Friendship, and Food.
For my latest book, The Peach Keeper, the food element comes from a magical, quirky barista who thinks how people take their coffee says a lot about their personalities. She creates snacks and sweets to sell that all have coffee as an ingredient: Cappuccino doughnuts, coffee oatmeal cookies, espresso brownies.
So I want to share this brownie recipe from the book with you. With a little punch on espresso, these brownies are divine. (For more recipes from my books, check out my website www.SarahAddisonAllen.com.)

Double Chocolate Espresso Brownies
Ingredients:
• Butter-flavored cooking spray
• 1 1/4 cups all-purpose flour
• 1/4 teaspoon baking soda
• 1/8 teaspoon baking powder
• 1/8 teaspoon salt
• 14 (1-ounce) squares semisweet chocolate, finely chopped
• 1 cup sugar
• 1/2 cup butter or margarine
• 1/4 cup light corn syrup
• 1/4 cup espresso or strongly brewed French roast coffee, cooled
• 3 large eggs
• 1 tablespoon vanilla extract
• 1 cup chopped walnuts (this can be optional)
• 6 ounces premium Swiss dark or milk chocolate, coarsely chopped
Directions
Coat a 13″ x 9″ pan with cooking spray. Line pan with aluminum foil, allowing ends to hang over short sides of pan. Tuck overlapping ends under rim on short sides. Coat foil with cooking spray; set pan aside.
Combine flour and next 3 ingredients in a small bowl. Place chopped semisweet chocolate in a large bowl; set aside.
Combine sugar and next 3 ingredients in a saucepan; cook over medium heat, stirring constantly, until sugar and butter melt and mixture comes to a rolling boil. Remove from heat, and pour over chopped chocolate in bowl; let stand 2 minutes (do not stir).
Beat mixture at low speed of an electric mixer until chocolate melts and mixture is smooth. Add eggs, one at a time, beating well after each addition. Add flour mixture; beat at medium speed until well blended. Stir in vanilla, walnuts, and dark chocolate.
Spoon batter into prepared pan, spreading evenly. Bake at 325° for 45 to 48 minutes. Cool completely in pan on a wire rack. Cover brownies with overlapping foil; chill at least 2 hours.
Carefully invert brownies from pan, using overlapping foil as handles; remove foil. Invert brownies again onto a cutting board; cut into squares or diamonds and enjoy.