#ReleaseDay ~ An interview with Samantha Kane & Devil in My Arms
Happy Release Day! Author Sharon Cullen interviews Samantha Kane about her new book DEVIL IN MY ARMS – enjoy!
I was thrilled to be able to interview Samantha Kane, especially after I read DEVIL IN MY ARMS. This was a very fun book and I loved the hero, Hil. And I always like a heroine who is stronger than everyone gives her credit for.
Just a little bit about the book: Read more
Book Review: Loving the Earl by Sharon Cullin — Amy gives 5 Stars
Loving the Earl is book two in her series starring Claire whom we met in The Notorious Lady Anne.
After the death of her physically and emotionally abusive husband, Claire Hartford is ready for an adventure. She is headed to Italy to find herself an Italian lover. Trying to get out from under the careful watch of her brother, she schedules her departure on a ship not in his fleet. Unfortunately for her, Claire's brother has found out and instead of stopping her, he has sent his best friend to keep an eye on her. Read more
Interview with Sharon Cullen and her new release Loving the Earl
In Sharon Cullen's, LOVING THE EARL, Claire Hartford is determined to have the adventure she'd been denied when she was younger. A young widow held under the thumb of her abusive late husband, Claire vows that she will have her fun no matter what. But Lord Nathan Ferguson has other ideas. Tasked to watch out for Claire by her overprotective brother and on a mysterious mission of his own, Nathan has no idea what he's getting into…
Interview by Samantha Kane, Devil In My Arms releases later this month! Read more
What is your favorite form of communication? by Ella Quinn
I'm so glad to be invited back. The last time I was here I discussed heroines, Regency ones in particular. But today I've been thinking a lot about how we communicate. Even with all our electronic devices, and tendency to be blunt, we sometimes have trouble being understood. Everyone probably has that person or persons who take everything we say the wrong way. Read more
On sale now – New Release from Megan Frampton, What Not to Bare
What Not to Bare is out today, and I am so excited to share Charlotte and David's story with everyone. In writing this book, I challenged myself not to make it a 'do or die' story–in some of my previous books, the heroine, in particular, has had to marry someone or find some way to secure her future–or else.

Charlotte doesn't have to worry about that. She is financially independent, she knows she could eventually persuade her parents to let her do what she wants, and she already knows her own mind. She just wants love, and she won't compromise herself for something that isn't what she truly deserves. Read more
Friday Find: IN BED WITH A HIGHLANDER in eBook, only $1.99 for a limited time!
Maya Banks, the New York Times bestselling author of erotic romance, romantic suspense, and contemporary romance, has captivated readers with her steamy Scottish historical novels, perfect for fans of Julie Garwood. In Bed with a Highlander is the start of a beguiling trilogy featuring three unforgettable brothers risking everything to save their clan and their legacy—and to surrender their hearts to love.
Ewan McCabe, the eldest, is a warrior determined to vanquish his enemy. Now, with the time ripe for battle, his men are ready and Ewan is poised to take back what is his—until a blue-eyed, raven-haired temptress is thrust upon him. Mairin may be the salvation of Ewan's clan, but for a man who dreams only of revenge, matters of the heart are strange territory to conquer.
The illegitimate daughter of the king, Mairin possesses prized property that has made her a pawn—and wary of love. Her worst fears are realized when she is rescued from peril only to be forced into marriage by her charismatic and commanding savior, Ewan McCabe. But her attraction to her ruggedly powerful new husband makes her crave his surprisingly tender touch; her body comes alive under his sensual mastery. And as war draws near, Mairin's strength, spirit, and passion challenge Ewan to conquer his demons—and embrace a love that means more than revenge and land.
Buy your copy HERE
Guest Post – Sex in the Office by Katie Rose
It seems so odd to realize that not very long ago, a woman's role in life were really limited to one: wife and mother.
The unfortunate female who didn't find a suitable husband became a spinster, dependent upon the charity of her family, while those without such means were relegated to positions such as governess, seamstress, or maid. I remember reading Little Women, and thinking it sad that bright and talented Jo, who eventually published some of her stories, was so limited when it came to a career. Read more
Guest Post: Where Do Your Stories Come From? by Anita Clenney + Giveaway
If you're a writer I'm sure you've been asked "How do you come up with your ideas?" I'm asked this every time I talk about writing with someone who doesn't write. They're amazed that all these plots are swirling around in a writer's brain.
I can't imagine not having a plot in my head. Even before I knew I wanted to write—like decades before I knew I wanted to write—I still had plots in my head. As a kid, I thought in scenes. Whatever was going on around me was a springboard for a daydreaming session. Too bad I didn't connect the dots earlier and realize I needed to tell stories. Read more
Friday Find: THE BOLEYN KING in eBook, only $1.99 for a limited time!
Perfect for fans of Philippa Gregory, Alison Weir, and Showtime's The Tudors, The Boleyn Kingis the first book in an enthralling trilogy that dares to imagine: What if Anne Boleyn had actually given Henry VIII a son who grew up to be king?
 
Just seventeen years old, Henry IX, known as William, is a king bound by the restraints of the regency yet anxious to prove himself. With the French threatening battle and the Catholics sowing the seeds of rebellion at home, William trusts only three people: his older sister Elizabeth; his best friend and loyal counselor, Dominic; and Minuette, a young orphan raised as a royal ward by William's mother, Anne Boleyn.
Against a tide of secrets, betrayal, and murder, William finds himself fighting for the very soul of his kingdom. Then, when he and Dominic both fall in love with Minuette, romantic obsession looms over a new generation of Tudors. One among them will pay the price for a king's desire, as a shocking twist of fate changes England's fortunes forever.
Buy your copy HERE
Guest Post: Regency Romance by Ella Quinn
In the Regency World, we tend to focus a lot on heroes. Rakes, otherwise tortured souls, ranging from the results of bad parenting, to war injuries. And I do like to torture, um, tortured heroes. Tight pantaloons, a well tied cravat, but what about the ladies? I mean after all, if you have a fantastic hero you must also have an equally fantastic heroine. Some people think that is more difficult for an historic woman to be strong, like a contemporary one. I disagree.
There are historical accounts of ladies running estates, think large companies. They were involved in politics and influenced votes, even when they didn't have the right to vote. Ladies of the time, were many times more educated than many of our contemporaries, piano, voice, literature, art, French and Italian, were the minimum requirements, and they got to ride horses and drive carriages; all while wearing awesome clothes. Read more
Guest Post: True Spies by Shana Galen + Giveaway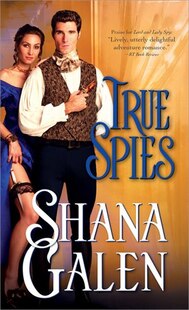 In Adele's hit song, "Set Fire to the Rain," there are two lines that sum up the relationship between my hero and heroine at the beginning of my new release True Spies.
"There is a side to you

that I never knew, never knew.

All the things you say,

they were never true."
Guest Post: A Gypsy Noblewoman, Collette Cameron
The heroine in The Viscount's Vow, Evangeline (Vangie) Caruthers, is a bit unusual for a Regency romance. Though she's the daughter of a baronet, she's also part Romani; a gypsy princess in fact.
I thought I'd share some of the interesting Romani culture tidbits I came across while doing my research. These were true in 1814, the year The Viscount's Vow is set in.
Read more
Author Brownwen Evans Guest Posts – Regency Pin Money and Secret Spending +Giveaway
I'm saving up for some landscaping work to be done at my beach/vineyard house. Boy, is having a lovely garden an expensive business when you've just built a house. I have an acre section that needs grassing at a cost of $5k. Then there is drainage, irrigation etc. On top of that is all the planting…
It made me thankful that I can earn my own income. As a single woman, imagine if I was reliant on someone else for my upkeep. I was thinking of my heroine, Miss Beatrice Hennessy, in A Promise of More, my second book for Loveswept, and the fact that in Regency times, women of nobility relied on male members of their family, or their husbands, to support them. Read more
Routine? I don't need no routine by Sharon Cullen
As I'm typing this, the Cullen kidlets are getting ready to go back to school. I think I'm more upset by the end of summer than they are. Mainly because I don't like routine.

Even though I'm not a big fan of the heat, summer is my most favorite time of the year because of the lack of routine. There's no set time to get up in the morning. No set time to go to bed. I love that! Read more
Guest Post: The Great Hero Debate by Ashlyn Macnamara
Historical or contemporary—which genre has better heroes? I decided to find out by doing an informal poll of my author friends. While the sampling below his hardly scientific, here are the results of my survey.
Author of racy Regency romps, Valerie Bowman (Secrets of a Runaway Bride, available now) is quite adamant in her choice. "Historical heroes FTW!" she says. "They are hands down hotter. My particular favorite is Jason Fielding from Judith McNaught's Once and Always. He's smoking hot, a bit tortured, speaks in an English accent, knows how to rock a cravat, owns a giant country estate and a fleet of trading ships. And oh yeah, he's a freakin' MARQUESS. The end." Read more
#CoverReveal – A Kiss of Lies by Bronwen Evans
In Bronwen Evans's Loveswept debut, a pair of damaged souls ignite each other's deepest passions—even as they tempt fate by deceiving the world. Read more
#CoverReveal – Devil in My Arms by Samantha Kane
The Saint's Devils are a group of rakes that have been friends since their school days. Their unofficial leader is Sir Hilary St John, a brilliant, hedonistic Sherlock Holmes character who helps his friends solve mysteries surrounding their heroine in each book…
WEEKLY GIVEAWAY: Enter to win a copy of A MOST DEVILISH ROGUE!
This week we're giving away 10 copies of A MOST DEVILISH ROGUE by Ashlyn Macnamara, asensual new novel, which proves that two hearts are better than one. Winners will be emailed this Friday, so enter to win below!
As always, you can head over to Romance at Random's Giveaway Tab, for any giveaway details you might need, and we'll remind you throughout the week to enter via Facebook and on Twitter.
Follow us now so you won't miss out! Read more
A Most Devilish Blog Tour – Begins 8/20
Join Ashlyn on her Devilish Blog Tour beginning 8/20 – free books & fun for all — visit each site for details – good luck!
Aug. 20: Fresh Fiction Read more
Guest Post by Bronwen Evans, Tortured Heroes + Giveaway!
Readers are drawn to tortured heroes.
Every romance author knows it. Tortured heroes are found across all genres, all tropes and all nationalities. They fill our world of romance with heartache and desperation, and we love them.
There is something about a wounded man. Tortured heroes grab our attention and break our hearts. They are usually tough on the outside, but with a soft, molten inner core. He surrounds himself in armor, an impenetrable fortress that keeps him from being hurt again, but also means he can't heal. Read more
Book Review: Farrah Loves TEMPTING A DEVIL by Samantha Kane! Stop by & see why
Another great book the this series! Tempting a Devil was a wonderful historical romance. It was perfect, brilliant, fantastic! Loved it!
Samantha Kane had a gift creating unique historical romances. This book definitely didn't lack in originality. A desperate widow trying to ruin herself with a rake that just discovered his morals in order to avoid the man who wants to trap her in a marriage (and there's a whole other story going on there). This story took me on a wild ride and I enjoyed every minute of it. Read more
WEEKLY GIVEAWAY: Enter to win a copy of THE DEEPEST NIGHT!
This week we're giving away 10 copies of THE DEEPEST NIGHT, Shana Abe's beautifully written, deeply romantic follow up to THE SWEETEST DARK. Winners will be emailed this Friday, so enter to win below!
As always, you can head over to Romance at Random's Giveaway Tab, for any giveaway details you might need, and we'll remind you every day during this week to enter via Facebook and on Twitter.
Follow us now so you won't miss out! Read more
Loveswept Classic Release, A Hint of Mischief by Katie Rose + 2 eBook giveaway!!

I am thrilled that the Appleton series is getting a new life as part of Random's Loveswept line.
A HINT OF MISCHIEF was one of my favorite books. Set in Victorian New York, the series is about three women who were orphaned and living with their sweet Aunt Eve in a spooky old mansion. It is clever Jennifer Appleton who comes up with the idea of practicing spiritualism in order to obtain much-needed money. They are charlatans, but charming women who offer hope and counsel to grieving widows who lost loved ones in the war. Jennifer, with her eyes closed, would consult a crystal ball while Winifred and Penelope knocked on the walls and played a harpsichord upstairs to make it seem as if spirits were indeed in attendance.
Read more
#NewRelease! Baring it All (Short Story) by Megan Frampton + 10 book Giveaway!!
Megan Frampton turns up the heat on one bride-to-be and her oblivious bridegroom in this steamy and scandalous eBook original short story of Regency romance.
It is with great discretion that this columnist discusses the sensitive topic of undergarments. Some ladies, it seems, do not pay strict attention to what they wear under their gowns. A crucial error, my ladies. Read more
#Loveswept #CoverReveal – What Not to Bare by Megan Frampton
Dear Ladies:

Your usual columnist has departed for more fashionable shores, leaving you in my somewhat less-than-capable hands. But let me assure you that my primary concern is to keep you fashionable, no matter how many puce prints and overflowing bodices I need to examine in the course of my work.

Let us tackle the first topic right away, then, shall we? Read more
Sabrina Jeffries interviews Nicole Jordan on Romance At Random + Giveaway!
As her second Legendary Lovers Regency historical, Lover Be Mine, goes on sale today, Nicole Jordan answers questions posed by sister Regency author, Sabrina Jeffries. Both have many New York Times bestsellers to their credit and blogged together for years on TheGoddessBlogs.com.
Sabrina: Having lived in New Orleans for many years, I love celebrating, and the publication of Lover Be Mine is certainly cause to celebrate! What are you doing today to toast the publication of Lover Be Mine? Read more
He's Just Not That Into You: The Historical Version by Valerie Bowman
You may recall a few years back, a book that caused quite a hub bub. The book was titled, He's Just Not that Into You. Based on an episode of the wildly popular HBO show, Sex and the City, the book caused such an uproar among the ladies who read it, that a film was soon commissioned.
I admit it. I saw the episode of Sex and the City. Then I read the book. Then saw the movie. Yes, I was that into the concept. It was absolutely maddening in its simplicity yet fascinating in its compelling layers at the same time. Read more
COVER REVEAL – #Loveswept – Tempting a Devil by Samantha Kane
In Samantha Kane's erotic tale of secrets and temptation, a woman whose only defense is seduction targets a rake who teaches her the true meaning of love.
Read more
An interview of Shana Galen + Giveaway!
Interview by Sharon Cullen, author of THE NOTORIOUS LADY ANNE, on sale now!
SC: I discovered Shana Galen's books way back when she first published The Making of a Duchess and I was hooked. I've read every one that has been published since then. I'm absolutely thrilled to be able to pick her brain today (insert evil laugh).
SC: First of all, congratulations on your newest release, If You Give a Rake a Ruby.
SG: Thank you! It's lucky number 13 for me.
SC: Your latest series is about three courtesans, or Cyprians, which is not the norm in the romance world. What made you decide to make a courtesan your heroine?
SG: Sometimes it's as fun to write about the bad girls, the dangerous girls, as it is to write about those bad boys. I thought a lot about what I enjoy in a Regency romance when planning this series. I love the gowns, the balls, the glamour. Courtesans were some of the most glamorous women in the Regency world, so why not write about them?
Read more
The Bawdy Book Blog Loved this book – A Most Scandalous Proposal
Review by The Bawdy Book Blog – thanks for an honest review!
After watching her beloved sister Sophia pine over the ton's Golden Boy for years, Miss Julia St. Claire has foresworn love and put herself firmly on the shelf. Unfortunately, her social-climbing mother and debt-ridden father have other ideas, and jump at the chance to marry Julia off to the newly-named Earl of Clivesden…the man of Sophia's dreams. Read more