"It's the most wonderful time of the yeeeaaaarrrr……" by Sharon Cullen (with recipe!)
We have now entered one of my favorite times of the year and you know what my MOST favorite part of the season is?
The baking.
I love to bake. Always have. Cooking dinner? Not so much. But I can bake up a storm, especially around Christmas. Read more
Hot #Holiday Hunk Hop Begins 12/10 ends 12/20 #Gifts and #Giveaways Galore including a $50 EGC!!
Happy Holidays to everyone – what better way to celebrate this time of year than to heat it up with hot hero hunks?
Ladies meet Ethan (Ruined) and Evan (Wanted) — these are two hot, to-die-for hunks that you'll definitely want to get to know — both of their books release January 7, 2014. More details here: RUINED ; WANTED


Starting 12/10, enter the Rafflecopter below to win awesome prizes


a Rafflecopter giveaway

Visit all of the participating sites to increase your chances to win — good luck!



Learn more about Wanted here:
For fans of Fifty Shades of Grey, Bared to You, and Release Me comes an all-new erotic series of three enigmatic and powerful men, and the striking women who can bring them to their knees.
He is everything I crave, all I desperately want—and he is everything I can't have.
Evan Black embodies my every fantasy. He is brilliant, fierce, and devastatingly handsome. But he is also headstrong, dangerous, and burdened with secrets.
My family warned me to stay away, that I could never handle Evan's dark dealings or scarred past. Maybe I should have listened. Maybe I should have run. But our desire is undeniable, and some temptations you just can't fight.
And from the moment we touch—the passion between us consuming us both—I know that I will never be the same.

Learn about RUINED here:
He's the last man Chloe Girard should love . . . but the first she ever could.
Ethan Frost is a visionary, a genius, every woman's deepest, darkest fantasy—even mine. And, somehow, I am his.
He stole into my life like a dream. Turned my reality upside down and made my every desire come true—especially those I never knew I had. He demanded everything I had to give and gave me everything of himself in return.
But dreams don't last forever, and ours is no exception. Because my nightmares are darker, and my wounds deeper, than I could ever reveal. And as much as Ethan wants to protect me, the secrets we we share will only tear us apart.
WINNERS CHOSEN below: Miracle Holiday Hop #Giveaway
Start your holiday's off right and win Free books in our Miracle Holiday Hop Giveaway -
Perfect for fans of Robyn Carr and Debbie Macomber, New York Times bestselling author Emily March's seventh book in the Eternity Springs series is a heartwarming story that celebrates the miracle and joy of love during the holidays.

Enter to win prizes here: Read more
Do you know what today is? International Kissing Day!!
Did you know . . . .
What started as a holiday in the United Kingdom was quickly adopted worldwide. Today we celebrate the kiss and the simple pleasures associated with it.
For more information on this special day visit worldholidays.com
Remember your first kiss? Do share, was it as awkward as mine, wet, sloppy and similar to that of my dogs *grins* — tell R@R about yours –
Happy Holiday!

WINNERS ANNOUNCED Gifting Books, a #XmasGiveaway Hop December 20-27
#XmasGIVEAWAY
Gifting Books Christmas hop was organized by Reading Romances!
Read below to find out how you enter to win!
Romance at Random is gifting 2 Holiday Gift Boxes of Books! US only & must be 18 years or older.
Author's share their Holiday Memories #romantic!!
The holiday's come & go, almost too swiftly IMO — do you ever take the time to reminisce? Think about some of the fun, and not so fun moments of the season and seasons past? We've asked some of you to share in the holiday fun . . . let's reminisce!
My mistletoe wow was one of the first years my now husband and I were dating. I had no intention of getting a Christmas tree–too poor, no idea where to go, and no way to get it home anyway–and he snuck into my apartment with a tree and decorated it with pink ribbons, fake pearls, and a pair of pink underwear. Mine, of course. I was floored at his thoughtfulness, not to mention his decorating ingenuity.
–Megan Frampton, Hero of My Heart, April 2013.

Emily March shares her mistletoe woes!
I have a Christmas tree that reminds me of a cartoon…and it's not Charlie Brown's Christmas.
The thought was good. We decided to buy a living tree that we could plant at our new lake house to mark our first Christmas owning our dream-come-true.
The reality…is embarrassing. I'm pretty sure our tree danced to "Be Our Guest" in Beauty and the Beast.
I expect the poor thing to break out in song any minute.
Emily March, New York Times bestselling author of MISTLETOE MINE


What are some of your memories – Happy Holidays!
From R@R
Ab Appreciation Day for the Holidays
And, for your Holiday

viewing pleasure

(just seemed so apropos!)




From the Staff on R@R
Top 10 Ways to De-Stress Your Holiday Season, by Alyssa Day & giveaway!
Alyssa shares her de-stress techniques with R@R today of which #4 looks like a favorite to me, what about you?
1. Explain to your little boy dog that a Christmas tree is not, in fact, INDOOR PLUMBING!!!
2. Take several rolls of refrigerator cookie dough to the neighborhood cookie exchange.
3. When you clean house before holiday guests arrive, throw all unsightly clutter in your kids' closets and pretend you don't know how it got there.
4. Two words: Spiced Rum. Read more
Guest Post: Tis the Season for Fugly Sweaters Part Deux + 2 copy giveaway!!
Confession: I love holiday sweaters-the gaudier, the better. Blinking lights, glitter, puppies wearing Santa hats and fake ornaments sewn on an even faker tree? Sign. Me. Up.
Seriously.
For the past two year Hot Builder a.k.a. the husband and I have been invited to an Ugly Sweater Party, and each time we had to be out of town. Of course this year is no different. We'll be visiting great-grandparents and aunties and uncles and cousins that we only see once a year. And eating. Oh the eating.
Unfortunately, there won't be a FCS (Fugly Christmas Sweaters) in sight. How disappointing. *sigh* Maybe I'll wear some headband antlers instead…Or I could just check this when we're all sleepy from the good eating:
Oh yes, Romance@Random-ers, there is a website. One that can outfit your entire family and your little dog, too. Well, if you ordered a small enough size. I think there might be some on there that I wore during my Elementary School teaching days.
*shhhh don't tell* Read more
From the Friendship Bread Kitchen: Darien Gee's Top 5 Recipes for the Holiday Season
"It's moist and sweet with a hint of cinnamon. It hits the spot, as unexpected kindness always does, and soon there is only one slice left."
from Friendship Bread
Holiday baking. Warm, fragrant kitchens. Cinnamon, nutmeg, cloves, and ginger; flour and sugar dusting the counters. Bread rising in the oven, cookies and cakes cooling on the rack. Have I got your attention yet? (smile)
Guest Post – Just a Cowboy and His Baby by Carolyn Brown
It seems fitting that Just a Cowboy and His Baby hit the book stores today because December is the month that the rodeo cowboys gather in Las Vegas for the Pro Rodeo Championship.
Gemma and Trace are both entered in the saddle bronc riding. A whole bunch of cowboys and cowgirls will go home with experience and a desire to ride again the next year but only one saddle bronc rider will leave with a big buckle, a lot of money and a title. Read more
New Release: A Christmas Bride/ Christmas Beau by Mary Balogh
2 in 1 Balogh Holiday – in paperback, buy here
About the Books:
In a pair of classic Regency-era Christmas romance novels from New York Times bestselling author Mary Balogh, the holidays herald the greatest gift of all: unexpected, all-consuming love.
A CHRISTMAS BRIDE
The very wealthy Edgar Downes has promised his aging father to finally take a bride—specifically, to wed a titled lady by Christmas. London is full of pretty, proper, and eligible misses, but it's the widow Helena, Lady Stapleton, in a shocking red dress, who captures Edgar's attention. Helena is intrigued by the seductive stranger—but he's simply not in her class. Marriage, of course, would never do. But in a season of miracles, something wondrous is about to happen. Read more
Naughty & Nice a bundle of delicious delight for the holidays
On Sale now!
About the book:
'Tis the season for romance with three original holiday-themed novellas! Unwrap this festive eBook bundle and discover why these authors are quickly becoming the biggest names in the genre. Ruthie Knox tells a heartwarming contemporary story of first loves given the gift of a second chance; Molly O'Keefe releases the ghosts of Christmas past with a prequel to her novel Crazy Thing Called Love; and Stefanie Sloane weaves an irresistible Regency tale of fiery passion that burns deep on a cold winter's night. Read more
Guest Post – Romance in Paris by Cherrie West
Thanks Cherrie for touring us through the city of romance! Even though most of us won't be able to make the journey it is a fun way to see some of the sites — I may even take a virtual shopping tour online – let's get started . . .
As the weather grows colder, it is time to start thinking about the holiday season and the gifts that you will buy this year. Why not convince your partner to take the Paris train for a getaway that will provide you with plenty of opportunity for shopping and for romance? The City of Love and Light has an array of Christmas markets that will help you find something for everyone on your list—even the ones who have been more naughty than nice this year.
Guest Post: It's beginning to look a lot like Christmas by Carolyn Brown
It's beginning to look a lot like Christmas.
I know! I know! We still have Halloween with all the witches and goblins and trick or treating to do and then Thanksgiving with all the cooking and all the family coming home. Read more
Winners Announced – Spring Fling Giveaway
WINNERS – thanks all for blogging with us!
Suzanne Blasi #12
Connie Fischer #43
Lynn Hankins #92
Barbara #111
Tracey #25
Winners Announced below – Leap with Books GIVEAWAY Hop

Click the GIVEAWAY HOP image to visiting other participating sites.

5 Random Winners will be chosen — to win FREE romance books from Random House — to be eligible, comment below & 'LIKE' our Facebook page – click here

Best of luck & don't forget to take a look at our new release from Loveswept, RIDE WITH ME by Ruthie Knox – a ride you'll never forget! Just $2.99


Ten 5 Star Reviews on Amazon
"Get ready for a wonderful ride with this book. I loved it. " Kathleen Kelley
"I'm a sucker for road-trip books, and this one definitely fit the bill. " Smexybooks
"The best Romance I have read… I think… ever!" Erin
& More!
CONTEST HAS ENDED – Winners announced here:
mamabunny13
Kendra
Lauren
Kim
BJ
Thank you all for blogging with us!! Join us for our Lucky Leprechaun Hop!
Valentine's Day Around the World + Giveaway!
Valentine's Day Around the World
by Cassandra Carr
I know were a week away until Valentine's Day, but I thought I'd give a little information on the cool rituals associated with Valentine's Day all over the world. A few years ago I was actually in Hong Kong over Valentine's Day. One of the colleagues from my hubby's office invited us to a sort of country club-type place that he belonged to and we had dinner there. The women received flowers upon entering, along with a couple of chocolates, so really, it didn't seem all that different from how we celebrate here in the United States. That got me to thinking – does the whole world celebrate Valentine's Day the same way, or do the traditions in Hong Kong skew toward the British/American way of celebrating?
I found this fascinating website with information on how different countries celebrate the day. It's at http://www.novareinna.com/festive/valworld.html if you want to see it for yourself. I'll share just a few:
Britain- One uniform custom is the singing of special songs by children, who then receive gifts of candy, fruit or money. In some areas, valentine buns are baked with caraway seeds, plums or raisins.
Denmark- One custom in Denmark is for people to send pressed white flowers called Snowdrops to their friends. Danish men may also send a form of valentine known as a gaekkebrev (or "joking letter"). The sender of this gaekkebrev pens a rhyme but does not sign his name. Instead, he signs the message with dots…one dot for each letter in his name. If the lady who receives the card guesses the name of the sender, then she is rewarded with an Easter Egg later in the year.
Germany- In Germany, it has become customary for the young man of a courting couple to present his beloved with flowers on February 14. Valentine gifts in Germany are usually in the shape of love tokens, complete with endearing messages.
Japan- In Japan, Valentine's Day is celebrated on two different dates…February 14 and March 14. On the first date, the female gives a gift to the male and on the second date…known as White Day and supposedly introduced by a marshmallow company in the 1960s…the male has to return the gift he received on February 14. Thus, strictly speaking, a Japanese female has the luxury of actually choosing her own gift. Chocolate is the most popular gift in Japan. However, since most Japanese females believe that store-bought chocolate is not a gift of true love, they tend to make the confection with their own hands.
Korea- The traditional gift of candy takes place in Korea on February 14, but only from females to males. There is another special day for males to give gifts to females and this is celebrated on March 14. Very similar to the custom in Japan, March 14 in Korea is known as "White Day." On "White Day," many young men confess their love for the first time to their sweethearts.
Taiwan- Valentine's Day is celebrated in Taiwan on February 14, but there is also a special Valentine's Day on July 7 of the lunar calendar, based on an ancient Chinese folktale. Both dates are equally as important. Many men purchase expensive bouquets of roses and other flowers for their sweethearts on these days. According to Taiwan tradition, the color and number of the roses holds much significance. For example, one red rose means "an only love," eleven roses means "a favorite," ninety-nine roses means "forever," and one hundred eight roses means "marry me."
I wouldn't mind getting one hundred eight roses!
What traditions do you follow on Valentine's Day?
remember every week 5 commenters are randomly chosen to win a free book – winners announced on Sunday – good luck!
Guest, Nicole Jordan + Giveaway!!
Princess Charming, by Nicole Jordan
I admit it: I'm a sucker for a horse. My hunter mare Riva is the love of my life, second only to my husband. Sailing over a fence astride this magnificent equine creature brings a rush of joy to my heart—and plot ideas to my mind.
As I was writing Princess Charming, Book 1 in my Legendary Lovers Regency historical series, I knew that my hero, Ashton Wilde, Marquis of Beaufort, was determined to win the heart of his unlikely Cinderella. Maura Collyer wasn't looking for a prince, but she was desperate to reclaim her beloved stallion, which her wicked stepmother had gambled away to an evil viscount. What else was Ash to do but help Maura rescue her magnificent horse?
With Ash's romantic gesture on my mind and February 14 right around the corner from Princess Charming's release day (today!) I thought it would be fun to ask my readers to share memories of their favorite Valentine's Day gift, an actual present or, as in Ash's case, an action that took their breath away. Every day on my Facebook page through February 13, I'm sharing an entry that has touched me—or made me chuckle.
One reader wrote that her husband surprised her on Valentine's Day with a card into which he'd tucked a certificate for an AAA membership. He wrote in the card that he wanted to be sure she was safe on the road when she was without him. Don't you just love that?
Another reader, whose wedding anniversary (like mine) is January 29, and whose birthday is February 3, said Valentine's Day was usually a non-holiday for her and her husband, because by February 14 they'd done their share of celebrating. One year she told her husband that Valentine's Day should be in August, when they didn't have anything else going on. That year her husband gave her a Valentine on August 14 and took her out to dinner. Score big points for this guy!
Then there was the couple who live on a small farm in West Virginia. When this reader went to Ohio to visit their children, she told her husband no buying; they had enough cows and equipment. When she returned home, her husband, who had not bought her a present in all the years they'd been married, announced he had a present waiting for her. He took her across the river to their barn to see it. There stood a little bull, white all over except for his feet, the tip of his tail, and a perfect valentine in the middle of his forehead. This one gets high points for originality, don't you think?
What about you? Do you have a fun Valentine's gift story to share? If so, tell me about it here on Romance at Random today, and I'll enter it into the competition to win a $100 VISA gift card for dinner out with your sweetheart.


But here's an exclusive contest for all of you here Romance at Random. From the Valentine's gifts/remembrances you share here today, I'll draw a name at random (no pun intended!) to win a pair of exquisite earrings selected to add romantic dazzle to any Valentine's Day outfit.
So ready, set, write!
Winners of the prizes will be chosen randomly & announced by the author in this blog – good luck to all!
Stacie D is our winner — congrats, Nicole will be in contact with you to mail you your lovely earrings!! Happy Romance – SueG
Jill Shalvis is our guest with GIVEAWAY!
Once in awhile I write a book that isn't like pulling fingernails out of the sockets or getting a root canal without drugs. Once in awhile, I write a book that flows like really great wine, and every single word is a joy. Those are the books that I never want to end. Those are the books that made me want to be a writer in the first place.


Head Over Heels was one of those books.
When I first started writing the Lucky Harbor series, Chloe, the wild baby sister, took a backseat to her two older siblings. She was one tough, hot mess. And in the back of my mind as the series went on, she scared me more and more. She was wild. She was uncontrollable. She was utterly unrepentant. How was I ever going to write her as a heroine? Don't worry, I told myself. She'll come to you.
I never really believed that, but I should have had faith. Because when it came time for her own book, Chloe Traeger showed up in spades, ready willing and able to drive her man out of his mind. Which man? The one and only man in Lucky Harbor that she should stay away from – and the only man who could possible handle her. The sexy, badass sheriff Sawyer Thompson.
I'm not going to tell you more but I can tell you that Sawyer makes Chloe's heart squeeze because she knows. He's going to burn her. He's probably the only man who has ever had that capability.
Head Over Heels should have been the last Lucky Harbor book, but Simply Irresistible and The Sweetest Thing have done so well that my publisher has asked me for three more Lucky Harbor books. So I'm thrilled to tell you, those three books will be coming next summer. Lucky In Love (5/12), At Last (6/12) and Forever And A Day (7/12). Happy Reading!

GIVEAWAY: 3 copies of Head Over Heels – ebook or print – tell me your preference in your comment below – Jill will pick her winners and announce by end of day – check back to see if you're one!
Excerpt:
"What happened out there?" Chloe asked Sawyer.
"I ticketed Todd for the illegal bonfire."
"Just Todd?"
"He was the one who started it."
She paused. Todd was one of those guys who could talk his way into a bank vault with nothing but a smile, and then walk out with all the money, leaving the bank manager happy to have been ripped off. He was also a native Lucky Harbor guy, and the residents were very fond of their own, troubled son or no.
Sawyer was native too, and just as well liked, if not more so. "You ticketed him even though everyone lights illegal bonfires out there?"
"Not in a high fire hazard season they don't," he said.
"It's almost October."
"Fire season," Sawyer repeated.
"So … if I lit a campfire, you'd arrest me?"
"Ticket," he corrected. "Not arrest. Not for a first offense."
What was wrong with her that the stern cop thing he had going on was doing it for her? Huh. Maybe she didn't want to fight this attraction so much as test its boundaries. "What if it was my second offense? Would you frisk and cuff me then?"
His eyes darkened. "What is it with you and my cuffs?"
"Well, if you don't know," Chloe said as demurely as she could, "I don't want to corrupt you." She made to go inside but Sawyer snagged the back of her sweater and tugged her back.
"Not so fast," he said and studied her, giving nothing of his thoughts away. "You're playing with me," he finally decided.
"Trying."
P versus E + Giveaway!!
P versus E
By Inga Kupp-Silberg


There have been lots of discussions about paper- versus eBooks and I am no different from the others. I do read both and there are several reasons behind it.
I am a book blogger who mostly reads and reviews books written in English, but I live far from English speaking markets – in Estonia. My geographical location determines and influences my choices almost every day.
Let me start with paper books. I am a total fan of book covers! It does not mean, that I am buying books only because I love their covers, but I do pick up books because the cover catches my eye and in case the blurb on the backside of the book is interesting – I am sold or should I say, that the book is sold!
Besides that, I like the smell and the feeling of a new book. Sometimes, I am trying to figure out what it is about the paper books that I love so much about and I think it is the feeling of holding it and turning the pages. It has something to do with my desire having filled bookshelves- it's not so fancy to show people my Kindle and tell them that I have so and so many books on it. I enjoy my reading room with the bookshelves and hundreds of books on them.
To have signed paper books is also so much cooler than having them signed in e-versions of the books. You can call it being vain, but I truly treasure my signed paper-books; they are more personal somehow.
Truth be told – I have read more eBooks than paper books lately. The reason behind is exactly what makes eBooks so attractive to readers – eBooks are usually cheaper and easier to access – you just have to click couple of times and you have your book. This also is the point, where my geographical location plays a big role. I have seldom patience for waiting 5-10 days of delivery. If I find something that I really want to read, I want it now!
Besides that, the cost for shipping often makes the price of the paper book more expensive. When authors ask me to review their books, I do understand that they would prefer sending me eBook copy of their book. Shipping a paper book to Europe takes more time and costs more. Authors are always surprised when they find out my location and after hearing about it, they offer an eBook.
I used Kindle for PC when I started reading eBooks, using my laptop, but it was very uncomfortable when I wanted to read in my bed and too heavy to carry when I went for shopping and wanted to read while having coffee in the café. That is also the reason behind I made myself a little Christmas present and now I read my eBooks using my new Kindle Fire.
To sum it up, when I am in the book store, I buy paper books, when I give presents, I give paper books. Otherwise I am reading eBooks.
What about you? When and why do you prefer eBooks and when and why you prefer print? Remember, 5 commenters are chosen every week to win a FREE book – winners announced on Sunday!
Mascot of romance, who would it be? + GIVEAWAY!!

   [mas-kot, -kuht]
noun
an animal, person, or thing adopted by a group as its representative symbol and supposed to bring good luck: The U.S. Navy mascot is a goat.
Silly topic, but not really, as I've been thinking about this — it seems that all important organizations have mascots, so to speak, right? KIA automobiles now has those adorable hamsters, as pictured above; Taco Bell had that little dog, what breed was he again?
Taco Bell had a big promotion a few years back and I bought three or four of those stuffed cuties!
Then of course, Geico's lizard. . . and now I've noticed they're using a pink pig in their commercials as well, weeeeeeeeeeeeeeeee!
I suppose 'Flo' on those Progressive Insurance commercials is a 'mascot' of sorts — well, her robot is, even if she is 'broken'
The romance genre really needs a mascot .. . . it doesn't seem right to call a big Best Selling author a mascot, does it? Can we call Nora a mascot, that's insulting even though she sells the most books in the genre! Nora is well respected for her work, and her support of the genre, but even so, I don't think she qualifies as a mascot — and she'd probably be very happy about that
So ladies, it is up to us! We must come up with a mascot for romance . . . . what character, animal, or alien *grins*, best represents our category — comment below! Can't wait to see your answers – LOL
Remember, 5 winners every week are chosen to win a RANDOM book – winners announced on Sunday – Happy Romance!!
4 seasons of the year, which do you like best? + GIVEAWAY!!

Where I live it is cold outside, which is appropriate for the Holidays – and honestly, I would NOT have it any other way for Christmas . .. . I love having a warm fire, hot cocoa, reading a book or watching a movie with family — for this time of year it is perfect!!
Then, right around January 10th, I'm thinking a trip to a warmer climate might be nice . . . sunshine, warm weather to bike ride in . . .sight see, or of course, read a book by the pool –
Time goes by of course, and I'm still at home, shoveling out the driveway and thinking, 'well, if it would just stop snowing . . . .I could deal with Spring and new flowers, the smell of rain and new plants and grass.'

But, before you know it — Spring has come & gone . . .along with Summer, the leaves now are turning brown and the chill is prevalent in the air, yep, Fall is here . . .

Seriously – when I think about it I love all of the seasons, don't you? But, if I had – had to choose a favorite – it would be Winter, LOL!
I figure, I can read a book any day of the year, no matter the weather & that is what makes me most happy.
So, comment below – what is your favorite season of the year? Remember 5 winners are chosen weekly for a Random FREE book – winners announced on Sunday – good luck!
Loveswept Holiday Hop — 25 e-book drawing & ONE Grand Prize Winner!

Happy Holidays to everyone – Romance At Random is celebrating their Loveswept line with a random e-book Giveaway to 25 winners plus an opportunity to win one Grand Prize from www.romanceatrandom.com. Enter here to be included in the random e-book drawing (25 winners will pick up their e-book from Net Galley) and then stop on by www.romanceatrandom.com and comment to enter the drawing to be the "one' Grand Prize winner, a selection of great books! Good Luck & Happy Holidays to all! INCREASE your chances to win by visiting all of the participating 'Loveswept – Holiday Hop' sites! Winners will be contacted after 1/10/12.
Just a FEW MORE DAYS! **** And don't forget to comment below to be part of the Grand Prize drawing!!

Entry is closed

25 e-book winners include:
Mara Brandon
Lewis Brandy
Beckie Braton
Tasha Clanton
Anne Clark
Shannon Clark
Nikki Clark
Bobbie Cloud
Heather
Janice
Kelley Johnsen
Michele Lawrence
Dawn Miears
Rhianna Miller
Eva Minaskanian
Jeanne Miro
allie motherway
Randi Moulton
Shelley Munro
Robyn Murphy
Margaret Murray-Evans
Rebecca
Sophia Rose
Nancy Stanberry
Susan Stenvog
Sharon Stogner
Terre Stone
Sandee Stone
Nicole Zundel

Laci Collin
You may be the lucky recipient of our Loveswept Original Debut book, BECAUSE OF YOU by Jessica Scott
NO PURCHASE NECESSARY TO WIN. Limit one entry per person. Sweepstakes is open to legal residents of the fifty (50) United States who are 18 years of age or older. Void where prohibited or restricted by law. For a copy of the official rules, click here or go to http://www.romanceatrandom.com/sweepstakes-general-rules/

Our Partner Hosts:
Meg @ A Bookish Affair http://abookishaffair.blogspot.com/
Maureens Musings musingsbymaureen.blogspot.com/
Ing @ As the Pages Turn asthepagesturn.blogspot.com
Broken Teepee http://www.brokenteepee.com/2011/12/loveswept-giveaway.html
Kelseys Book Corner kelseyopsahl.blogspot.com
Books R Us www.booksrusonline.com
Fictional Candy fictionalcandy.blogspot.com
From the TBR Pile www.fromthetbrpile.blogspot.com
Book Flame www.bookflame.blogspot.com
Seduced By A Book www.seducedbyabook.com/
Holly @ Full Moon Bites fullmoonbites.blogspot.com/
Shari @ Seduced By The Book Seducedbythebook.com
Babs Book Bistro www.babsbookbistro.net/blog
Living, Learning, and Loving Life www.livinglearninglovinglife.com
Journey Through Words journeythroughwords.blogspot.com
StuckInBooks www.stuckinbooks.com
Inga@ Me and Reading www.ingasilbergbooks.com/
Coffee Beans & Love Scenes coffeebeanslovescenes.blogspot.com
Seaside Book Nook www.seasidebooknook.com
Thats What Im Talking About twimom227.com
OBoyled Books OBoyledBooks.blogspot.com/
The Cinderella Diaries bjmaybee.blogspot.com
Ruthie Knox www.ruthieknox.com
Cynthia Justlin www.cynthiajustlin.com/blog
Cheeky Reads cheekyreads.blogspot.com
Jacobs Beloveds Books jacobsbeloved.blogspot.com/
Reviews by Marthas Bookshelf marthasbookshelf.blogspot.com/
The Write to Make a Living www.thewritetomakealiving.com
Maria @ To Read, Perchance to Dream toreadperchancetodream.blogspot.com/
Booktacular booktacularworld.blogspot.com/
The Romance Studio theromancestudio.com
Lush Reviews Lushbookreviewss.blogspot.com
Hanging with bells Hangingwithbells.blogspot.com
dreys library dreyslibrary.com
Bookend Crossing bookendcrossing.blogspot.com/
Life Happens With Kids www.lifehappenswithkids.com
Laurens Bookshelf tympestbooks.wordpress.com
Lisas World of Books www.lisasworldofbooks.net
The Bad Boy of Romance – Sensual Sascha Illyvich saschaillyvichauthor.com
The ABCs of Erotica – Malia Mallory abcsoferotica.wordpress.com/
Casey Crow Heating up the Holidays www.caseycrow.com/blog/
Romance Novel Sluts romancenovelsluts.com/
Emeraldfires Bookmark rubyandthetwins.blogspot.com
Fiction Vixen Book Reviews www.fictionvixen.com
The Book Pushers www.thebookpushers.com
The Season theseasonforromance.com/wordpress
Celticladys Reviews celticladysreviews.blogspot.com/2011/12/loveswept-holiday-hop-from-romance-at.html
Kickin Back With Kiwi kickinbackwithkiwi.blogspot.com
Fredas Voice fredasvoice.blogspot.com/2011/12/loveswept-holiday-hop.html
Manga Maniac Cafe www.mangamaniaccafe.com/?p=5812
Love to Read Romance lovetoreadromance.com
LadyVampires Lair ladyvampire2u.blogspot.com/
A Casual Readers Blog ellsey.blogspot.com
Stella @ Ex Libris www.stella-exlibris.com/2011/12/giveaway-loveswept-holiday-hop.html
Rambling Reads trustme2forget.blogspot.com
Deb Sanders - Suspense To Die For debsanders.wordpress.com/
Beth Yarnall www.bethyarnall.com
Mackenzie McKade http://mackenziemckade.com/blog

My Passion for Police + Giveaway!!
My Passion for Police
By Deborah Harmse, author of In The Arms Of The Law
I've always been crazy about cops. Not cops-really-turn-me-on crazy or I-love-a-man-in-uniform crazy. Not that kind of crazy. In fact, maybe crazy isn't the right word. Maybe curious is a better word to describe my interest in law enforcement officers.
You see, I've always wondered how a man who deals with scumbags all day at work can go home to his family and lead a normal life. How does he spend his day investigating crime scenes, witnessing autopsies, interrogating reluctant witnesses and probable murderers…then walk through his front door, hug his kids, kiss his wife and sit down at the dining room table to eat dinner and talk about homework and home improvement projects and the front lawn that absolutely must be cut this weekend.
I didn't understand. I kept asking myself one question: How does a man managed to live such a dichotomous existence. That became the question at the center of my novel, In the Arms of the Law.
To answer that question, I set out to learn all I could about the life of a policeman—his typical work day; his opinions about criminals and witnesses and victims; how, after a particularly gruesome day on the job, he left all that behind and met his family for pizza to celebrate his son's 5th birthday.
I devoured nonfiction and fiction books and articles written about (and by) cops. I was getting somewhere. My homicide detective, Mackenzie Hoyle (Hoyle because he was the type of cop who does things "by the book") was beginning to come to life.
But I hit the research jackpot about 30,000 feet in the air somewhere between New Orleans and Los Angeles. I was flying home from a Romance Writers of America conference when I zeroed in on an article in Delta's In Sky magazine praising a recently published nonfiction book—Homicide: A Year on the Killing Streets, by David Simon. (Years later the same book would be fictionalized in the television show Homicide: Life on the Streets and eventually become the inspiration for the HBO series The Wire.)
Homicide? Killing Streets? I thought. Now this is what I'm talking about. I couldn't get a copy fast enough.
Then one day, when I was sitting at the counter in a coffee shop in Southern California, my nose buried in this fascinating book, the man sitting next to me asked me what I was reading. I looked at him, and without saying a word, showed him the cover.
"Homicide: A Year on the Killing Streets," he said. "Interesting topic. I have a friend who recently retired from the California Highway patrol. He was a homicide detective," the man said.
"No kidding," I said. "Do you think he'd be willing to meet with me? I'm writing a novel and my main character is a homicide detective."
"Probably," he said.
And that's when my research got really interesting.
So question, any police type characters that light your fire? Either on TV, from a book or in real life? James Bond is always a favorite spy type
what about you — comment to win one of five books randomly given out to random winners every week on R@R – winners announce on Sunday – Good Luck!
Carly Phillips guests on R@R today with Giveaway!
Reader Reaction to Characters & Giveaway
When I wrote Serendipity, book 1 in the series, I thought Nash, the middle brother, was justified with his anger at his oldest sibling who returns to town after ten years to make amends. I also thought that Nash, whose story is DESTINY, in stores tomorrow, would be a straight-forward character – A man who has to learn life isn't black and white. In the writing, I discovered that Nash had so much to learn and so much growth to experience. And it's a good thing I put him through his paces!
Why? Because as it turns out, after reading Serendipity, readers reacted very strongly to Nash. And by strongly I mean almost negatively. Readers bonded with Ethan, the hero in Serendipity, and were angry with Nash for not forgiving his brother for abandoning him for ten years. I'm so glad I didn't know about this reaction while I was writing the story!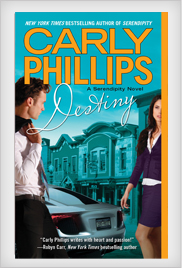 As it turns out, although I, the author, felt Nash's anger at his brother was justified, I also recognized the fact that he saw things in black and white, no shades of gray. So I put him through the wringer in DESTINY and made him earn his happily ever after. But I think if I'd known how strongly readers felt about his character, I'd have suffered from real writer's block writing him!
Anyway, I hope you all will give Destiny a try. You can read the book alone, but reading Serendipity first will make DESTINY that much richer!
To help, I'll give away 3 copies of SERENDIPITY to get 3 lucky readers started! Comment for a chance to win! Have you ever had such a strong reaction to a character in one book, you weren't sure you'd like them in their own story? (Which?)
Carly will announce the winners in this post — check back to see if you won! GOOD LUCK!
Carly's Serendipity Series
Serendipity – out now
Karma – .99 eBook novella – out now!
Destiny – 1/3/2012
Karma – 5/1/2012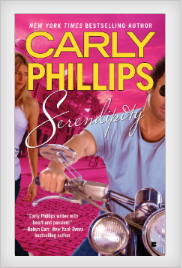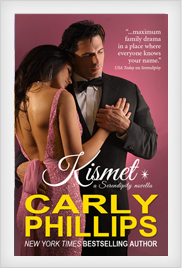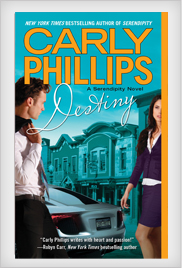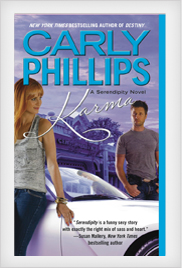 BIO
N.Y. Times and USA Today Bestselling Author Carly Phillips has written over 30 romance novels with contemporary characters that today's readers identify with and enjoy. She's a writer, a knitter of sorts, a wife, and a mom to two daughters (15 and almost 20!) and two crazy dogs (a 1 year old Havanese named Brady and a 4 year old wheaten terrier named Bailey). In addition, she's a Twitter and Internet junkie and is always around to interact with her readers.
Carly lives in Purchase, New York and would love for you to like and follow her on the 'Net!
Find Carly on the web:
Carly's Website – www.carlyphillips.com
Carly on Twitter – www.twitter.com/carlyphillips
Carly on Facebook – www.facebook.com/carlyphillipsfanpage
Carly's WINNERS:
ANN M –
Cate Sparks
Cheryl English –
Congrats!
"Celebrating My Birthday With Friends – Plus Giveaway!"
"Celebrating My Birthday With Friends – Plus Giveaway!"
By: Catherine Mann
Many of my blogs this month have highlighted military heroes. Today I would like to focus on another type of hero/heroine – military spouses! In writing my military romantic suspense novels, I put much thought into crafting the perfect partner for that person in uniform. No question, it's a unique way of life, full of joy, stress, pride, stress, excitement, and yes, stress.

Thinking about military spouses brought to mind this recipe I've seen crop up often over the years:
Recipe for a Military Spouse
1 1/2 cups Patience
1 lb. Adaptability
3/4 cup Tolerance
1 tsp. Courage
A Dash of Adventure
Combine above ingredients: Add 2 tablespoons elbow grease. Let sit alone for one year. Marinate frequently with salty tears. Sprinkle lightly with money. "Knead" dough until payday. Season with international spices. Bake 20 years or until done.

As I look back on my husband's twenty-plus years of service, I'm reminded of how military spouse friends helped me through so many times when my husband was away. We cried and laughed together. We kept each other company while our kids wore themselves out on the playground. We supported each other.
To this day, it doesn't matter if it's been years since we were stationed at the same place. Those friendships – those bonds – stay strong.
In keeping with celebrating with another military spouse, I want to take a moment to cheer for military romance novelist Jessica Scott. Most of the time we think of her as a soldier, but I believe she deserves double kudos for being a military spouse as well. I thoroughly enjoyed her debut novel, BECAUSE OF YOU, and look forward to the next book in her "Coming Home" series.


And what a perfect day to celebrate with another military spouse since today's my birthday! A great big thanks to all of you who stopped by to join in.
Three commenters below will be chosen at random to win a copy of the latest book in my "Elite Force" series – HOT ZONE. Winners announced at the end of day, Catherine will choose & announce in this post – good luck!
Who's been a source of support and encouragement when you needed it most?
***

Author Bio:
USA Today bestseller and RITA Award winner Catherine Mann writes military romantic suspense for Sourcebooks and Berkley, as well as steamy romances for Harlequin Desire. She lives in Florida with her military flyboy husband, their four children, and menagerie of pets. FMI, she can be found online at:
Website: http://catherinemann.com
Facebook: http://www.facebook.com/CatherineMannAuthor
Twitter: http://twitter.com/#!/CatherineMann1
Romance in the 20′s by Vonna Harper + Giveaway!
Despite rumors to the contrary, I haven't been writing since the Dark Ages. Close but at least a dozen years short of that. What I have been doing the past few months is immersing myself in fiction from the 1920s. I'm currently surrounded by a number of stories that appeared in the classic pulp magazines and sold millions of copies. Why are you doing this, you might ask. Hey, I'm delighted you did because hopefully you'll indulge me for a few minutes.
To clarify, all the pulp fiction I've been reading was written by one man, Homer Eon Flint who died violently and mysteriously in 1924 at age 36. Why him? One reason. He was my grandfather. I believe whatever writing genes I have came from him.
Sentiment aside, every time I open one of his stories, I discover a writing style that might not pass muster with today's editors. Today's writing 'rules' call for no information dumps and for the most part shun omniscient point of view. Well, there was a lot of info dumping and the all-knowing author in Grandpa's day and it paid well.
Example: The Money-Miler, his last story, was published a few months after his death. He received $400 for the novella—in 1924.
Starting in January, Grandpa's body of work both published and in manuscript form will join the electronic age via a project http://www.musapublishing.com/ is running with. I can hardly wait to see how today's readers respond to what he wrote nearly 100 years ago. Fortunately, thanks to Sue Grimshaw, I can jump the gun a bit with an example of what both brings Grandpa back to life for me and serves as a representation of his time.
At the start of The Money-Miler, the reader is introduced to truck driver Lawrence Stowe. The young protagonist doesn't know it yet but his world will change today. However, before it does, he engages in—well, let the narrative tell the tale.
On the counter stood a slot machine, of a type outlawed in certain cities. The truck driver dove into his pocket and unearthed a handful of small change, which he regarded rather seriously. But he selected a quarter and silently placed it on the counter. As silently the proprietor passed over five brass slugs, on the order of round Chinese 'cash'. The driver proceeded to test his luck. Immediately he began to win. Slug after slug drew forth returns two, four, eight, twelve, and even twentyfold. In five minutes he had a double handful.
"Hey—my lucky day," he jubilated in a low, agreeable voice, for the benefit of a totally indifferent proprietor. "First time I've won in a week. If I had any sense now, I'd quit."
He kept right on dropping slugs into the machine's willing throat. Eight or ten disappeared without effect; it began to look hopeless for the double handful. At that psychological moment the telephone rang; and the proprietor, noticeably irritated, said:
"Office has been trying to get you, Stowe. Guess that's them now."
I couldn't get away with presenting that to an editor today, but it paid off big time for Grandpa.

The roaring twenties seem like ages ago — is this a time period that interests you & if so what do you find so intriguing about those days — remember, 5 winners are chosen weekly for a giveaway – winners announced on Sunday – good luck!!
The Romance Studio + Giveaway!!
We are big fans of romantic fiction here at the The Romance Studio. And that fact alone was the biggest reason that we created this site. We wanted to build a place on the web for all fans of romance.
But we fans of the romance genre are a diverse group, yes? All of us are readers. But some of us are writers, published authors, agents, book sellers, cover models, publishers and more. Keeping that in mind, we designed a site that, we hope, has something for everyone.
The Romance Studio is an interactive site that is kept fresh and new by user entries. Most every page on the site is generated by user input, most of which is posted instantly to the site. Basic membership is free and allows users to post romance industry news items, information about writing contests, conferences, conventions – even post classified ads. Featured Members get even more options and opportunities to promote themselves and their businesses. Plus there is a database containing the records of all registered users who are industry professionals. The database is easy to search by name, specific genres and more. You can advertise your books or business with us, too. We have fabulous release parties monthly with our biggest event yet to take place for the holidays from December 19 – 23, 2011. Everyone, author and reader alike, is invited to attend and/or participate.
www.theromancestudio.com
Our question for readers: What are you favorite online events, pertaining to the books we love, to attend and why? Remember, 5 winners every week are randomly chosen to win a FREE book – winners announced on Sunday! Good luck!

Christmas Memories + Giveaway – Ereader from Jessica Scott
Christmas Memories
I'm writing today and celebrating. This is an incredibly special Christmas for my family. My husband is finally home from Iraq and for the last time. The war is over, he won't be going back.
My kids have been little the first couple of Christmases my husband was gone. I doubt they remember the Christmas that he and I were both deployed. I remember it well. There were little Christmas lights hanging in the TOC (tactical operations center) and I distinctly remember a few lonely ornaments hanging on a tree outside the CHU (containerized housing unit) I was fortunate to share with my husband.
Funny, I remember the green and the particular shade of blue of those ornaments. They stayed there the rest of the year but I remember seeing them that first morning when I woke up in Mosul and realized I would not be spending Christmas with my children. It's odd how major holidays are just another day when you're deployed, except for the food served in the DFAC (dining facility).
I have to confess, I love playing Santa but what's weird is that I love playing Santa for complete strangers. I love buying gifts for the Angel Tree or donating a toy to Toys For Tots. I think maybe it feels good knowing that someone gets to have something that they might not otherwise have. Maybe it's a selfish reason for enjoying it, but I do.
Christmas this year was made simpler by the fact that we did not buy gifts for the adults in either side of the family. We did a gift exchange on my husband's side and on my side, we only bought for the kids. I enjoy that so much more than spending hours trying to decide what to buy.
Christmas this year has also spawned a novella. For those of you who are dying to find out what happens with the secondary characters in BECAUSE OF YOU, Trent and Laura, you'll get to see them experience their own Christmas miracle. It will take a miracle for them to work through the miles of separation that have kept them apart. Trent and Laura's story is one that most military families have experienced in some degree or another. How do you reconnect to children who have grown into different people while you were gone? How do you help a spouse around the house when he or she has been doing everything since you were gone?
Christmas this year, though, is extra special. My husband is coming home just like so many other husbands and wives, sons and daughters. He's coming home to a 12 year old dog who is eagerly awaiting him. A stupid little black dog who probably won't recognize him. The goofy yellow lab who we can tell is not pure breed because she does recognize him when he comes home. A black cat, his arch nemesis, who will no doubt filet his arm open inside of ten minutes when they start fighting. And a little grey cat, who just wants to knit his belly and remind him that he's fluffy in some places too.
But it's my daughters who get the best Christmas this year. They get their daddy back. For the first and last time, they saw him walking across the parade field. I never took them before because they were too little but this time, I wanted them to remember it. They got to feel the crowd as it surges forward, each person looking for their soldier in the crowd. They got their daddy back. He made it. Four combat tours. Hundreds of convoys.
I get my Soldier back. And that, folks, is the greatest Christmas gift, I could get.
In the spirit of Christmas, I'd like to give away a Nook or a Kindle one last time before the end of the year.
Leave a comment today and tomorrow and tell me why this Christmas is special to you. I'll pick a winner on Tuesday!