What Does Romance Matter? by Kat Martin + Giveaway!
Why does the romance genre dominate book sales? It's a question that dozens of people have tried to answer. On Valentine's Day, article after article attempts to explore the concept. Non-fiction books are written about it, essays are printed. Internet sites Chat about it.
The truth is there is no single answer. Read more
Guest Post – Interesting Heroes, by Kat Martin + Giveaway
All of us fantasize about over-the-top handsome, hunky men. But for most of us, good looks and even an incredible body just aren't enough. They might do fine for a one-night stand, but unless they have a lot more to offer, gorgeous men soon become boring.
In AGAINST THE MARK, Ty Brodie is a hunk. Tall, lean, amazingly good-looking and totally ripped. But the thing I found interesting about Ty's character was the person he was underneath his jovial front. Read more
Rugged Heroes by Kat Martin + Giveaway!
Of all the questions I'm asked, one of the easiest to answer is "How do you come up with your rugged heroes?"
First let me say that I LOVE writing about macho men and the women who love them. Ben Slocum, the hero in AGAINST THE EDGE, is an ex-Navy SEAL turned private investigator. They don't get any tougher than Ben.
Which is good, because in order to find the missing son he didn't know he had, Ben is going to need all the strength and courage he has to keep himself, his son, and Claire Chastain, the social worker who comes to Ben for help, alive.
So where do I find a hero like Ben? Living as I do in rural Montana, rugged men still live there in abundance. The guys cut firewood for their only source of heat, a wood-burning stove. They work outside in subzero weather, hunt game for food, and break a hole in a frozen lake to fish. Read more
Guest Post: HOLIDAY TRADITIONS, Kat Martin & Giveaway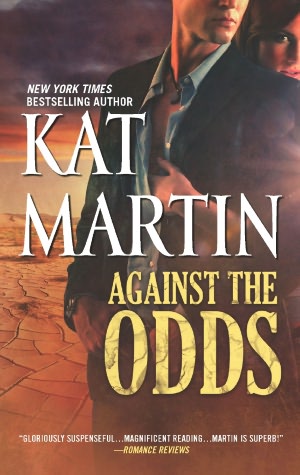 What makes a Holiday tradition? It's what families pass down to their children over the decades, even over the centuries. By necessity, oftentimes in the city, modern families give up some of those valued traditions, things like cutting their own Christmas trees, singing Christmas carols through the neighborhood, big family dinners, impossible in many city-size apartments.
Living out in the country in Montana, we're fortunate to be able to enjoy a lot of old-fashioned traditions. A seven-foot evergreen tree, a fire in the big rock fireplace, snow-covered mountains outside the windows, deer wandering through the fields. We always have a big family supper on Christmas Eve, and everyone opens a few of his gifts. Christmas morning, the grandkids come over to open whatever is left beneath the tree and enjoy a Sunday brunch.
Read more
Guest Post: Vacationing at sea … exhilarating or exhausting?
This is the one thing I've never done – have you? Cruising in the deep blue sea, sounds marvelous though! Kat regales us with her fun at sea – enjoy!
Next year I'm planning to take a cruise. I've only done it twice before–both times on Carnival, fun because both were readers' cruises. Six hundred and fifty readers and only twenty five authors! It was like being a big celebrity, even though it only lasted a week. It was terrific to talk books with people who love them as much as I do. Read more