Book Trailer: Edge of Dawn by Lara Adrian #Newrelease on sale today!
In this pulse-pounding and thrillingly sensual novel, New York Times bestselling author Lara Adrian returns to the mesmerizing world of the Midnight Breed, following new characters into a dark future where an uneasy peace can unravel into war—and a great betrayal can mask an all-consuming love.
Twenty years after the terror of First Dawn—when mankind learned that vampires lived secretly among them—the threat of violence reigns as the two species struggle to coexist. The only group preserving the fragile harmony is the Order, an elite cadre of Breed warriors dedicated to protecting humans and vampires alike. And in this precarious world of torn loyalties and shattered trust, Mira, a fiery squad captain, finds that every fight bears an intensely personal cost. Read more
WEEKLY GIVEAWAY: Enter to win a copy of EDGE OF DAWN by Lara Adrian!
This week we're giving away 10 copies of EDGE OF DAWN by Lara Adrian, a return to the mesmerizing world of the Midnight Breed, following new characters into a dark future where an uneasy peace can unravel into war. Winners will be emailed this Friday, so enter to win below!
As always, you can head over to Romance at Random's Giveaway Tab, for any giveaway details you might need, and we'll remind you every day during this week to enter via Facebook and on Twitter.
Follow us now so you won't miss out! Read more
Sneak Peek! Scribd excerpt of #Lara Adrian's EDGE OF DAWN
About the book:
In this pulse-pounding and thrillingly sensual novel, New York Times bestselling author Lara Adrian returns to the mesmerizing world of the Midnight Breed, following new characters into a dark future where an uneasy peace can unravel into war—and a great betrayal can mask an all-consuming love. Read more
Guest Post – Lara Adrian, HEA is real + Giveaway
People are fond of dismissing romance novels as utter fantasy, or of building up impossible expectations about love and relationships. When I hear those arguments, all I can do is smile because I know true happy ever after can, and does, happen. I know, because nineteen years ago (October 16) in a quaint little lakeside hotel in Petoskey, Michigan, I married my own personal hero–when everyone around us said it wouldn't last.
Read more
WEEKLY GIVEAWAY: Enter to win a copy of DARKER AFTER MIDNIGHT by Lara Adrian!
This week we're giving away 10 copies of DARKER AFTER MIDNIGHT by Lara Adrian, the climactic novel in the bestselling Midnight Breed series. Winners will be emailed this Friday, so enter to win below!
As always, you can head over to Romance at Random's Giveaway Tab, for any giveaway details you might need, and we'll remind you every day during this week to enter via Facebook and on Twitter.
Follow us now so you won't miss out! Read more
Book or Blush?
For years my mother smeared a flirty shade of dark, glossy pink over her lips whenever she and my dad were going out on a date. I found out, some years later, that the name of her favorite shade of lipstick was "Going Dutch". Strange, but true. And wouldn't "Going Dutch" double quite nicely as the title of a novel?
Turns out, this is true for lots of different cosmetics and we here at RomanceatRandom think it's funny that romance and make-up copywriters seem to be such kindred spirits. In that same vein, see if you can tell the difference below between the books and the blush (or lip color, eye shadow, etc)!
Read more
Romantic Disabilities, who wrote them + Giveaway!
Those of you that know me know that I am a HUGE Catherine Anderson fan — I'm a HUGE fan of emotional romance — real life situations.
Phantom Waltz the heroine is wheelchair bound.
My Sunshine the heroine lost her ability to speak.
Blue Skies the heroine has a visual impairment.
In so many of Catherine's stories she shows the reader how we can overcome life's obstacles & that we are more than just what our name tag says, or the uniform we wear, or how others choose to define us.
Can you tell I just love this stuff?
One of my ULTIMATE favorites was Jennifer Ashley's – The Madness of Lord Ian MacKenzie - this is one you all must read: It was whispered all through London Society that Ian Mackenzie was mad, that he'd spent his youth in an asylum, and was not to be trusted-especially with a lady. Yet Beth found herself inexorably drawn to the Scottish lord. Despite his decadence and his intimidating intelligence, she could see that he needed help- her help. Because suddenly the only thing that made sense to her was…the madness of Lord Ian Mackenzie.
The hero struggles from a disease which was not discovered at that time – Aspergers – Ian's lack of eye contact, memory, fixation with patterns, and bluntness made him very real.
I know there are other stories, where authors use a disability, or some handicap of sorts that make a Hero or Heroine real, someone you care about & are routing for through their struggles . . . . and, I am drawing a blank — do you know of others?
Let's list them below — what other romances, either you've read or remember that deal with H/H and disability – we want to know!!
Remember – 5 winners are chosen every week for a random FREE book –announced on Sunday — good luck!
New Years – again??? What's your resolution – giveaway!
New Years time – another resolution has to be made & although I love to make them I'm not the best at keeping them – you?
I've made all kinds of resolutions through out the years:
Diet, oh yeah, usually every other year for this one
Exercise — an annual resolution, urgh
Become more involved in our church / community
Become more computer savvy – oy . . .
and sooooooo many more!
What are some of your resolutions — new ones, old ones, maybe one of yours will work for me – goodness knows, the resolutions I make I can't seem to keep *Grins*
Remember, every week, 5 winners are Randomly chosen to win a FREE book — winners announced on Sunday – good luck!
Sue's Review – The Demon Lover, by Juliet Dark + 5 Book Giveaway!!
Description:
I gasped, or tried to. My mouth opened, but I couldn't draw breath. His lips, pearly wet, parted and he blew into my mouth. My lungs expanded beneath his weight. When I exhaled he sucked my breath in and his weight turned from cold marble into warm living flesh.
Since accepting a teaching position at remote Fairwick College in upstate New York, Callie McFay has experienced the same disturbingly erotic dream every night: A mist enters her bedroom, then takes the shape of a virile, seductive stranger who proceeds to ravish her in the most toe-curling, wholly satisfying ways possible. Perhaps these dreams are the result of her having written the bestselling book The Sex Lives of Demon Lovers. Callie's lifelong passion is the intersection of lurid fairy tales and Gothic literature—which is why she's found herself at Fairwick's renowned folklore department, living in a once-stately Victorian house that, at first sight, seemed to call her name.
But Callie soon realizes that her dreams are alarmingly real. She has a demon lover—an incubus—and he will seduce her, pleasure her, and eventually suck the very life from her. Then Callie makes another startling discovery: Her incubus is not the only mythical creature in Fairwick. As the tenured witches of the college and the resident fairies in the surrounding woods prepare to cast out the demon, Callie must accomplish something infinitely more difficult—banishing this supernatural lover from her heart.
A very good friend, whom I trust immensely, had asked if I'd read this book — of course, I said yes before I even knew what I was getting myself into.
Don't get me wrong — I like paranormal romance – at one point, I could not stop reading paranormal — Feehan, Kenyon, Ward – I immersed myself in the sub-genre, so much so, that I lost track of what else was being published. Since then I've been reading more mainstream books, so to delve back into the unknown worlds of darkness and pleasure — this book would have to be pretty damn good to hold my attention.
Boy, & hold your attention . . oh yea, DEMON LOVER does just that — I will agree with most of the reviews on this book and that it is a bit slow to start. Callie as a young girl has always had some intense sexual dreams. As she got older they waned. She went off to college, met Paul (her mortal boyfriend) & anticipated at some point they would become engaged and marry. Graduated from college looking for a teaching job she becomes an instructor at Fairwick College. Fairwick was not at all what it seemed and as the weeks went by she noticed odd things . . .but more importantly, her demon lover came back. As the story unfolds you see many different angles develop. Callie herself realizes she is not the mortal she thought she was, nor was her family & neither was dear grand-mama in particular. Very cleverly written, intertwining historical facts with fiction and so forth. A nice mystery woven to the end, leaving you hooked for the next book. Although witches are the primary character type, incubus, demons, shifters and other worldly creatures make an appearance giving lots of depth to the story.
DEMON LOVER is a romantic story, but not a classical romance — at least not how you or I would categorize it. It is sexy, Callie has romantic encounters but everything is edgier, which really was a nice change for me —- I did not have to forgo my favorite elements of a romance book as DEMON LOVER included them plus a whole lot more.
Caution — although not a Happy Ending, it was satisfying . . or understandable. But, by the time you get to the end, you're ok with that so it does not detract from the story.
So here's my take, this is a book for you if you answer yes to these questions —
do you like paranormal romance stories?
are you looking for something just a little different to read, maybe get you out of a rut?
you've been looking for something edgier to sink your teeth into
you need a good book for a book group — ladies, this is a book that will give your group TONS to talk about — alot of depth in story that will stir up lots of conversation

This might be the book you've been waiting for — Let me know what you think? What is it about paranormal romance that makes it a must buy for you?
5 book giveaway! comment below – winners announced at the end of the day — good luck!
Amazon Reviewers – excerpted comments:
Demon Lover is the grown-up's [insert any hot YA paranormal romance]; it's like the coolest lit professor ever decided to teach a class on gothic novels, then slipped in folklore on fairies, witches, vampires, and other magical creatures. There were references to Twilight, The Mysteries of Udolpho, Jane Eyre, Wuthering Heights, Dracula, The Faerie Queene, Tam Lin, and (what won my devotion) an outright homage to the queen of gothic romances, Victoria Holt. [Holt also penned a novel called The Demon Lover, which I don't think is a coincidence. And yeah, I own a copy.]

The Demon Lover was dark, delicious and oh so addicting. It's like your favorite piece of decadant Dark Chocolate; melts in your mouth and leaves you wanting more long after you devoured it. I will admit that the beginning was kind of slow, but when the story picked up, boy did it pick up in a big way.
WINNERS ARE:
Donna S http://www.romanceatrandom.com/sues-review-the-demon-lover-by-juliet-dark-5-book-giveaway/#comment-41646
KathyL http://www.romanceatrandom.com/sues-review-the-demon-lover-by-juliet-dark-5-book-giveaway/#comment-41639
BarbaraE http://www.romanceatrandom.com/sues-review-the-demon-lover-by-juliet-dark-5-book-giveaway/#comment-41622
AlishaS http://www.romanceatrandom.com/sues-review-the-demon-lover-by-juliet-dark-5-book-giveaway/#comment-41598
LynnC http://www.romanceatrandom.com/sues-review-the-demon-lover-by-juliet-dark-5-book-giveaway/#comment-41567
Romance in the 20′s by Vonna Harper + Giveaway!
Despite rumors to the contrary, I haven't been writing since the Dark Ages. Close but at least a dozen years short of that. What I have been doing the past few months is immersing myself in fiction from the 1920s. I'm currently surrounded by a number of stories that appeared in the classic pulp magazines and sold millions of copies. Why are you doing this, you might ask. Hey, I'm delighted you did because hopefully you'll indulge me for a few minutes.
To clarify, all the pulp fiction I've been reading was written by one man, Homer Eon Flint who died violently and mysteriously in 1924 at age 36. Why him? One reason. He was my grandfather. I believe whatever writing genes I have came from him.
Sentiment aside, every time I open one of his stories, I discover a writing style that might not pass muster with today's editors. Today's writing 'rules' call for no information dumps and for the most part shun omniscient point of view. Well, there was a lot of info dumping and the all-knowing author in Grandpa's day and it paid well.
Example: The Money-Miler, his last story, was published a few months after his death. He received $400 for the novella—in 1924.
Starting in January, Grandpa's body of work both published and in manuscript form will join the electronic age via a project http://www.musapublishing.com/ is running with. I can hardly wait to see how today's readers respond to what he wrote nearly 100 years ago. Fortunately, thanks to Sue Grimshaw, I can jump the gun a bit with an example of what both brings Grandpa back to life for me and serves as a representation of his time.
At the start of The Money-Miler, the reader is introduced to truck driver Lawrence Stowe. The young protagonist doesn't know it yet but his world will change today. However, before it does, he engages in—well, let the narrative tell the tale.
On the counter stood a slot machine, of a type outlawed in certain cities. The truck driver dove into his pocket and unearthed a handful of small change, which he regarded rather seriously. But he selected a quarter and silently placed it on the counter. As silently the proprietor passed over five brass slugs, on the order of round Chinese 'cash'. The driver proceeded to test his luck. Immediately he began to win. Slug after slug drew forth returns two, four, eight, twelve, and even twentyfold. In five minutes he had a double handful.
"Hey—my lucky day," he jubilated in a low, agreeable voice, for the benefit of a totally indifferent proprietor. "First time I've won in a week. If I had any sense now, I'd quit."
He kept right on dropping slugs into the machine's willing throat. Eight or ten disappeared without effect; it began to look hopeless for the double handful. At that psychological moment the telephone rang; and the proprietor, noticeably irritated, said:
"Office has been trying to get you, Stowe. Guess that's them now."
I couldn't get away with presenting that to an editor today, but it paid off big time for Grandpa.

The roaring twenties seem like ages ago — is this a time period that interests you & if so what do you find so intriguing about those days — remember, 5 winners are chosen weekly for a giveaway – winners announced on Sunday – good luck!!
A Taste of Midnight: A Midnight Breed Novella – Read instantly for $1.99
For fans who have been been waiting to devour Darker After Midnight, as well as new readers tempted by the seductive thrills of her Midnight Breed novels, New York Times bestselling author Lara Adrian offers up a tantalizing appetizer in A Taste of Midnight. In this spellbinding eBook novella of otherworldly desire, a woman whose destiny was born from a blood kiss discovers that second chances do come . . . even for immortals.
A shimmering holiday gala lights up an ancient castle in the Scottish Highlands, but beautiful widowed Breedmate Danika MacConn feels alone in the crowd. Even among the friends and festivity of the Darkhaven celebration, she can't forget her lost love, a fallen warrior of the Order. Her brief return to her mate's homeland has become treacherous after rejecting the advances of a dangerous Edinburgh crime boss with a taste for blood sport. As Danika seeks to expose the vampire and his dark trade, she discovers an unexpected ally in his forbidding, enigmatic henchman, Brannoc, a man who exudes heat, danger, and dark menace—and seems somehow achingly familiar. Bran has his own reasons for wanting to keep Dani out of his employer's business . . . and his own secrets he means to keep buried. The last thing he needs is to get tangled up with a woman who tempts the wildest part of his Breed nature—especially when that woman is Danika MacConn, the one woman capable of bringing him to his knees.
Contains a preview of the hotly anticipated nightcap of Lara Adrian's Midnight Breed series, Darker After Midnight!
Order now | Visit LaraAdrian.com | Find Lara on Facebook!
What would I do if I won a million dollars by Tigris Eden + Giveaway (not a million dollars :)
What would you do if you won the lottery? by Tigris Eden
I am not going to put a dollar amount on my winnings, but I will tell you this. I AM GOING TO GO BUCK WILD WITH MINE!
First I would pay off all my debts, you know the ones I'm talking about that pesky mortgage and then of course that school loan that drives me madly insane every time I see it in my mailbox. Then I would travel all around the world, by taking one of those 180 day cruises. I know what you're thinking, where is that expensive sports car, or that wardrobe I've always wanted, well I'll get to that, first I want to travel around the world, taste expensive champagnes, go to some of those top notch casino's that you need at least a cool mil to get into. I dropped the largest amount of money on the craps and roulette tables.
After my cruise, I'd come back and get down to the finer things in life, puts some money away in investments, make sure the interest alone would keep me afloat if needed. I know this part sounds boring but just wait, I promise it won't be.
After my finances were in order I'd pick up the phone and call my girls, Bells, Larissa, Lara, basically the sisterhood of the were flies. (Inside story) I'd call them up and tell them we are taking a trip to my newly acquired villa in Tuscany, where there would be a substantial amount of surprises.
We'd be waited on hand in foot, by some of the most appealing specimen of eye candy there is. They'd all have to fit my profile which consists of a six feet, minimum height requirement, strong athletic build (not to bulky), and they'd have to be great conversationalists! FOR REAL YO! Well I don't know where I'll husbands will be, maybe I'll send them off on their own adventures depending on what it is they like. But me and my girls would be busy, shopping, eating, and reading! Let's not forget READING!
My library of books would be extensive, and put all other libraries to shame! Ooh and I'd write and write and write, maybe even open my own publishing company. I'd put on a Con dedicated to Larissa Ione, Lara Adrian, Tami Dane, Sylvain Reynard, Gena Showalter, Kresley Cole, I mean the works and the Con would be filled with characters from their books. It would be the best Con ever dedicated to readers from all over, maybe I would even foot the bill make it free.
I almost forgot! I would also want to pay the big dollars to fly to the moon and back! Maybe even if they'd let me scratch my name on some rock there so that distant travels would know Tigris Eden was there. LOL But that is just the tip of the iceberg! There is so much more I'd want to experience and do!

What would you do if you won the lottery? Every week 5 winners are chosen to win a FREE book – comment below to win – good luck!

Contemporary Native American Stories + Giveaway!
Contemporary Native Americans by Michele Stegman
We are all curious about how other people live. It's why archaeologists dig up burials, why the paparazzi follow famous people around, and it's one of the reasons we read fiction—to get a glimpse of how other people live.
In historical romances, Native Americans live a different lifestyle from other Americans. The author often gives us a picture of that lifestyle gleaned from anthropological reports, historical records, and old photographs. It is also often terrifying for the heroine of a romance book if she happens to get captured by Native Americans. There was a long-standing war between natives and incoming European-Americans, after all. The men were warriors and hunters, yet lived in communion with nature.
But what about Native Americans today? When I started doing research for Mr. Right's Baby, I didn't know much about how Native Americans live now. Which traditions and customs do they carry with them today?
As I read and talked to people I began to realize that, just like any other American, Native Americans live, work, dress, and think in a wide range of ways. I just had to decide how my hero, Adrian Wright, was going to live.
I made Adrian part Comanche because the book is set in Texas. And I had a very good source for information on modern day Comanches. A neighbor is married to a Comanche and gave me a lot of help.
I had fun creating my modern day Native American hero. I enjoyed showing his family's kinship patterns, customs, and unusual heirlooms they have in their homes, such as beaded vests and moccasins. Although poverty and high unemployment plague many Native Americans as well as many non-native Americans, I made Adrian wealthy and educated. Not every Native American lives on a reservation, and neither does Adrian.
The main issue in Mr. Right's Baby is Native American legal rights. Over the years, many Native Americans lost their children because of adoption, or having them taken away and sent to schools where they were forced to accept American customs, language, dress, and ideas. Native Americans are still fighting for their children—but now in the courtroom instead of on the battlefield. The courts are finally favoring their suits.
Adrian's child had been put up for adoption without his knowledge or consent. But once he knows he has a child, he is determined to find her—and get her back.
Carly's now-single adoptive mother, Katie, is facing a terrible dilemma. How can she keep the child she has grown to love?
It was interesting to explore the world of modern Native Americans and it was fun to take my heroine, Katie, along with me, letting the reader see this other part of America through her eyes.
Do you prefer reading about a contemporary Native American hero or a heroine? 5 commenter's are chosen weekly to win a FREE book — good luck!

Bio:
When she spent a year's sabbatical in San Antonio with her husband, Ron, and their two daughters, Kira and Shana, Michele Stegman never knew it would inspire a contemporary Native American romance. After all, she lives in an 1840′s log cabin, spins, weaves, makes her own soap, and writes historical romance. But when the plot for Mr. Right's Baby just popped into her head one day, she knew she had to write the story. www.michelestegman.com
WINNERS announced in comments — see if you're one!!
Perfect Timing & Giveaway!
Perfect Timing!


Have you ever tried to read a book and just can't get into it? It doesn't catch you, you read several pages but you can't even recall what you've just read? Do you put the book down? Do you force yourself to read it? Even worse, what happens if it's your favorite author??? I'll admit this has happened to me a time or two. But later when I finally pick up the book again, I discover it wasn't the author, the book or anything else that influenced it. Most times I even ended up absolutely LOVING the book! It was all in the timing. Perfect timing.
Linda Howard is one of my favorite authors, she's an absolute auto buy, even in hardcover. I haven't ever disliked one of her books. Though I will admit to having favorites… Dream Man…Yum. But when I cracked open the first pages of All the Queen's Men, the pages blurred, I couldn't remember what I had read and the plot seemed…well, dull …ugh! Not my Linda Howard, she's a perfect writer!!! She could never be considered dull!! Rather than force myself to read the book I put it back on the shelf where it stayed for nearly a year…
As I was getting ready for a conference and contemplating how I was going to pass time on a six hour train ride, I came across All the Queen's Men again and thought to myself – I'll give it a shot! Determined not to be defeated by a book I boarded the train looking for the perfect seat only to discover there weren't many seats available. Two to be exact. One next to a very angry looking passenger and the other next to a young man about my age. Ah yes, I read romances, I noticed him right off! I asked him if the seat was taken and proceeded to sit down. We had a bit of polite small talk and then he opened his book and I opened mine. All the Queen's Men, spies, espionage, CIA, covert ops and suspense ensue…
About two hours into the trip Mr. Young & Cute gets up from his seat, tells me he's getting a sandwich and asks if there's anything I would like. By this point I'm already crushing on him….but I politely decline. When he comes back we start up more small talk. This time he tells me his name is Sam Adams and he's headed to Washington DC to fly to Germany for training. Hmmm, is it because I'm reading about spies that I suddenly imagine he's already a spy? His name is Sam Adams, like the beer. After all why would he tell me his REAL name if he's a spy? And why take the train all the way from Wisconsin to Washington DC only to fly to Germany? Why not fly out of Chicago? I find him to be just a little too much like John Medina, the hero from Linda Howard's book, but so interesting that I'm hanging on his every word and trying to figure out if he truly is a spy…Well, maybe that's a little dramatic, but I still had the question of his name and the questions of why he would be travelling to Germany via DC…
By the time we arrived in Chicago I was more than a little infatuated with Mr. Nice Guy Spy. Being unfamiliar with the town, he offered to walk me to meet my cousin (he had a two hour layover before his next train left). He walked me the three blocks, carried my suitcase and waited with me until my cousin arrived…I thanked him and waved good-bye…
When I finally finished reading the book I couldn't help but wonder why I had found it dull in the first place! As it turned out, All the Queen's Men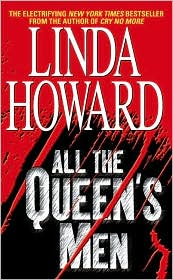 is one of my favorite books by Linda Howard. I've reread it several times, but I can't help but think the timing and the circumstances around reading it had just a little something to do with it….
Is there a right time for a book? A wrong time? Is there perfect timing for a book? Have you ever felt that reading a book at a certain time was meant to be? Have you ever gotten something different out of the book because of those circumstances?
5 commenters are chosen every week to win a FREE book – comment away! Good luck!
Sometimes I want to apologize to my characters. . . . + Giveaway!
Sometimes I want to apologize to my characters. Well, a lot of times. In Courting Darkness, I cried when I wrote some of the scenes, because I knew I had to do it. I had to hurt Camille. There was no choice, given the villain, given the circumstances, given the darkness of the story. If I didn't hurt her, then the story and characters wouldn't ring true.

Writing scenes where we rough up our characters is germane to urban fantasy. There's no way to build tension in a fight scene if everybody knows your character will come out unscathed, shrugging off major battles with a smile and a skip. If you don't make the journey harsh and demanding, then the end prize is anticlimactic, and a lie to the reader. And the last thing you want to do is make your reader feel cheated.
In the urban fantasy genre, while relationships are important, and sex can be important, action and characterization are the prime focus. And the best way to build characterization is to put your character through her (or his) paces—to force her to face her fears and enemies.
In Courting Darkness, Camille must face her worst personal enemy—her father-in-law. Hyto is a psychotic dragon who blames Camille for his son turning against him, although that's not true, and he blames her for him getting kicked out of the Dragon Reaches—again not true. Hyto built his own downfall, but like many in this world, he's not willing to accept responsibility for what the consequences of his actions. We first met him in book seven–in Bone Magic, where I established that he was dangerous and on the edge, and in that book, he developed a vendetta against Smoky and Camille. (Smoky is his son, and one of Camille's three husbands—yes, she's a lucky woman who has three adoring husbands).
Now, in Courting Darkness, he returns, and he kidnaps Camille. And the resulting scenes are not pretty. But if I'd created a deus ex machina—if I'd cheated and let her get away without being hurt, it would have cheapened the story. A psychotic dragon is not going to pull punches nor will he take a dive.
The key in situations like this is to avoid exploiting the damage, to avoid using violence gratuitously. It's the difference between a good horror story, and a gore-fest. Yes, the action is brutal at times, and explicit, but because this is an ongoing series, I knew that whatever happened, I'd have to deal with in future books. And I wanted an ending that would leave the reader feeling like vindication had been achieved—and I always want to leave my readers smiling.
So yes, hurting our characters can make us cry. As a writer, it hurts me when I hurt them. But it makes the story more compelling.

What are some of the scenes you've read in books that left you breathless, where the main character got hurt, but in the end, it made the book—and the character—stronger?
remember 5 commenters are chosen weekly for a free book – winners announced on Sunday!!

Yasmine Galenorn
Bio:
New York Times, USA Today, and Publisher's Weekly bestselling author Yasmine Galenorn writes urban fantasy for Berkley: both the Otherworld/Sisters of the Moon Series for Berkley and the Indigo Court urban fantasy series. In the past, she wrote mysteries for Berkley Prime Crime, and nonfiction metaphysical books.
Yasmine has been in the Craft for over 30 years, is a shamanic witch, and describes her life as a blend of teacups and tattoos. She lives in Kirkland WA with her husband Samwise and their cats. Yasmine can be reached via her website at www.galenorn.com
Weekly Winners at Romance At Random – Your place for Romance
Weekly Winnners!!!
Winners on Romance At Random
Hi everyone! Thanks again for blogging with us this week — winners are below & if you are one, please send your snail mail to romanceatrandom@randomhouse.com so we can get you your book! Authors that may have offered a giveaway during the week will post their winners on those posts in the comment section — so take a look to see if you're included!
Now . . . R@R's Weekly Winners . . .
Congrats to all:
1- Laurie – I probably read about 4-5 hours a day its usually in the evening when i sit down to watch tv. On the weekends it is probably more especially if we do not have anything going on. I always have my nook with me!
2-Gloria – Thanks for the giveaway! geschumann at live dot com
3- PattiP – I have at least 90 books in my pile to read and I have to agree with my husband. I should not buy more books until these are read….but it is sooooo hard. I think I am going to officially start a bookaholics anonymous. I think the last 20 books I bought I've purchased and snuck in the house when he wasn't home. I really think I have a problem.
4-JanieraE – Great giveaway, would love to win those books
5-KristyW – Thanks for the great giveaway!
6-Valette M – Haven't read this yet, but I hope I win!
7- JillK – Haven't read these yet…but would love to! Thanks for the giveaway!
Thanks so much for joining us at Romance At Random — 5 more winners will be chosen next week so stop on by!! Happy Romance, SueG
November Reads – what are you reading? + Giveaway!


Fall is here – the weather is cooling off & there are tons of Romance books to read!
By now all of you are familiar with our Monthly Shopping List off to the right of the blog, where you can print a copy of your own!

Looking at the books that released late October & early November there is just so much to choose from!
I thought it would be fun to try & separate the books by putting them into groups to help us all decide what to buy . . but more importantly, to find out what you're going to buy!
Here we go!
Contemporary Romances:
Christina Skye, A HOME BY THE SEA
listen to this: Grace Lindstrom has followed her fiancé across three continents, starry-eyed and full of dreams. But when he dies in a plane crash, Grace discovers that their life together was the cruelest kind of lie—and swears to never lose herself to that kind of love again. Until one night, when a chance encounter leads her to the kind of man she's always dreamed of—and the deep family ties she's never known.
Noah McKay knows he can't offer Grace any kind of future—not when he spends every day putting his life on the line. But when Grace's grandfather suddenly falls ill and she's called home to the small island town where she grew up, he realizes he can't live without her. Aided by good knitting, good chocolate and deep friendship, Grace is slowly learning to trust again—but can she learn to love a man whose secrets run so deep?
Readers who like Debbie Macomber, Susan Wiggs, Mariah Stewart & Emily March will certainly enjoy this book.

Toni Blake always delivers:
The weather outside is frightful, but kisses by the fire are so delightful – sounds right up my alley & perfect for the Holidays!

Robyn Carr, BRING ME HOME FOR CHRISTMAS – A Virgin River novel – *squee*
Jennifer Crusie reissue of THE CINDERELLA DEAL
Victoria Dahl's, REAL MEN WILL
Kristan Higgins, UNTIL THERE WAS YOU – to name a few.


My absolute favorite, BECAUSE OF YOU by Jessica Scott – Keeping his men alive is all that matters to Sergeant First Class Shane Garrison. But meeting Jen St. James the night before his latest deployment makes Shane wonder if there's more to life than war. He leaves for Iraq remembering a single kiss with a woman he'll never see again- until a near fatal attack lands him back at home and in her care. Jen has survived her own brush with death and endured its scars. And yet there's a fire in Shane that makes Jen forget all about her past. He may be her patient, but when this warrior looks her in the eyes, she feels – for the first time in a long time – like a woman. Shane is too proud to ask for help, but for Jen, caring for him is more than a duty -it's a need. And as Jen guides Shane through the fires of healing, she finds something she never expected – her deepest desire.

Paranormal:
HIGHLANDER FOR THE HOLIDAYS by Janet Chapman –
although I don't love the cover, I love her books & anytime I can spend with my time travelin' Highlanders I'm all for that!
Heart of Steel by Meljean Brook . . .well, just look at it – do you need more incentive to buy?

& NIGHTSHINE by Lynn Viehl: As a psychic, Samuel Taske can see the future, but he never predicted that he'd fall for San Francisco paramedic Charlotte Marena, the woman he's been charged with protecting. GenHance-the biotech company willing to do anything to acquire superhuman DNA-is after them. And when Samuel discovers that his Takyn powers have abandoned him, Charlie and her secret nighttime telepathic ability are their only hope for survival…

Historical:
Monica McCarty's THE VIPER - book four in the Highland Guard Series
NEVER LOVE A HIGHLANDER by Maya Banks ties up her trilogy

A WINTER SCANDAL by Candace Camp – When plain and proper Thea Bainbridge stumbles upon a baby in the manger of her church's nativity, she is understandably shocked. Discovering a brooch bearing the insignia of Gabriel, Lord Morecombe, hidden among the child's clothing, she is certain the dissolute rake is to blame. Incensed, Thea sets out to reproach the arrogant lord—only to find herself utterly swept away.
looking for a real seasoned writer that always delivers? Try Beverly Jenkins & NIGHT HAWK

Margaret Mallory's THE SINNER has people all the buzz . . .
& people can't stop talking about THE BLACK HAWK by Joanna Bourne . . .
having read Grace Burrowes previous books I'm sure THE VIRTUOSO will deliver a great story!

NEXT in the SHERBROOKE SERIES – can you believe it? THE PRINCE OF RAVENSCAR


SCANDALOUS DESIRES by Elizabeth Hoyt – always a must read.

Romantic Suspense

IN CLOSE by Brenda Novak – Claire O'Toole's mother, Alana, went missing fifteen years ago. That was big news in Pineview, Montana, the kind of town where nothing much ever happens. Then, last year, Claire's husband, David, died in a freak accident—after launching his own investigation into Alana's disappearance.
Is Alana dead? Or did she simply abandon her husband and daughters? Claire is determined to find out—and her former boyfriend, Isaac Morgan, wants to help. Although their relationship didn't end well, he still has feelings for her. And yet it isn't until he starts to suspect David's death wasn't an accident that he's drawn back into her life.

There are so many more, I can't list them all! What are you looking for this November, what is on your TBR list? Remember, 5 commenters every week win a free book – winners announced on Sunday – good luck!!
A Writer in a Different SubGenre…+ Giveaway!!

Part one: Subgenres of Romance
By Stacey Agdern
I was talking with a friend of mine, author Isabo Kelly, and it came up in conversation that her new release, Brightarrow Burning is a fantasy despite the fact that she's known as a Science Fiction author. She was worried about this, but I reminded her that her style…her voice, came through in what she writes.
After talking with her, I started to think about this idea a bit further, and it's true. Despite the differences required when a writer switches subgenres, or even genres as a whole, a writer's voice always comes through. Anybody who reads the JD Robb series can spot Nora Roberts in the way Eve, Roarke and the rest of the ensemble cast grow and change during the course of the series. Who else?
Ann Aguirre's voice absolutely comes through in the strength of both Sirantha Jax and Corine Solomon, and in the way they deal with the insanity life throws at them, despite the complete difference in their setting and plotlines. You can see the heart of Ilona Andrews in the characters in Silver Shark, the Edge as well as the Kate Daniels series…their devotion to duty and those around them ring true and warm a reader's heart despite the difference in their setting and genre.
Doranna Durgin's 'Reckoners' series contains the things I adored about the books she wrote for the dearly departed bombshell line, despite the fact that the bombshell books were fast paced and written with a central narrator, and the Reckoners books are not only a bit more humorous, but also contain multiple points of view.
But what about authors who need to change their writing style to fit the subgenre they're in? Lisa Kleypas fundamentally changes her writing style when she goes from historical to contemporary, but she does so rather well, switching from her trademark historical third person, to a strong first for her contemporary. Once again, it's the strength of her characters and their family bonds that make readers remember it's Lisa Kleypas. And you can see echoes of Sherrilyn Kenyon's Dark Hunter books in Kinley MacGregor's MacAllister brothers/brotherhood of the sword series despite the fundamental change in both writing style and subgenre.
In short, as a reader, I enjoy watching my favorite authors jump between subgenres, mostly because I still am able to find the things I like about their writing in each book. Whether it's the themes they choose to write about, the type of story they're good at telling, or their particular skill as a writer that shines through every time, I'll be able to find something to grin about. What do you think?
remember, 5 commenters every week win a free book — good luck – winners are announced on Sunday!

See you next month when we'll continue this series and talk about authors who jump between adult and young adult books and whether their voice comes through…
The Book Reading Gals + Giveaway!!
The Book Reading Gals
As lovers of romance we are thrilled to spend a day with you talking about a few of the things that we recently discussed among ourselves. I know you have all thought of these questions we are interested to know what you like and what you would do.


It's a cold and rainy day and you don't have to go anywhere you can spend the day doing nothing but reading. Do you pick up an old favorite or reach for something that you have never read before? What book is it?
Melanie
I would forget everything I have to read and grab something that has been worn in. I am thinking of The Hot Zone series by Carly Phillips, why not a whole series as I am doing nothing today right, no matter how many times I have read them they are just as good as the first time. If I have a few extra moments I would also pickup something from Kristin Higgins, who I am in love with. As you can tell I like to read authors that make me laugh out loud, no matter where I am.
Angela
I am going to pick up my favorite series of all time, The Kushiel Legacy by Jaqueline Carey. It has it all, adventure, mystery, true love and sex! I adore Phèdre, she is such a strong heroine and, she is truly a hero because she actually saves her kingdom by sacrificing herself, and always by her side is her stalwart companion, the beautiful Joscelin. He is so torn by his love of Phèdre and his duty as a Cassiline Brother. They explore such a rich and dark world full of beauty and evil. The series never fails to bring me to tears of joy and sorrow and gives me the shivers in sexual anticipation and terror.
Janon

I would reach for something new. I have a huge "to be read pile" of books and I just don't go back and reread many books. I would probably grab a Regency or Victorian Historical Romance or I would grab a backlist book from Lorraine Heath, Loretta Chase or Julia Quinn that I haven't read yet.
Heather
I would grab a book that is probably in desperate need of replacing, unless it is on my kindle. I would roam and peruse my bookshelves all seven of them and randomly grab books that appealed to me at the moment. I would say it would most likely be a Nora book but I haven't been able to pry them out of my sister's house, but I digress. It could be anything from Nalini's Psy/Changeling series to the Bar Cynsters of Stephanie Laurens, or maybe Prince Charming by Julie Garwood, but then I come to shelf of J.D. Robb books and could possibly pick up my favorite books in that series. No matter what it would be I would be snuggled up on the couch my cup of tea nearby with the dog.
Let's talk about our favorite hero-who does it for you?
Melanie
I thought of the one everyone thinks of – Rourke of course – but really I want to be a little different so my thoughts went to someone that is fiercely loyal and protective but rebellious and of course it does not hurt that he is a Lord (and a reformed pirate), this hero has been around for awhile but I never tire of reading about him. I am talking about James Mallory from Gentle Rogue by Johanna Lindsey, I am actually in love with all the Mallory men but James and Tony both hold a special place in my heart.
Angela
Jocelin from the Kushiel series or Daemon from the Black Jewels; they are both fiercely protective and beautiful in different ways.
Janon
My first thought was – Bones from Jeaniene Frost's NightHuntress Series. He's funny, sexy, alpha and just overall one of the best written heroes. I even named my dog, Bonz after him. I have to squeeze in one more pick for a favorite hero – Alec Kincaid from The Bride by Julie Garwood. In fact I think I've loved ALL of Julie Garwood's leading men.
Heather
This one was easy for me, Judd Lauren from Nalini Singh's Psy/Changeling series and Dimitri from her Guild Hunter's series. Judd because even though he is pure ice and unfeeling on the outside when it comes to Brenna and his family he feels so deeply that he will do what ever it takes to keep them safe. Dimitri because he loved his wife so much that after over 1000 yrs of being a widower his heart still only belonged to her and wasn't given again until she'd been re-incarnated.
If you can go anywhere in time past, present, or future, what time would you like to visit and where would you like to go?
Melanie
I love electronics and new technology so the future might be nice, but I don't know if I would want to return. So I am going to have to say the past, around 1700′s and I would want to VISIT Ireland of course, notice I said visit, as I don't think I could handle being there permanently. I would love to go to Ireland in present day though.
Angela
I want to visit present day Ireland, Australia, Fiji and Hawaii. I love to read about other time periods, but I wouldn't want to cope without chocolate, slimming underwear and toilet paper. Unless I also get a magical pocket or purse that would be able to hold all the modern stuff I would want.
Janon
I'm a huge fan of Tudor Fiction. So I would love to be a Lady of the Court during King Henry the 8 or Queen Elizabeth's reign.
Heather
Okay there are a couple of times that I would want to visit. I would want to visit Ancient Greece, and Rome, Regency England, Medieval Scotland, The Wild West, the 1920′s the 1940′s.
So what 5 books would you have in your survival kit? They must be print books as knowing our luck electricity will not be available so we would not have e-books*grins*
Melanie
This was hard for me, I discovered I read a lot of books that are series, how can you take one book out of the series and not the others, that would be torment. I am going to break the rules already; I am such a rebel. I want to bring two series; between them I should have all of my wants covered. The first one would be The Bride series by Catherine Coulter and if I can't bring them all it would have to at least be the first three books, The Sherbrooke Bride, The Hellion Bride, and The Heiress Bride. The second series would have to be The Mists of Ireland by Erin Quinn; I just discovered these books at RomCon this year and was so impressed I accosted everyone I could to read one of the most powerful paragraphs that I have ever read. Want to know what it is? Get your hands on a copy of Haunting Desire and read page 4, it only gets better from there. In an ideal world I will be stranded with my family, which means that Heather, Angela, and I get to share the books we bring.
Angela
Well, I would need to have my Hitchhiker's Guide to the Galaxy anthology because it's amazing and I would need at least one non-romance to fulfill my nonsense side. I think I would also need my Black Jewels anthology because it is beautiful and tragic and I would need at least those three from the series. I would also want to take the three Jewels books by Nora Roberts. She is the Queen of Romance for a reason and I love that they take place in Ireland. So, I guess I am technically breaking the rules too, but that is why I bought the anthologies in the first place! I wish more series would come that way.
Janon
Acheron by Sherrilyn Kenyon, The Game by Brenda Joyce, The Duke and I by Julia Quinn, Kiss An Angel by Susan Elizabeth Phillips, Shadowfever by Karen Marie Moning
Heather
In a perfect world I will be stranded with Melanie so I would be able to read her books as well, as many Nalini books as I can grab and if I still have room I will add in some Julie Garwood. I don't like that I have to choose!
Heather and Melanie run thebookreadinggals.com a review site dedicated almost entirely to the romance genre; fellow reviewers Angela and Janon join them. We would love it if you stop by occasionally and say hi. We will also be bringing back our RomCon Reading Challenge so please stop by for information, FYI we will be giving away one ticket for registration to the winner of the challenge.
remember 5 commenters are chosen weekly to win a free book – -winners announced on Sunday – good luck!!
WEEKLY WINNERS!!
Winners on Romance At Random
Hi everyone! Thanks again for blogging with us this week — winners are below & if you are one, please send your snail mail to romanceatrandom@randomhouse.com so we can get you your book! Authors that may have offered a giveaway during the week will post their winners on those posts in the comment section — so take a look to see if you're included!
Now . . . R@R's Weekly Winners . . .
Congrats to all:
1- LindaC
2- Lauren
3- Viki
4- Audra
5- Eva
Thanks so much for joining us at Romance At Random — 5 more winners will be chosen next week so stop on by!! Happy Romance, SueG
Once and Again + Giveaway!
Once and Again is a delightful sexy romantic contemporary that speaks to us of family and second chances. Lily Travis never thought she would come back to Petal, Georgia but here she is trying to get her fifteen year old brother back on track and help her mother after her dad deserts them both for a 20 something woman. Sexy and all grown up, she has it all together until she sees Nathan Murphy.
Nathan was the love of her life in collage until she saw him kissing her cousin. Seven years has passed since they broke up but Lily has never forgotten her first love. Nathan Murphy made a horrible mistake seven years ago when he let Lily walk away without a fight. Seeing her again has made Nathan realize that he never stopped loving her and he makes it his personal mission to get her back. When Nathan enlists the combined help of the Murphys and Chases to help win back Lily's love and trust, Lily realizes that coming back home may have been the best decision she ever made.
I adore Lauren Dane. Her stories always fell me with joy and laughter as we watch the characters we have come to love find happiness and acceptance while dealing with everyday situations and problems. Erotically romantic without crossing the line into crass, Ms. Dane has a way of drawing you in and making you a part of her stories.Her sense of family is readily apparent as we watch these characters laugh, fight, love and protect each other.
Lily Travis is a delightful heroine who holds her own as she steps in to fill her mother's shoes as a parent to her younger brother Chris. With plenty of love, laughter, and spirit, she grabs hold of Chris and refuses to let him continue down the path of destruction. With her mother spiraling into depression and an overbearing sister, Lily has a lot on her plate. She leads Nathan on a merry chase as Nathan is used to getting what he wants and now he wants Lily back. I enjoyed watching Nathan have
to work for what he wanted. Plenty of steamy love scenes keep you glued to the pages as Nathan takes wooing to a whole new level in his attempts to win Lily back. Though some heavy subject matters are touched upon; it's the sense of family and forgiveness that draws you in.
With a first rate cast of supporting characters and an engaging storyline, Once And Again is the perfect romantic getaway for when you need a little me time in your life. What are some of your perfect getaway books to read? Thanks Tori –
Remember, every week 5 commenters are chosen to win a free book -good luck!
Series – what's to like? +Giveaway!
Series by Danielle


There are always positives and negatives to any series I start to read. So, before I start a new one I actually like to do some research to see what I am getting myself into. First I read about the books to see if it is something that will capture my interest. Then I see how many books are in the series or how many the author is planning on writing.
Mostly when reading a series the positives tend to outweigh the negatives. For one I find myself deeply involved in the characters. I begin to feel a connection with the main characters of that book. I just become emotionally invested to the point of laughing or crying right along with them as their journey begins to evolve. Another positive is the side characters. If you have strong side characters it tends to set the mold for the next upcoming books that you want to read. There is nothing like following and revisiting characters from previous books.
In asking other bloggers about what bothers them in a series is the simple fact that some series should have ended sooner rather than later. The books that seem to go on forever are not necessarily a good thing. Some of us readers tend to get bored and lost in the whole storyline. A negative that you see a lot of is way too many characters. I don't want to have to keep a spreadsheet just to keep track of all the characters in a series.
In the past year I have read a lot of series because I tend to love them more than stand alone books so the end of a series tends to make me a little emotional. When I am caught up in a series that I can't get enough of I want to beg the authors to keep them going but when it is your time it's your time. But sometimes we are even lucky enough to be taking on a new ride with a whole new set of characters and even some of the same ones from the previous series in a spin off series.
Although series end and characters change one this is guaranteed is that there is always another series out there to explore. You will never forget the certain series that have captured your heart and impacted you the most. But so many are out there to dive into and give a chance.
What do you love to hate about series? :-/ confused
5 Randomly chosen commenters each week will win a FREE book – winners announced on Sunday – good luck!
My road to publication . . . + Giveaway!
My road to publication was fairly direct. I thought about writing a novel and then, without too much ado, I wrote one. Then I wrote another. And another. When I felt my first manuscript was ready to go out into the world, I started querying. Shortly thereafter, I acquired a fabulous agent (Nalini Akolekar at Spencerhill Associates). At her suggestion, I did some revisions on my first manuscript, and she shipped it out for me. Within a year, I had an offer for publication for the first two books in my Star Harbor series. I was thrilled that the offer was from Loveswept! Loveswept – the line that had published such legends as Debra Dixon, Tami Hoag, and Jennifer Crusie. That Loveswept.


Believe me, I know how unusual this is, and how fortunate I am that this all happened so quickly. Of course I'm leaving out the hard work involved in researching, writing and editing my book, my incredible luck with timing, and the shock and awe I experienced when first talking with the inestimable Sue Grimshaw, but truth be told, it's a fairly uneventful story.
What I find more interesting about my journey is why I wrote a novel to begin with. By any account, I shouldn't have been thinking about it at all, much less to the point of obsession. I had a great career as a patent attorney, a fabulous husband and my first child on the way. Why, when I had my whole life aligned perfectly could I not stop thinking about it?
The answer came to me the other day as I was taking my beautiful one-year old daughter for a walk near our Northern California home. Though it was early September, the day was clear, hot and cloudless with little breeze. Tall redwoods flanked the path with their mahogany trunks and dark green needles. Nearby, a ruby-throated hummingbird sucked nectar from a bright-purple allium. Given our fairly constant (good) weather, it could have been any season. In Connecticut – where I grew up – I knew that by now, the days would be getting shorter, geese would be flying south for the winter, and cinnamon-and-sugar donuts would be required eating.
And then it hit me: I missed autumn in New England terribly, and my longing colored my life.
Days growing crisp and cold. Leaves slowly morphing from green to red, gold and brown. Raking huge leaf piles, scattering them with a well-placed jump, then raking them again. Aromas of wood-burning fires and freshly-baked pumpkin pie filling the air. Smoky, chill evenings. Curling up inside with a hot mug of cocoa and a good book. Apple picking in old orchards. Hayrides. School starting. A breathless anticipation of things to come.
This deep longing to experience the season is part of why I wrote DEEP AUTUMN HEAT, the first novel in my Star Harbor series set on Cape Cod, Massachusetts. Not only is it the story of two stubborn chefs who simply must fall in love, despite all obstacles, it is also my love letter to autumn. I needed to write this book to showcase my own beautiful little part of the world and to share with readers how much my small, quiet, New England town shaped who I am. The fact that Sue Grimshaw and the rest of the fabulous team at Random House fell in love with Star Harbor as much as I did is just icing on the cake.
What is your favorite season? Why do you love it so much and how has it inspired you?
Elisabeth Barrett lives in the San Francisco Bay Area with her husband and three beautiful children. When she is not writing, Elisabeth loves baking, choral singing and hiking. Elisabeth will make her Loveswept debut with DEEP AUTUMN HEAT in July 2012.
Website: http://ebarrettwrites.wordpress.com
Twitter: @ebarrettwrites
That's What I'm Talking About. . . .+ Giveaway!!!
Hi there! This is Jen, aka Twimom227, from the blog That's What I'm Talking About.
Today I'm going to talk about reading book series.
Ever since I started reading books, I have adored reading book series. It started with series such as Little House on the Praire and Trixie Belden. As an adult I throughly enjoyed The Harry Potter and the Twilight Series.
After Twilight, I quickly fell into the paranormal romance and urban fantasy genre, and I realized that I was addicted to reading series. It seems that series are the norm for these genres and it works.
I love reading series because there is something reassuring about seeing familiar characters and settings over and over. I have about 20 "auto-read" series I currently follow and am picking up new ones all the time. But I wondered, why are series so popular?
I polled a group of twitter folks about their series-reading habits, reconfirming some things I already knew, but also discovering some new ideas about series.
First of all, each of the ten random folks that agreed to help me are avid book series readers, with the number of "auto-read" series ranging from nine to "a lot." But it was Lillie who shocked me by telling me she had "at least 40" series on her auto-read list.
I wondered how do folks usually pick up a new series. Many folks responded that they pick up new series based on recommendations – from blogs, twitter, Amazon reviews. Several also take advantage of Amazon's free books on Kindle. Like me, Rebecca mentioned that she has picked up a series after reading a novella from the series. Others responded that if they already read an author, they will pick up a new series by the same author.
I also asked if any of these women have stopped reading a series. Almost all of the respondents said that they either have stopped or will stop reading a series for the following reasons: repetitive plot lines from book to book, declining overall story arc or quality of subsequent stories, dramatic changes in characters and/or plotlines, and continual abuse of a main character.
So bottom line… What is the attraction to series and why are they so popular? Many respondents wrote it was the ability to follow favorite characters and enjoy preferred settings over time. @RuthieCardello replied "I love seeing a particular scene through another character's point of view," which I hadn't considered before but realized that is true. Several hit upon the emotional attachment to characters, and I feel Kris summed it up wonderfully with "I think what I like most about book series is the sense of journey. As the series builds, the more you learn and, more importantly, become emotionally invested in the characters and their stories."
I love reading series! And apparently so do lots and lots of other people. What about you – do you read series? What are your favorite must read series? Remember – every week 5 commenters will win a FREE book – winners announced on Sunday – Good Luck!!!
Your favorite sub-genre in Romance + Giveaway!
When Sue asked me to guest post I was super excited to help with the launch of the site, the Loveswept line, and to get the chance to chat with all of you. When Sue asked me to talk about my favorite sub-genre I clammed up. Egads! I have to pick one?! So I went with the one sub-genre I couldn't live without: Romance.
Now, before you call me crazy hear me out. The vast majority of books have some kind of love story wrapped up in them regardless of the genre. Until a year ago or so, I only read urban fantasy and romance. I was afraid to branch out into other genres. I wanted that love story, I wanted the possibility of a happily ever after. I was afraid that none of the other genres would offer it, but I'm happy to say I was wrong.
Let's take the Mystery genre for example. JD Robb is probably one of the most prolific crime and mystery writers out there, with one of the most beautiful love stories to go along with it. I'm still making my way through the In Death Series, but who doesn't love Eve and Rourke? They have weathered so much together and fight for their relationship day in and day out. What's not to love about that? Even Dan Brown, another best seller throws some romance into his books. Sure Robert Langdon has a new love interest in each book, but who doesn't love the sexual tension mixed up with the mystery?
Moving onto Fantasy. We had an entire month devoted to fantasy romance, featuring our favorite authors who have taken a chance and blended epic fantasy with epic love stories. Anya Bast, Anne Bishop, Pati Nagle, Patricia Briggs, and CL Wilson are just a few of our favorites who have created amazing fantastical worlds with all the elements we love in the fantasy genre with a romantic twist.
Then there is Science Fiction, a genre that is slowly accepting more and more female authors, and adding more romance to the stories. Gini Koch, Linnea Sinclair and Sherrilyn Kenyon have stormed through the genre and added strong romantic elements to their stories. With the recent steampunk craze, even more romance undertones have come out. Meljean Brook, Gail Carringer, Katie MacAlister and others are blending the unique world of steampunk with love stories.
Even great general fiction authors like to add romantic relationships to their books. Nicholas Sparks writes beautiful relationships that rarely ever get their happily ever after, but tell a beautiful story of falling in love.


For me, the romance in ANY book, regardless of the genre is what pulls me in. Watching two people fall in love, whether it's during a murder investigation, on a journey through uncharted lands, in space, or while dealing with life in general, the relationship is what makes the book special.

What about you? Do you think I'm crazy for calling romance a sub-genre? What's your favorite?Remember – 5 lucky commenters will win a free book – winners announced on Sunday!!
Weekly Winners!
Thanks for joining us at Romance At Random — remember, if you are a winner email romanceatrandom@randomhouse.com so we can send you your FREE book!
Congrats!
#1 - Maria
#2 – Christine A
#3 – Mason Canyon
#4 – RebekahM
#5 – Sherrie
Thank you all — join us this week for more fun & let us know if you'd like to post on our site — it is a site for everyone so let us know at romanceatrandom@randomhouse.com.
SueG
MISTAKES NEW WRITERS MAKE, + Giveaway!
MISTAKES NEW WRITERS MAKE
Jax Cassidy & Kristen Painter
Kristen – Hi, Sue! Thanks for having Jax and I over to guest blog today.
Jax – Thanks for inviting us, Sue! We're excited to be here.
Kristen – I'm going to jump right in and say I believe the number one mistake I see new writers make is moving too fast. They're so eager to submit their work, they end up making numerous errors that could otherwise be easily avoided. Things like sloppy query letters, poorly polished manuscripts and submitting to agents and editors who don't necessarily rep the genre they're submitting.
Jax – To piggyback on that, I've noticed new writers can either over edit or under edit their manuscripts. They tend to polish the heck out of the first three chapters and the rest of the pages don't get the full polish treatment, which leads to an inconsistent manuscript. Another thing I've noticed is that some new writers don't value the advice of seasoned authors. They ask for help but will ignore the critiques outright. They're wasting the published author's valuable time when they could be helping others who really want to learn. The end result is that the newbies will do minimal polish because they feel every word they've written is gold. In this industry, a willingness to learn and accept constructive criticism can only help the writer grow faster if they open their mind to it.
Kristen – Another area new writers struggle with is being too concerned with is the market. They focus so much on what's selling that they start to lose the joy of writing. Yes, you should keep an eye on what's hot and what's not when you're first starting out, but not to the point that you're writing something strictly because you think it will sell. If you don't enjoy what you're writing, what makes you think anyone else will? And do you really want a three book contract in a genre you don't love writing? It only takes one great book in a not-so-hot genre to make that genre popular again. That firestarter book could be yours!
Jax – I've seen writers become overly obsessed with getting published or obtaining an agent. Sure it's wonderful to have one or both, but writers can lose sight of what's important and often they'll quit even before things really get started. The demands of the publishing industry are so much more than a writer can imagine. Most new writers come into this with preconceived notions that it's going to be a cake walk once they get published. Ask any pubbed author you know and they'll be happy to provide you will some hard realities about their publishing journey. Do you still want to be a writer? Ask yourself if you're writing because you really want to write or whether you're in it for the fame and fortune. Sadly, no matter how many books you put out, it doesn't guarantee financial success for every author…but it does guarantee that if you stay in this business long enough, you will forge strong friendships and find personal success which can be even more invaluable.
Kristen – I want to second the strong friendships part. As you grow as a writer, those friends will grow with you. Sometimes those friends are the best support you'll have in this business. Many of the people that took me under their wing in the early days have stayed with me and I'm grateful for their guidance. Besides building a support network for yourself, I'd add some other advice to newbies: have patience, don't take rejection personally and write to entertain yourself.
Jax – My best advice to newbies is to believe in yourself and your writing abilities. It's great to learn craft and find your voice but the journey is most difficult when you lose your self-confidence along the way. Stay strong and keep writing for the pure love of it. The only one stopping you from success if YOU.

If you're a published author, what advice would you offer to those just starting out?
What are some first time newbie mistakes you've made?
Reminder – 5 randomly chosen commenters will win a free book – winners announced on Sunday — good luck!
 
ABOUT THE AUTHORS:
Jax Cassidy followed her dreams to Paris, then Hollywood to pursue a film career but managed to fall in love with penning sexy romances and happy endings—finding Mr. Right was just an added bonus. She writes contemporary, paranormal, and multi-ethnic romances and is Co-Founder of Romance Divas, and award winning writer's website and discussion forum. Jax is also known as one-half of the retired writing team of Cassidy Kent.
www.jaxcassidy.com
When the characters in Kristen Painter's head started to take over, she decided to exorcise them onto paper and share them with the world. Blood Rights, the first book in her gothic fantasy vampire series, House of Comarré, comes out this October from Orbit Books. She has also been published in non-fiction, poetry and short stories. The former college English teacher can often be found online at Romance Divas, the award-winning writers' forum she co-founded with Jax Cassidy. A two-time Golden Heart finalist, she's represented by The Knight Agency.
www.kristenpainter.com
Debut Shawntelle Madison *Paranormal Plus* + Giveaway!
Shawntelle Madison, Coveted, 4/24/2012
Happy August everyone! I hope you have many great books in your to-be-read pile and a nice glass of ice tea to fight off the heat.
First of all, thanks to Sue for letting me stop by to introduce myself. I'm the debut author of the Ballantine summer 2012 urban fantasy/paranormal romance featuring an OCD werewolf with hoarding tendencies. And Natalya Stravinsky doesn't hoard just anything—she hoards holiday stuff. If you've decorated your lawn with it, she's mostly likely collected it at her house. COVETED comes out early next summer and I can't wait for you to meet her. In the book, Nat is restless and recovering from her split five years ago with her gorgeous ex-boyfriend, Thorn. But everything changes when complications pile up faster than her ornaments. When Thorn returns home, they discover that old flames still burn.
Before Nat can sort out their relationship, she must face a much hairier problem. Her pack is under attack from the savage Long Island werewolves—and Nat is the first target in the turf war. Toss in a handsome wizard vying for her affection, a therapy group for the anxious and enchanted, and the South Toms River pack leader ready to throw her to the wolves, and it's enough to give anybody a panic attack. With the stakes as high as the full moon, Nat must summon all her strength to save her pack, and ultimately, herself.
When I tell others about my book, most people ask me where I find such ideas. Do they just pop up while I'm at the grocery store, or maybe while I watch reality television? Well, before Natalya's character was born, most of my ideas did come from watching television. I'm definitely a reality television junkie and on any particular day you'll find me watching Hell's Kitchen or So You Think You Can Dance. Don't get me started about the goodies on the Bravo network as well as Project Runway. While I watch these shows I have so many what-if questions going through my head. Surprisingly, Nat didn't come from a television show. The idea for my book actually came from a family medicine medical journal. On the front page, I noticed an article about obsessive compulsive disorders. After reading the article, I ran through several what-if questions and Natalya's character was born. Once I had my protagonist, her conflict came not long after.
Long before Nat made her appearance, I'd always preferred to write and read sci-fi/fantasy. Back when I was fourteen, I wrote (and never finished) my first book, a science fiction romance. I still love the concept behind the book, even though it was poorly written with maps galore. The notebook with those pages is in poor shape, but great memories are there. Back then, I had no idea all those scenes running through my head was a sign that I should write. That I should give into the urge to put those ideas on paper and learn the craft.
My mother's an avid reader, and she exposed me early to romance. I loved to read the Zebra Historicals (in particular the western ones and the sci-fi romance ones) as well as books by LaVryle Spencer and Danielle Steel. I have fond memories of sitting with my mom reading books on a designated "book night." No television. No radio. Just my mother and I falling into a story.
Throughout high school and college I didn't write fiction much. Most of the time I was writing papers or working on proofs since I was a math major. The closest I got to writing was through English classes. Sadly, I also didn't read as much as I wanted to either. College was about making academic choices—reading for leisure and writing were definitely on the backburner.
Fast forward eight years. With college behind me, my mind set changed. During school, scenes never came to me. My imagination had been silenced. But now I was home with three small kids and a husband. And that's when the writing bug hit. The ideas came fast, but I had no idea what to do with them. I'd written academic papers before, but I'd never written a story. The only reference I'd had was writing the story I'd created when I was fourteen. I didn't know about literary agents or what should be done to get a book published. So I had to start at the very beginning.
Enter my critique partner, Sarah Bromley. I'd written a few pages of a new manuscript by the time we had a fateful conversation about our writing interests. We were at a play group for our kids. While our kids played, Sarah and I discussed our writing. We'd both jumped back into the pool at the same time. Mind you, Sarah had written a lot longer than I had and she had a stronger background with a degree in English, but she was up to challenge of working with me on a critique partner basis. I'm so thankful for Sarah. Now that I look back, I had so much to learn about the craft of writing. And not just how to format a manuscript.
With time and perseverance, I made progress. I started writing in November 2008 and finished my first book in January 2009. By late spring, I queried my first book and joined Romance Writers of America (another HUGE help for me). While I queried my first book, I started another one. I was definitely hungry to write. I went from a third person perspective to a first. A big change. I dug in and let myself speak through the heroine. Everything flowed so much better. Craziness ensued and it was fabulous. I finished my second book about a witch matchmaker a few months later. That book got me my agent, but it unfortunately didn't sell.
What did I learn from those first few months? Never take the journey into writing alone. Find a writer's group. Join RWA, or SCBWI (if you write young adult), Romance Divas, or a find a writing buddy. The Internet, as well as the publishing industry, is a big place and it's way too easy to get lost with all the information out there.
I remember 2009 as a year of writing, learning, and waiting. Writing to learn the craft, learning about rejections, rejections, rejections, and finally learning how to wait while on submission with editors. A big lesson that year definitely was the waiting aspect. As much as writers love to write, we have to learn to accept waiting as well. To keep from going crazy, I jumped back on the crazy train and started something new. While I was on submission for my second book, I started COVETED in February of 2010. (I've noticed I seem to start books in the spring. How interesting.) COVETED was the first book to make me cry while writing it. I felt close to Natalya and following her on her journey touched me as a writer. It's those moments that make writing worthwhile and fulfilling.
I finished COVETED a few months later and my agent sent me out to editors in the fall of 2010. A month later, Betsy Mitchell, the editor-in-chief of Del Rey Books, called my agent with a two book offer. Thus my relationship with my wonderful editor Tricia Pasternak was born and Natalya had a home with Ballantine Books. It's been a wild ride, but I wouldn't have it any other way.
Now that I've had time to look back, I wouldn't change much. Writing's definitely a journey with ups and downs. With my first book, I still believe in the idea, but the execution fell short. I still had a lot to learn about finding my voice. That came with my second book. But I needed to write that first book to progress to where I'm at now. All those mistakes were steps forward. I'd never change a thing!
Thanks for reading about my journey! How about a giveaway? Tell me about your favorite reality show or a favorite book and I'll pick a winner next week to win a $15 Amazon gift card. If the book's dark or quirky I'd definitely love to know about it. It just adds more happiness to my TBR pile.
If you'd like to connect with me, you can find me on Twitter as Shawntelle, on Facebook, as well as through my website. I also do blog posts on Wicked Authors (Mondays) and Magic & Mayhem Writers (Wednesdays).
Evangelistic About Books, from Lisa + Giveaway!
Evangelistic About Books
When Sue Grimshaw invited me to blog about booksellers today, I couldn't stop grinning. Seriously, I had a permanent smile on my face.
Why?
Because I love books. And I think we, the readers, are all booksellers. In fact, I think we're the best booksellers on earth. Better than a brick and mortar store? Better than Amazon?
You bet!
Have you ever finished a book and immediately told everyone you know to go read it? When I find a new book, or series, or author that writes a fabulous story with characters I wish I could invite over to my house for a barbecue, I tell people.
In fact, I get downright evangelical about books I love.
I just got back this week from the RWA National Conference in New York, and while I did my share of pitching my new werewolf series, and promoting my upcoming release, I spent just as much time recommending Kelley Armstrong's Darkest Powers YA series. I love those books and I love talking about them. I even got my daughter hooked on them and she in turn has passed them on to friends.
Earlier this year, I visited Europe for the first time, and brought along Teresa Medeiros' Goodnight Tweetheart in my Kindle. I loved it so much that I wrote a review and interviewed Teresa on Sue Grimshaw's Borders blog! I also buzzed about it so much at home, that my Mom and husband both read it as well.
And then there's Goodreads.
Have you been over there yet? What a fun place to talk about books! I have found more new authors and great books over there just by meeting other readers and seeing what they're excited about. For instance, have you caught Jeri Smith-Ready's Shade series? Soooo Good! I've been busy lately recommending that series as well.
As a writer myself, I enjoy grabbing books by fellow writers I know, and helping to spread the word about their releases. Sherrilyn Kenyon really hit home during her speech at RWA National when she reminded everyone that there is room for all of us on the best seller lists. While other competitive industries claw their way to the top, we're lucky to be able to support many authors in a genre that offers love and happy endings.
Are we lucky or what?
As a reader, there's nothing better than finishing a book I can't wait to convince everyone to buy, and as a writer, I hope to inspire readers to tell their friends about my book. Now that my first novel is about to hit the bookshelves, I've been over-the-moon excited by the readers who have reached out to me, anxious to read the series. I pinch myself daily! LOL
So what about you? Do you ever turn into a walking bookseller? What have you read lately that has you buzzing, and which books are coming up that you can't wait to read?
I'd love to hear!
Reminder – 5 chosen commenter's will receive a FREE book every week — winners posted on Sunday – good luck!!
Lisa's first novel, Night Walker, is being released on August 2nd in paperback and eBook formats from Entangled Publishing.
You can find Lisa at:
http://facebook.com/LisaKesslerWriter
http://goodreads.com/LisaKessler
http://twitter.com/LdyDisney
http://Lisa-Kessler.com
http://LisaKessler.wordpress.com
http://www.entangledpublishing.com/night-walker/
Not Another Romance Blog . . + Giveaway!
Ok, this is a special day — we are going to chat, real time – from 12-1:00 p.m. (EST), & again, 4-5:00 p.m. (EST), are you game?
Come onto our site, www.romanceatrandom.com & we are going to talk, one on one about stuff – it is your opportunity to ask me any question you want . . . the door is open . . . I will answer it in the best way that I can, & if I can't, I'll try to get you the answer. Sound like a plan????
To make this interesting, I'm going to give away 10 ebook cards you must be here during the specified chat times to win — it will be like, a 'tag' you've won– sound silly? Well, maybe so, but, you could WIN!

PART II
Why You Like The Romance Genre In 10 Words Or Less:
(theme is 10 today, in case you didn't notice
)
#10 – The readers are friendly
#9 – The authors are savvy
#8 – It is an industry that supports one another
#7 – The genre contains all of my favorite categories, from historical to futuristic
#6 – The characters drive the story
#5 – The books make me feel good
#4 – The books are stories that I can read over & over again
#3 – Great heroines
#2 – Great heroes
#1 – HEA
So – there it is – my 10 reasons for liking the genre – what are yours?
Remember, every week 5 randomly chosen commenter's will WIN a FREE book – good luck!!


HOT OFF THE PRESS:
It's CONTESTPALOOZA time! Today's prize is Signed books from Jo Bourne & Mary Balogh! Click here for details: http://on.fb.me/pn60w7