#Loveswept – On sale this week! Office love – love on the lam – or, hockey heroes — which do you choose?
Plenty of books to see you through the holidays – which do you choose? A hot office romance – sizzlin'! A crazy romp on the run — or, love on the ice — all are guaranteed to entertain and delight. Comment below we'd love to hear which book you're going to read this holiday season, remember, all are #Loveswepts and just $2.99!!
Read more
#BlackFriday #CyberMonday .99 deals from #Loveswept
These and more #Loveswept Romance can be found here

Happy Shopping!!
Super Saturday Sampler with Yours to Keep by Serena Bell from #Loveswept
Serena Bell makes her Loveswept debut with the captivating story of a woman living on the edge—and the man who's destined to love her. Read more
#Throwback Thursday – that was then, this is now, WOW!
I'm in the now, you?
Here's then . . . .
Read more
#Loveswept Christmas, Celebrate the Love
A little snow on the ground and I'm already thinking about what to read for the holidays . . . . it's not too early is it?
If you've not already obtained a copy do not miss this fun, romantic anthology of romances – one for each holiday: Read more
Guest Post: BIRTHDAY GIRLS By Jean Stone
Before iPhones and iPads and all those technology gadgets, I only saw USA Today when I traveled. So it was not surprising that as 1995 ended and I buckled my seatbelt for a flight to Hartford from Detroit, I pulled a copy of the newspaper from the seat pocket in front of me.
A quirky headline caught my eye:
In 1996, every 7 seconds a Baby Boomer will turn 50. Read more
Winners Chosen: The Way Home by Cindy Gerard + Giveaway!!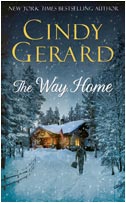 Many of you may know that I got my start at Loveswept many, many books ago. I always loved writing Loveswepts because I was never required to stay within a specific 'box' as so many category lines require. I could write about cowboys, or do something comedic, or write suspense or even delve into paranormal. So the Loveswept line is still much beloved to me even though I now write single title suspense. Read more
Special from #Loveswept – four awesome titles only .99 each
Have you seen? Loveswept's recent Newsletter highlights four awesome titles specially priced at .99 for a short time only – take advanatage of this savings and enjoy some of #Loveswepts awesome romance stories.
Happy Romance!
Read more
November Releases for Loveswept, flirt
Here's what's on sale this month from Loveswept and Flirt Romance.

One Perfect Christmas by Stefanie Sloane (11/4/2013)
In an enchanting eBook novella, cherished Regency romance author Stefanie Sloane presents an irresistible tale of fiery passion that burns deep on a cold winter's night.

Although he's never been prone to regret, the Honorable Lucas Cavanaugh cannot help but wish for a fresh start with Jane Merriweather. After being jilted by her fiancé, Jane turns to her dear childhood friend, Lucas, for support—and unlocks the hidden emotion and smoldering desire simmering in the man's troubled heart. Frightened by his newfound feelings, Lucas flees to Scotland. But when the Christmas season brings them together again, one look at Jane is all that's needed to reignite his yearning for the woman. Now Lucas must convince Jane that his intentions are as pure as the falling snow—and turn a dreary December into a joyous Yuletide affair.
Must read *exclusive* for Toni Aleo's Assassins series fans!
*EXCLUSIVE*
Click below for a short story from Toni Aleo featuring Elli, Shea and an intro to BLUE LINES with Piper! Read more
December – #NewRelease Romance Shopping List
Get your new release list right here, courtesy of reader, Ellen!
| Date | Author | Title | Price | ISBN |
| --- | --- | --- | --- | --- |
Ruthie's Reality: On First Impressions and Sex in Hammocks + Giveaway
Ruthie's Reality: On First Impressions and Sex in Hammocks
Welcome back to my reality, everyone! The status of my reality is Unknown, since I woke up and wandered out to the living room to find a blanket and what is obviously a puke bowl (empty, but strategically positioned just in case) next to one chair. I don't know who's sick or how sick, because the rest of the household is asleep, but it doesn't look good. Read more
What Not to Bare Tour is on #FreeSWAG
Sept 30th-
Literal Hotties Naughty Book Reviews- Spotlight
Oct 1st-
Literary, Etc
Oct 2nd-
Imagine a World- Review/Interview
Oct 3rd-
Emily Wood Author- Guest Post
Oct 4th-
Rose & Beps Blog- Guest Post
(Stop 2)
Classy Cat Books
Oct 8th- Urban Girl Reader- Review/Character Interview
Oct 9th- Literary Chanteuse
Oct 10th- Queen of the Night Book Reviews- Guest Post/Review Read more
Accidental Cowgirl Blog Hop is now! #FreeBooks #Giveaway

Beginning September 23 through Friday, October 18
In her Loveswept debut,on sale October 8th, Maggie McGinnis tells the tale of a city girl who's running on fumes—and the cowboy who shows her all the good things she's been missing. Read more
#ThrowbackThursday – Iris Johansen and #Loveswept
This is now . . .
That was then . . .
But what stays the same is the wonderful Loveswept story . . . Read more
Guest Post: Umm . . . Stop By Anytime to Check Out My Toner by Juliet Rosetti
Behold the hero of the latest Mazie Maguire adventure, revealed here in all his sculpted glory, the gorgeous Canadian ex hockey-player Ben Labeck, who swaggers through Crazy for You, my new Loveswept Romance. Due out in January, it takes up where Ben and Mazie Maguire left off in The Escape Diaries.
Sue Grimshaw, Random's only-slightly-crazy creative director, foolishly allowed me to offer my two cents worth into the cover's appearance—thank you, Sue—and it was fascinating getting a glimpse into the world of cover creation. I had a million questions about it—well, not just the design itself but the cover guys. Since I didn't want to become known as that pain-in-the-butt-prima-donna-writer, I haven't pestered the art people with all my stupid questions. Read more
Just announced! #Wattpad & #Loveswept = Romance!
RANDOM HOUSE'S LOVESWEPT PARTNERS WITH ONLINE READING COMMUNITY WATTPAD
New serialization from romance rising star
Ruthie Knox
Read more
#CoverReveal – Ruined by Tracy Wolff
Read more
WEEKLY GIVEAWAY: Enter to win an eGalley of CLAIMED!
This week we're doing something a little different. We're giving away 10 NetGalley copies of CLAIMED, a novel of erotic discovery and forbidden desire that goes beyond Fifty Shades of Grey, and it is the first book in the steamy new Club Sin Series. Winners will be emailed this Friday, so enter to win below!
As always, you can head over to Romance at Random's Giveaway Tab, for any giveaway details you might need, and we'll remind you every day during this week to enter via Facebook and on Twitter.
Follow us now so you won't miss out! Read more
Let Me Feed You: Method Okra by Mary Ann Rivers
I know, sweet baby. You don't think you like okra. I get it. It is not a convincing vegetable with its fur and its slime and its grey-greenness. It fact, those that do eat it seem to need to aggressively wrangle it into breading or pickling brine or gumbos with enough sausage and spice you don't really have any idea what you're eating.
This is romance, however. We want unconvincing heroes and heroines to be loved for themselves, without the aggressive makeover. Read more
Loveswept Classic Release, A Hint of Mischief by Katie Rose + 2 eBook giveaway!!

I am thrilled that the Appleton series is getting a new life as part of Random's Loveswept line.
A HINT OF MISCHIEF was one of my favorite books. Set in Victorian New York, the series is about three women who were orphaned and living with their sweet Aunt Eve in a spooky old mansion. It is clever Jennifer Appleton who comes up with the idea of practicing spiritualism in order to obtain much-needed money. They are charlatans, but charming women who offer hope and counsel to grieving widows who lost loved ones in the war. Jennifer, with her eyes closed, would consult a crystal ball while Winifred and Penelope knocked on the walls and played a harpsichord upstairs to make it seem as if spirits were indeed in attendance.
Read more
THE STORY GUY Blog Tour
THE STORY GUY Blog Tour
Fall in love with THE STORY GUY! Follow debut author Mary Ann Rivers on her virtual book tour through the end of this month, and don't forget to participate in THE STORY GUY Rafflecopter to win your copy! Read more
Guest Post: And Babies Make Four by Ruth Owen
The Dangerous Dairy Section
For some reason, the Dairy Section of my grocery store is a hotbed of budding writers. I'm not sure why — maybe it has something to do with lactose intolerance — but whatever the reason, the egg aisle is where I'm most often asked by my readers, "Where do you get your ideas?" It's a simple question, but the answer is anything but. And, to keep my milk from souring and my butter from melting, I usually credit my ideas to my imagination.
This is a big fat lie.
Read more
#CoverReveal – Yours to Keep by Serena Bell
Serena Bell makes her Loveswept debut with the captivating story of a woman living on the edge—and the man who's destined to love her.
Ana Travares has been looking over her shoulder her whole life. Her U.S. visa expired when she was a young girl, and if her secret is discovered, she'll be forced to return to the Dominican Republic. Ana allowed herself to get close to someone once before—and after he broke her heart, she swore never to make the same mistake again. But when a handsome doctor asks for her assistance, she fantasizes about breaking all her rules. Read more
TONIGHT AT 7PM EST – Toni Aleo Author Chat and Swag Giveaway
Click on
http://shindig.com/event/tonialeo
to join us at
6:45
and listen to Toni's Assassins-inspired soundtrack, and mix and mingle with other fans.
Tonight at 7PM
Toni will take the virtual stage or discuss her books, read from both
FALLING FOR THE BACKUP
and
BLUE LINES
, and answer your questions!
All attendees are eligible to win exclusive swag!
Learn more about the chat…
Read more
#Loveswept #StreetTeam – sign up here!
#Street team?
Whaaaat's that?
Well, let me just ask you . . .

Do you like receiving free books? Read more
It's here, everything you wanted to know about #Loveswept – NEW www.readloveswept.com
Just launched, that's right, it's brand new – #Loveswept.com, http://www.readloveswept.com/


Click through the image and experience romance you'll never forget – the passion lies at http://www.readloveswept.com/books/
Let Me Feed You: Feel Good Better Cookies by Mary Ann Rivers
Cookies are very important. When I work with new moms and their babies, I recommend cookies regularly as a part of general recovery. Breastfeeding moms often ask me for foods that are good for their supply, and I always tell them "cookies." Which, is true because you need calories to breastfeed and cookies have them. Then they always say, "no, Mary Ann, I mean like healthy food that is good for me and the baby."
My answer is still the same. Breastfeeding or not, recovering from birth or a grueling adoption, cookies are good for you. They are also good for you when you hurt your body, are a little under the weather (or a lot), or have had your feelings bruised. I mean, I think you should keep in mind the saying "if you eat a cookie, you needed a cookie, if you eat six cookies you needed to talk about it," but I am a health professional and I feel very comfortable recommending cookies. Even if sometimes you end up eating six cookies. Read more
#Loveswept Street Team = SWAG: Comeon, you all need one of these . . .
Do you like receiving free books?

Reading books before anyone else?

Do you enjoy writing reviews?

Do you have favorite authors that you want to be favorite authors of your friends?

Do you LOVE swag?
Then join us won't you? Find out more, click here and become part of the team!
Doesn't cost a thing and in turn will be something fun and rewarding to do – lots-o-FREE books!!
#Loveswept Presents author event with RITA-nominated and USA Today bestselling author Ruthie Knox!
Join us for our first #Loveswept Presents author event with RITA-nominated and USA Today bestselling author Ruthie Knox!
https://www.facebook.com/events/114164222126829/