Erotic reads – if you like Fifty Shades of Grey try The Dark Garden
If you loved Fifty Shades of Grey . . . get ready to enter The Dark Garden.
A deliciously potent tale of one woman's quest for self-discovery. Read more
'FREE' Sneak Peek, Until There Was You by Jessica Scott
From the author of Because of You comes an all-new contemporary eBook romance. Though he plays by the rules, she's not afraid to break them. Now these two strong-willed military leaders will prove that opposites attract . . . even under fire.
When Jessica's first book released military romances were all the thing – readers wanted more SEALS and special ops stories, they still do. As authentic as Jessica's stories are they ultimately deal with the relationship issues that you & I face everyday – whether it be the interaction with co-workers, teammates or husbands and wives. Read more
Guest Post from Emilie Richards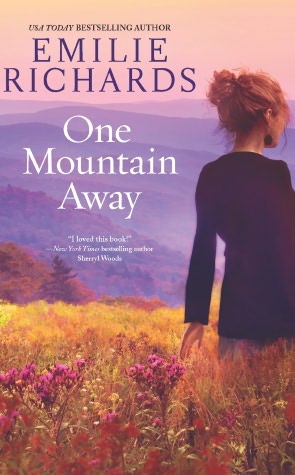 What to write . . . Emilie Richards tells us what inspires her writing – enjoy!
A writer friend once told me I should stay away from lists of topics publishers never want to see, because the moment I read one, I immediately plotted novels about each and every subject. And in a way she was right. I've always most enjoyed writing about issues or situations that are edgy or difficult, framing them in ways that make them interesting and engaging enough to pique my readers' interest.
That said, even I knew that writing One Mountain Away, my latest novel, was going to be a challenge. Because Charlotte Hale, the major character, is a woman who's made numerous mistakes. And let's peek at those "other" lists, the bestseller lists. How many of those novels are peopled by characters the reader doesn't like and doesn't want to read about? By definition at least the second can't be true. Read more
So, Fifty Shades of Grey did not rock your socks? These books will, BDSM Free
I was on the Twitter circuit this week and I heard you all LOUD and CLEAR – some loved Fifty Shades of Grey, others tolerated it . . . but there is a group that is absolutely NOT going to read it. We certainly don't want you to feel left out just because everyone is into the 50 Shades craze and you're not, so we've some up with a few suggestions for you and your reading pleasure.
Side note – That is one thing I love about social media, the spontaneous interaction you can have — I almost think people are more honest when conversing online rather than if you & I were chatting on the phone or in the office on coffee break.
As usual, this topic originated from a Tweet I initiated asking, 'Who has NOT read Fifty Shades of Grey.'
I will be honest and say, 70-80% of the responses were a resounding yes – most enjoying the story, and some were just glad they read it to find out what all the fuss was about. Read more
Guest Blog, Tawna Fenske – I'm not ashamed to admit . . .+ Giveaway!
Guest Blog, Tawna Fenske
My name is Tawna, and I am not ashamed to admit the following:
• I have absolutely no musical talent. On the rare occasion I'm moved to sing in the shower, my dog flees the bathroom and hides in my closet.
• I love music so much I can't stand to be in a silent room. It doesn't matter if I'm driving or writing or in bed enjoying a shirtless serenade from my gentleman friend (who, thankfully, has enough talent that animals do not flee when he sings and plays guitar). There must be music around me at all times or I will curl up in a ball and rock back and forth humming Poison's, "Talk Dirty to Me."
• Though I'm fond of most musical genres, the one I love best is butt rock.
Those of you unfamiliar with the term "butt rock" either do not share my upbringing as a child of the '80s, or have more class than I do.
The latter is likely in either case.
Butt rock is also known as glam rock or hair metal. Bands typifying this glorious (and highly underappreciated) musical genre include Poison, Bon Jovi, Warrant, Skid Row, Tesla, and Mötley Crüe.
I love butt rock for a lot of reasons, not the least of which is nostalgia. Just a few notes of Whitesnake's, "Here I Go Again," and I'm back to my freshman year in high school with my bangs teased to absurd heights as I nibble Laffy Taffy and dream of marrying the cute boy I've never spoken to.
Even if you don't have the same butt rock memories I do, it's tough not to appreciate the raging power chords, the raspy vocals, the heartfelt corniness of the lyrics. Play me a butt rock tune, and I'll be fighting the urge to jump up on a table and shimmy my bra off in a terrifying display of my complete and utter lack of dance skills (another failure I should have admitted earlier).
Instead of taking my clothes off to butt rock, I opted to write a book about strapping young men who do it. My new romantic comedy, Believe it or Not, stars a guy named Drew who owns a bar that features male exotic dancers several nights a week. Sparks fly when Drew meets Violet, the straight-laced accountant whose mom owns the psychic shop next door. The only thing they have in common is that neither believes in psychics – something that proves challenging when Violet is forced to fill mom's shoes at the psychic studio.
When I first wrote the book, I secretly worried how the musical component would resonate with readers who don't share my eternal love of butt rock. Luckily, the reviews have been positive. Library Journal flattered me to tears by writing, "Fenske's sophomore effort (after Making Waves) is another riotous trip down funny bone lane, with a detour to slightly askew goings on and a quick u-ey to out-of-this-world romance. Readers will be enchanted by this bewitching fable from a wickedly wise author."
My friends all laughed at that one, wondering on what planet I might be considered "wise," and how they can avoid visiting there in the future.
No matter, I thoroughly enjoyed exploring my love of butt rock in the pages of Believe it or Not, and I hope you have even half as much fun reading it.
Question for discussion:
Is there a musician or musical genre you're slightly embarrassed to adore? Please share! I have 4 copies of Believe It Or Not to giveaway (US and Canada addresses only), so by leaving a comment, 4 lucky winners will be chosen. Good luck! Winners will be announced in this post by the end of the day

ABOUT BELIEVE IT OR NOT:

Do you believe in…accounting?
Numbers never lie, so Violet McGinn found safe haven in the most boring profession she could find. Until her renowned psychic mother lands in the hospital and Violet has to run her business. Now you can have your taxes filed and your aura read, in one convenient location.
Do you believe in…music?
Drew Watson is the jaded owner of the local hot spot next door, and doesn't need a single thing except a good crowd to dance to what he's spinning on Saturday night.
Do you believe in…love?
The only thing Violet and Drew seem to have in common is that neither believes in that psychic hoo—hah. Except Drew seems to play exactly the right song at exactly the right time. And truth be told, it makes Violet's heart dance just a little …
Buy: Believe It or Not
PRAISE FOR BELIEVE IT OR NOT:
"Fenske hits all the right humor notes without teetering into the pit of slapstick in her lighthearted book of strippers, psychics, free spirits and an accountant." —RT Book Reviews
"Snappy, endearing dialogue and often hilarious situations unite the couple, and Fenske proves to be a romance author worthy of a loyal following." —Booklist starred review
"Fenske's sophomore effort (after Making Waves) is another riotous trip down funny bone lane, with a detour to slightly askew goings on and a quick u-ey to out-of-this-world romance. Readers will be enchanted by this bewitching fable from a wickedly wise author." —Library Journal
"Sexually charged dialogue and steamy make-out scenes will keep readers turning the pages." —Publishers Weekly
ABOUT THE AUTHOR
Tawna Fenske traveled a career path that took her from newspaper reporter to English teacher in Venezuela to marketing geek. Named a Writer's Digest 2011 Notable debut, Tawna blogs daily on "Don't Pet Me, I'm Writing," and lives in Central Oregon where she is working on her next romantic comedy. For more information, please visit www.tawnafenske.com or follow her on Twitter, @TawnaFenske
Guest Review – REDWOOD BEND by Robyn Carr + Giveaway!
REDWOOD BEND reviewed By Kathy Altman, USA TODAY

CAPTION
Genre: Contemporary romance
No longer content to live so far away from the only family she and her 5-year-old twins have, Army widow Katie Malone packs up her boys and heads to Virgin River, Calif., for the summer. She hopes to find somewhere nearby to settle — somewhere kid-friendly but not too close to her overprotective brother. After months of hiding out on one side of the country while her brother laid low on the other, waiting for his chance to testify against a murderer with mob connections — a chance that never arrived because the mobster was killed the morning of the trial — Katie and her boys desperately need some safety and stability in their lives.
Which means the very last man she should want to become involved with is the former teen actor whose adolescent antics put every other bad-boy celebrity to shame. Especially when the grown-up version is still dangerously charismatic — and decidedly anti-commitment.
Dylan Childress gave up the Hollywood lifestyle long ago — or, rather, his grandmother yanked him out of it after his best friend died of a drug overdose. Eventually, Dylan found his true passion and majored in aviation in college, then started up a charter pilot service.
But business in Payne, Mont., isn't good, and while he and his partners are on a cross-country motorcycle tour, he decides to check out local airports for ideas on how to save his company. Then he meets the sassy and irrepressible Katie, who's more impressed with his motorcycle than she is with him, and Dylan can't help but wish he didn't come from such a spoiled, irresponsible, commitment-phobic family. Because if ever he'd consider making a forever kind of promise, it would be to Katie and her boys.
But his genes guarantee that the only "long term" he's capable of is the kind you find in an airport parking lot.
Redwood Bend was a joy to read! Every interaction between Katie and Dylan crackles with tongue-in-cheek humor and sexual tension, and Katie's twins offer their own authentic and heart-stealing moments of frustration and fun. And, of course, adding a delicious under-layer of angst is the seemingly insurmountable conflicts keeping Katie and Dylan apart — he's not a forever kind of guy, and even if he were, his life and his livelihood are three states away. Not to mention the fact that Katie's a package deal.
All Katie wants is to matter to someone. And all Dylan wants, though it takes him longer to admit it, is a family of his own. But Katie refuses to let Dylan use his relations' problems with monogamy as an excuse to break her heart. In fact, she doesn't let him get away with much of anything. At the same time, he's opening up a whole new world for her — and seducing her, despite her reservations, as he haltingly connects with her boys. I really enjoyed her voice — she can be nosy and a bit of a nag, but her frankness makes for some delightful banter. Let me share some examples.
This snippet occurs after Dylan and Katie first meet. He and the "motorcycle gang" he's touring with stop to help her change a flat tire:
"You have a couple of stowaways," he said, glancing into the car.
She peeked into the SUV. A couple of sets of identical brown eyes peered over the backseat. "My boys," she said.
"You don't look old enough to have boys."
"I'm at least fifty now," she said. "Ever been on a road trip with five-year-old twins?"
LOL. This next snippet is from my favorite scene, when even though he's resolved to avoid temptation, Dylan can't help searching out Katie. He's just gotten off his motorcycle after driving up to her cabin:
She gave herself a lot of credit for not sharply inhaling at the shock of his good looks. He swaggered toward her, peeling off his gloves. He had that swagger thing down; it was probably due to the constriction of the tight jeans around his hips.
And a few pages later:
I just Frenched a movie star.
Can you see why I smiled most of the way through this book? Well, except for the part with the disgruntled bear.
Appealing characters and a fresh and heart-tugging twist to a familiar conflict, coupled with what-did-she-just-say? dialogue and a cozy sense of community, all help make this latest installment in the Virgin River series a true romantic getaway.
Psst. One more thing. Intrigued by my mention of Katie's brother and his brush with the mob? Check out his story in this book's predecessor, Hidden Summit.
Kathy Altman is a soon-to-be-published author of contemporary romance and romantic suspense. She's a member of Romance Writers of America (RWA) and Washington Romance Writers (WRW) and is also active in the online Harlequin community. Her website is KathyAltman.com.
Sue's Comments: check out all the reviews on Goodreads –
I thoroughly enjoy the Virgin River series & every gosh darn moment I can spend there . . . I want to move there & open a book store, "VIRGIN BOOKS".
REDWOOD BEND was everything I had hoped it would be and after having not read the last couple of books in the series reading REDWOOD BEND only made me voracious for more VR!! Carr just keeps on getting better & better!!
QUESTION – if you were going to open a business in VIRGIN RIVER, what kind would it be? — every week 5 winners are chosen to win a FREE book – winners announced on Sunday – good luck!
If you like Robyn Carr, try Emily March or Mariah Stewart as they deliver small towns equally inviting!