November Releases for Loveswept, flirt
Here's what's on sale this month from Loveswept and Flirt Romance.

One Perfect Christmas by Stefanie Sloane (11/4/2013)
In an enchanting eBook novella, cherished Regency romance author Stefanie Sloane presents an irresistible tale of fiery passion that burns deep on a cold winter's night.

Although he's never been prone to regret, the Honorable Lucas Cavanaugh cannot help but wish for a fresh start with Jane Merriweather. After being jilted by her fiancé, Jane turns to her dear childhood friend, Lucas, for support—and unlocks the hidden emotion and smoldering desire simmering in the man's troubled heart. Frightened by his newfound feelings, Lucas flees to Scotland. But when the Christmas season brings them together again, one look at Jane is all that's needed to reignite his yearning for the woman. Now Lucas must convince Jane that his intentions are as pure as the falling snow—and turn a dreary December into a joyous Yuletide affair.
Release Week, something everyone should experience + E-Reader giveaway!!!!
Release Week Wrap Up, by Jessica Scott

On Facebook
It's been almost 3 weeks since Because of You debuted here at Romance at Random. I've got to tell you, I really had absolutely no idea what published authors were always talking about when they said don't plan on doing anything during release week. Honest to goodness, what else could there be to do? I wrote the book, worked through revisions. Did a few pre-positioned blog posts.
Honestly, who would have thought release week was such a major, overwhelming event?
Yeah, it really was. And please, in no way take this as a complaint, because I'd do it all over again in a heartbeat: I am thrilled at the excitement I lived through for the last couple weeks. It was terrifying as the clock ticked down to midnight on November 13. What if no one liked it? What if everyone hated Carponti? What if this book got me banned from all NYC publishing houses for life because it completely sucked?
I couldn't sleep and yet, but worse, I couldn't write, either.
Yes, all this and more can be yours the night before release day. I fully admit to keeping a little busy the week prior to release day. I completely remodeled my kitchen, which, if you follow me on Twitter (@JessicaScott09), you know that manual labor is how I cope with a lot of things includding writer's block, random stress, you name it.
Anyway, so release day came and well, I um didn't move from my computer. All. Day. Twitter went nuts, and I had a little bit of a moment when I saw my name in Sue's post on USA Today. Suddenly, the last five months of building were here. And it was totally freaking awesome.

You know that feeling when you're the belle of the ball and suddenly everyone wants to be your friend? – hang on there's a cat tearing up a Christmas tree ornament, I'll be right back – Okay, I'm back.
So all of a sudden, I had readers emailing and dropping posts on Facebook and Goodreads and…it was completely awesome but also completely overwhelming.
There was all this noise in my head and I couldn't think.
I'm told by writers, who are far more well versed in this than me, that release week is like this all the time.
So to be better prepared next time, here's a few things I'll do differently:
I will go on leave if at all possible. I will not try to mix Army work and release week again. While I didn't fail any missions at work, I also felt like I was completely distracted from my main focus. I will also not take vacation to places where the internet does not exist. I spent the second week in Maine where all I had was my cell phone access. I'm pretty sure I missed information during that week and hopefully, my editor isn't too irritated
I will ensure I have a better means of tracking emails, which ones I've responded to, which ones I still need to respond to. I've already migrated my email over to imap, so that I can better keep track. If I didn't respond to anything you've sent me, by all means, shoot me a reminder so I can follow up.
The blog hop was great, and it was really awesome to be able to get info out there to so many different readers. Next time, I'll spend more time giving in depth and varied answers. I know that many readers of the different blogs are not going to be the same audience, but I know that when I'm eagerly discovering a new author, I want to find out everything I can and so I'll work on making the blog hops unique in some way for each site.
Facebook: I'm moving most of my Facebook stuff to my page. I already unplugged my twitter feed from my facebook as folks told me it was incessantly annoying having so much twitter traffic spamming their walls. Which means having a plan to manage the social network aspect across the board, not just during release week.
And everyone say it with me: I will not plan major hosting changes to my website during release week/day/month. Crashing your website is never a good plan and doing so when you're using Facebook ads to drive traffic to your page? Not good. For my own sanity's sake, I need to do better scheduling, a way to stay up on where the blogs are due, what's current and where I need to be commenting.
All in all, release week was an incredible experience that I will cherish. I had such amazing support from my fellow authors and I can only hope that I can somehow repay the debt of gratitude that I owe to so many people. My debut book, Because of You, has been really well received and I'm incredibly grateful to all the readers out there who bought it, read it and enjoyed it.
To say thank you, one more time before the holidays, I'd like to give away either a Nook or a Kindle to one commenter today (US only) as well as a copy of Because of You.
Tell me who you'd like to give an ereader to and why?
**Winners will be announced in this post — Jessica will choose & mail your prize – good luck!!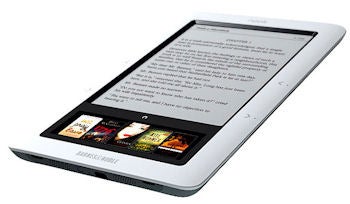 Janice Bennett & Lynn Reynolds – CONGRATS!