Where do you find new authors? by Sharon Cullen
The other day, while I was taking my nail polish off, I had this thought. Do cotton manufacturers deliberately make small cotton balls so they can sell triple sized cotton balls? Because I'm a triple-sizer, myself. I don't want any small cotton balls to try to tackle the task of taking off my nail polish.
Yes, these are the things I think about. Weird, I know.
But that got me to thinking about marketing. Do they market cotton balls as triple sized because we consumers think we're getting more for our money? Read more
#BookReview: Falling for the Backup by Toni Aleo IS "…extremely cute and sexy!" ~Under the Covers
"…extremely cute and sexy!" ~Under the Covers
Jordan Ryan was the star goalie of the Assassins until an injury put him out of commission. After his recovery, he's come back to the team only to be on the bench at every game. He feel he still has many good years of play in him but with the new star goalie working out so well for the Assassins, he sees he will never get any ice time if he stays with the team. Read more
#BookReview – Tempting a Devil – 'This series is not your ordinary Regency Romance'
"This series is not your ordinary Regency Romance, these books are sizzling and provocative." ~ Under the Covers
Having read Samantha Kane's THE DEVIL'S THIEF at the end of 2012, I was so eager to to read the second book in her series TEMPTING A DEVIL. This series is not your ordinary Regency Romance, these books are sizzling and provocative. Read more
Tattoo's anyone? Have a great TGIF!

Tattoo's anyone? Definitely a good look on him – enjoy your weekend!

Book Review: Farrah Loves TEMPTING A DEVIL by Samantha Kane! Stop by & see why
Another great book the this series! Tempting a Devil was a wonderful historical romance. It was perfect, brilliant, fantastic! Loved it!
Samantha Kane had a gift creating unique historical romances. This book definitely didn't lack in originality. A desperate widow trying to ruin herself with a rake that just discovered his morals in order to avoid the man who wants to trap her in a marriage (and there's a whole other story going on there). This story took me on a wild ride and I enjoyed every minute of it. Read more
New Release: The Hunter by Monica McCarty + 6 book Backlist #Giveaway

The war for Scotland's freedom continues as King Robert the Bruce battles on. At his command is an elite army of trained warriors, soldiers dedicated to their king, their country—and to the remarkable women they love.
It's available, THE HUNTER, by Monica McCarty – see what readers are saying:
Great book.. one to dive into. It can certainly stand alone but the rest of the series is just as awesome!! ~Shauni, Goodreads Read more
The Making of SINS OF INNOCENCE By Jean Stone
The year was 1968, a turbulent, confusing year of assassinations, flower power, Vietnam. The times indeed, were changing, but one thing remained constant: love.
In 1968, when a teenage girl got pregnant her choices were limited. She could quickly get married (and hope no one could do the math), search for a back-alley abortionist, or she could have her baby in secret and "give it up" for adoption. Read more
Guest Post: Regency Etiquette for Young Ladies and Riding Astride + GIVEAWAY!
Dear readers,
One of my all time favorite romance novel lines is . . . .
"I know what I'd rather be riding," and the hero wasn't talking about a horse!
The first book in my Wicked Wagers trilogy, which was a Top 5 Finalist, Kindle Book Reviews Indie Romance Book of the Year 2012, To Dare the Duke of Dangerfield, starts with my heroine, Caitlin Southall, caught by my hero, Harlow Telford, the Duke of Dangerfield, riding a stallion (yes a stallion) in men's clothing. She had to wear trousers, and sit astride, in order to control the beast. Read more
Readers love Shana Abe's THE SWEETEST DARK
The Sweetest Dark, by Shana Abe tells the story of Eleanor "Lora" Jones, a young girl who hears songs no one else can hear and has vivid dreams of smoke and flight. A romantic story with beautifully complicated characters, The Sweetest Dark is making a big splash even though it isn't officially out until spring. With four and five star reviews already popping up all over, it's an upcoming title you won't want to miss.
Read a few of our favorite reader reviews below.
Book Review: Bea Reviews – Until There Was You by Jessica Scott
Book Blurb: He plays by the rules, she's not afraid to break them. Now these two strong-willed army captains will prove that opposites attract . . .
A by-the-book captain with a West Point background, Captain Evan Loehr refuses to mix business with pleasure—except for an unguarded instance years ago when he succumbed to the deep sensuality of redheaded beauty Claire Montoya. From that moment on, though, Evan has been at odds with her, through two deployments to Iraq and back again. But when he is asked to train a team prepping for combat alongside Claire, battle-worn Evan is in for the fight of his life. Read more
Fangirls of Poe's THE RAVEN: Nancy Holder & Leanna Renee Hieber!
Award winning, bestselling paranormal authors Leanna Renee Hieber and Nancy Holder, both avid Edgar Allan Poe fangirls, share their take on the film The Raven.
Leanna Renee Hieber's take: "I loved every minute of the film. No, it wasn't historically accurate. Positing Poe as a detective in the last harried, mysterious days of his life is utterly fiction. Truthfully he was probably far less cogent and well off the deep-end. No one can say his death was not a tragedy. I'd have loved whatever else his broken heart and sad soul could have offered us but like many gifted persons, his candle simply lost flame. I loved the film's visual landscape; Gothic and stunning. Cusack looked delicious. Bring on men in frock coats and billowing black great-coats! I enjoyed an active, vibrant Poe. I appreciated that the film dealt with his struggles, vices and those who misunderstood him and the few who validated him. His written lines and creepy tales gained a new voice and affirmed his words will never lose their power. I didn't find the film predictable, I was engrossed and entertained. Did I mention Cusack looked delicious?
Read more
Romance Author – Sophia Nash, Tough Heroines Finish First + Giveaway!
Sophia Nash, Bestselling author is our guest today on Romance At Random – Enjoy!
A recent Washington Post column stated, "Well-behaved women rarely make history, and it turns out that they rarely make recommended reading lists, either." The article referenced a slew of strong heroines who had one trait in common: they were tough and refused to depend on anyone except themselves. In the Hunger Games, Katniss Everdeen saved herself and the boy Peeta. And who can forget Jo March in Little Women, turning down marriage in favor of spinsterhood and the uncertain life of a writer? But the true story of Karana, the girl in Island of the Blue Dolphins is the ultimate heroine to me. Left alone on a deserted island, she survived by her wits alone. These heroines had grit and character despite their flaws. They were not pretty Cinderellas waiting for Prince Charming to rescue them. These young women not only saved themselves, but they relished doing so.
It is a challenge to write independent-minded heroines in Regency-set Historical romances such as the ones featured in my current Royal Entourage series. Why? Because ladies for the most part could not own property and so were financially dependent on men. But this era provides the ultimate proving ground for heroines.
It should come as no surprise then that in the opening scene of Between the Duke and the Deep Blue Sea (Avon, March 2012), the heroine, Roxanne, finds herself clinging to the side of a cliff for hours as the fact dawns on her that her husband has not gone in search of rope to save her, but has in fact left her there to die. And while, the reluctant hero might help her once or twice, she refuses to obey any man and is determined to carve out a life of her own. She is not afraid to rely on herself, and do what she wants, no matter what the consequences. The heroine in The Art of Duke Hunting (Avon, April 2012) is another tough heroine who bucks a traditional role in favor of devoting herself to her art. More importantly, she refuses to fall into an abyss of despair (such as that displayed by Bella Swann in Twilight) when the man she secretly loves, and is forced to join in a marriage of convenience, chooses a life without her.
Why are tough heroines so important in our day and age? They provide role models to counteract the Cinderellas and Snow Whites of our childhood. Modern women at some point in their life will probably face the challenge of living independently. Finding a soul mate is merely the icing on the cake of a life well lived. And who better to inspire us than prickly Katniss, fiery Jo, and self-reliant Karana, instead of beautiful fairy-tale princess?
If you had to choose to live the life of a heroine in a novel, whose life would you choose and why?
Visit Sophia at her site|Twitter|Facebook
Remember, every week 5 commenters are chosen to win a random FREE book – winners announced on Sunday – good luck!
Weekly Winners on Romance at Random
Congrats to the Romance At Random Blog Winners!
Happy Sunday!
Thanks again for blogging with us this week — winners are below & if you are one, please send your snail mail to: romanceatrandom@randomhouse.com so we can get you your book! International commenters please provide us your email addy so we may prepare your preview book in Net Galley. Authors that may have offered a giveaway during the week will post their winners on those posts in the comment section — so take a look to see if you're included!

Congratulations to these ladies!
Congrats all — see you again this week – be well, from your friends at R@R
Reviews, who do you follow that makes you want to buy? + Giveaway
Are there any romance bloggers or websites that you review often to see how they rate new releases? Is there someone that you put your faith and hard earned dollars behind, so when they give a book the A+ rating you spend your money to make that purchase?
I certainly rely on friends, co – workers and others that are close to me and know my tastes in books, movies and so forth, but I have to admit, I'm not a big one for reading reviews and running out to see a movie or buy a book. In fact, the movies that usually are rated the best I typically will not enjoy — is it just me?

And then I'm always skeptical – what is in it for the reviewer . . . is it an honest review or are they just saying this because the retailer is paying for the ad space
Snarky, eh?
So, what reviewer, review sites reviews do you trust and make your purchasing decisions by? Name one or none — we would love to know!
Reminder – 5 winners are chosen each week for a free book – winners announced on Sunday – good luck!
HEA USA TODAY reviews RIDE WITH ME – Thanks Mandi!!
REVIEW By Mandi Schreiner , USA TODAY
CAPTION
Genre: Contemporary romance
Tom Geiger is ready to cycle across the United States on the TransAmerica Trail. Planning to start in Oregon and ending up in Virginia, he is looking forward to a couple of months of peaceful cycling and sightseeing as he heads east. But his sister, Taryn, has other plans for him. Worried that he is too much of a loner, she secretly places an ad for a riding companion for him and finds someone named Alex. She arranges for Alex to meet Tom at the starting point of the trip, much to Tom's dismay. But since Taryn is really his only friend, he doesn't want to disappoint her.
"Please, Tom. You can't ride your bicycle across the country alone. It's insane. You'll end up being slaughtered by a serial killer."

"Taryn, I'm thirty-five, single, tattooed, and anti-social. I'm the serial killer."
But when Alex shows up, Tom gets a surprise. Alex is a woman.
Alex is also a control freak. A high school English teacher, she has been planning this trip her entire life. She has every hour of the trip mapped out. She has a special computer on her bike and other high-tech gear. One look at Tom and she knows there is going to be a problem. Tom has an old bike and isn't even wearing proper riding gear. She tried really hard to find another woman to ride with, but no one showed interest. So now she is stuck with Tom, who is extremely anti-social and surly. She also doesn't want Tom to get any ideas at night when their tents are pitched right next to each other, so she blurts out she is married, although she is very, very single. Off they go on their cross-country journey.
Ride with Me is the debut book by Ruthie Knox, and I really liked it. She does a great job pairing up two very stubborn protagonists and making it a fun, amusing story. Tom is so anti-social and cranky. His ex-wife cheated on him with his brother, and he has a lot of family drama in the past. He works now as a bike mechanic and goes on crazy bike rides all over the world. His downfall is that he feels guilty about a lot of things. He would feel very guilty if he left Alex behind so he grudgingly agrees to be her companion. They butt heads many, many times at the beginning as they are so different. Alex is prim and proper and refuses to be spontaneous. But Tom finds her very attractive and slowly gets her to lower her defenses.


When Tom can get her to look up from the 27 gears on her bike, he pushes her to take a side road and see the sights. They start to fall into a friendship of sorts, although with an intense edge because they each find the other extremely attractive. My one gripe with this book is that Alex hangs onto the pretend-husband story for a little too long. There comes a point where they both want to dive into the sleeping bag together, but Tom still thinks Alex is married. It takes a phone call to his sister to realize maybe she is lying and that seemed a little farfetched. I wish Alex would have just told him sooner. I did like her apology, though, when the truth finally comes out.
Once they get past all of that, there is some hot lovin'! Who knew sexy times in a tent could be so hot? When Tom starts to lighten up and Alex sees that side of him, their romance really takes off.
Ride with Me is a sexy, contemporary. I don't think I've ever read a book about two people who cycle across the country. I'm a sucker for road-trip books, and this one definitely fit the bill.

Mandi Schreiner started romance review blog Smexy Books in 2009. She is obsessed with reading romance novels and collecting fictional boyfriends.
So – what do you think? Did this review help you decide if it is a book you'll want to buy? And, if you have bought it & read it — did you like, RIDE WITH ME? comment below — every week we randomly choose 5 winners to receive a random book — winners announced on Sunday – good luck!
Chili, autumn, rain, a good book and a giveaway!!
Chili, autumn, rain, a good book and a giveaway (not necessarily in that order)

by Erin Quinn
I moved around a lot when I was a kid—Maryland, Illinois, Kansas City and then Denver. No matter where I lived though, the smell of autumn made me feel at home. I'm in Arizona now, and when I think of all the things I miss about the other places I've lived, that wonderful chilled smell is the one I miss the most. In Arizona we don't really have seasons—not like the rest of the country. That is to say, we don't have four seasons. We have two and half. Summer, spring, a very brief winter and then spring again. That's right, two springs. One in—well—spring and the other during those months that should be fall. (You can't make this stuff up, folks.) Spring, twice a year, complete with allergies.
Still, we try to pretend it's really fall, despite the fact that the flowers start to bloom again (in the summer, they submit to the unrelenting heat and simply die) and it's 90 degrees. We hang out our pumpkin banners and fill our houses with potpourri or candles called "Fall Leaves" or "Autumn Breezes." But doesn't replace the brisk smell of the changing season and this time of year I often find myself filled with nostalgia, wishing the leaves would turn colors, hoping for that cold drizzle that is perfect for baking cookies and reading a good book (while the little darlings are off at school of course).

Speaking of books, I'm supposed to be talking about mine. My latest is called HAUNTING EMBRACE and it' the fourth and final book in my Mists of Ireland series. And yes, it takes place in fall, on the tiny Irish island of Ballyfionúir, a place as mystical as the people who live there. I fell in love with those people when I started the series and I've loved them ever since. Meaghan Ballagh is the half sister to Danni and Rory who readers met in previous stories. Finding the perfect man for Meaghan was no easy feat, because, of course, Meaghan isn't just anyone.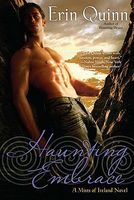 She's a gifted empath who has traveled through time to the era of her grandparents. Now she's embroiled in their lives and all the drama that has plagued the MacGrath and Ballagh families over the centuries. Meaghan's hero is someone who's played the villain from the start of the series. Dark, complex and utterly fascinating, Áedán walks a fine line between this world and the world of the Book of Fennore, where he's been trapped for millennia. A part of him is set on vengeance, but Meaghan touches his heart and steers him to a new path.
Here's a small excerpt to give you a taste of the Mists of Ireland:
"More than chance brought you. I see what's in your eyes." Áedán's voice dropped an octave until it became something Meaghan felt rather than heard. He lifted a hand to her throat, let his fingers curl over the sensitive skin. He didn't squeeze; he didn't hurt her. In fact, the emotions pouring off him now were much sweeter than rage. They spilled like hot, spiced rum over her, coating her. Turning her into something perilously flammable.
"It was much more than chance," he breathed against her cheek. His tone was like the caress of his hands on her skin. Like the brush of his lips against her temple.
Meaghan's legs turned to rubber. She leaned against the stone to catch her balance, trying to calm the mated frenzy of fear and long¬ing that he'd managed to set loose inside her. Her feelings knotted in a melee as confusing as this man.
"Let me go," she said.
"No."
He moved closer, his body heavy and hard, so hot that it melted her to the bone. He smelled of the woods, of fresh, salted air and deep shadows peppered with secret hollows and ancient mysteries. Elusive and seductive, his scent made something coil tight and low within her. Made her want to arch against him despite the fear and the certainty that this man would be her doom.
"You want the key to make you powerful again, don't you?" she forced herself to ask.
"Yes, I do. That is exactly what I want." He said it with a harsh bite in his tone, a gnashing of syllables and tearing of vowels.
"Why? All that power didn't do you much good before."
"I will not return to my prison. I will not be at your mercy ever again."
"I never asked you to be at my mercy, Áedán," she whispered. "That's not what I want either."
He stilled, his body hot against hers, her curves molding to the hard, muscled angles of his. "Then what do you want, beauty?" he asked, his lips brushing her temple again, his breath stirring the fine strands of hair there.
Mouth dry, she fought the urge to look into his eyes.
And lost.
Stunned, hurt, needing more than anything for the crazy tilting of her world to be righted, she gazed into those eyes of green, found herself surrounded and overwhelmed by what she saw. His big hands cupped her face. The white bandage still around his stitches was softer than his roughened palms. His thumbs brushed her jaw as his fingers curled around her neck to the vulnerable skin at her nape. Each touch, each sensation sparked along her nerve endings and made her feel like she'd been plugged into the sun and now it melted her down, restructuring her foundation, reshaping her into a new mold.
The shock of his lips on hers shuddered into her soul. He pressed her back, against the solid wall of stone behind her, using his body like a tool to cleave her to him. Her traitorous hands moved to his ribs, sliding over rippled layers of muscle, around to the hard slope of spine, up to the ridge of shoulders. She'd meant to push him away, but something deeper drove her now.
If you're interested in learning more about Meaghan and Áedán or the Mists of Ireland series, visit my website at www.erinquinnbooks.com where you can watch trailers, read excerpts and enter contests.
I hope on the next rainy that comes your way, you'll take a deep breath of that autumn air, curl up with a good book (hopefully mine *grin*) and enjoy the seasons.
Haunting Embrace, Book 4 in the Mists of Ireland series—On sale October 4!
Watch the Haunting Embrace trailer: http://youtu.be/P0SilhfbJmk
Before I leave you, I want to share a quickie recipe for a chili dip that teenagers LOVE (seriously, my oldest is off at college and they all beg her to make it—this from a kid who can barely boil water. She's quite famous now, ha ha). It's perfect for Halloween because it turns orange thanks to the chili. It takes two ingredients, a bag of chips and a microwave. Ready?
Quick and Easy Chili Dip
1 can Hormel Hot Chili—no beans
1 pack/stick of cream cheese, cut into pieces
Place cream cheese in microwave safe bowl. Add chili. Zap for 1 ½ minutes, stir, zap another minute or until hot, stir again until mixed well and voila! Let the ghouls gather, chips in hand.

I'm giving away an autographed copy of Haunting Warrior or Haunting Desire (Reader's Choice) to one lucky commenter so talk to me! Winner will be announced at the end of the day in this post — stay tuned & good luck!
Happy October everyone!