New #BookTrailer – Slow Summer Burn by Elisabeth Barrett – Sizzles!
As the sizzling Star Harbor series concludes, the fourth sexy Grayson brother, a dedicated DEA agent, shows a high-society beauty the true meaning of love. Read more
Friday Ab Appreciation! #tgif

On sale Monday — ladies meet military vet Cole
Read more
Guest Post: Talking about Birthday's by Elisabeth Barrett + Giveaway!
Last year, just about this time, I wrote a post at R@R talking about birthdays and how I always forget mine.
Well, funny thing about birthdays, they come around every year. And guess what? I forgot it again this year, too! For your reading pleasure (and because I got lots of comments about my post last year), I have transcribed the conversation I had with my husband, Mr. B, last week verbatim: Read more
Guest Post: On Endings and Beginnings by Elisabeth Barrett + $15 EGC Giveaway!
A few days ago, I received the initial round of line edits for Slow Summer Burn from my editor at Random House, Sue Grimshaw. Slow Summer Burn is the fourth and (for now) final book in my Star Harbor series, which features four brothers from a small town on Cape Cod.
As a first-time author, the Star Harbor series has been an amazing journey — from signing the initial contract with Random House for publication under the revived Loveswept line to preparing the final book for publication. I'm at the beginning of the end, at least with this series. This got me to thinking about endings: what is it about endings that tug on our heartstrings? Read more
'FREE' Sneak peek, Blaze of Winter by Elisabeth Barrett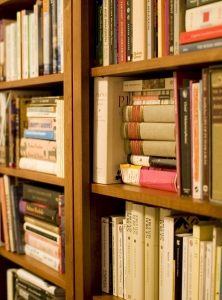 Winter heats up in this hot new Star Harbor romance, as another sexy Grayson brother, a wickedly handsome writer, plots his happily ever after with a sweet stranger. . . . hmm, what does this remind you of? Another great romance?
It's all about Theo, for me anyway. Twin brother of Sebastian from Elisabeth's first book in the Star Harbor series, DEEP AUTUMN HEAT, Theo is a scholarly type, wears glasses and is a successful writer. Read more