Book Trailer: Edge of Dawn by Lara Adrian #Newrelease on sale today!
In this pulse-pounding and thrillingly sensual novel, New York Times bestselling author Lara Adrian returns to the mesmerizing world of the Midnight Breed, following new characters into a dark future where an uneasy peace can unravel into war—and a great betrayal can mask an all-consuming love.
Twenty years after the terror of First Dawn—when mankind learned that vampires lived secretly among them—the threat of violence reigns as the two species struggle to coexist. The only group preserving the fragile harmony is the Order, an elite cadre of Breed warriors dedicated to protecting humans and vampires alike. And in this precarious world of torn loyalties and shattered trust, Mira, a fiery squad captain, finds that every fight bears an intensely personal cost. Read more
Sneak Peek! Scribd excerpt of #Lara Adrian's EDGE OF DAWN
About the book:
In this pulse-pounding and thrillingly sensual novel, New York Times bestselling author Lara Adrian returns to the mesmerizing world of the Midnight Breed, following new characters into a dark future where an uneasy peace can unravel into war—and a great betrayal can mask an all-consuming love. Read more
Guest Post: Small Towns are the new Vampires?!? + Giveaway!
I wouldn't be able to pass this along, if I hadn't heard it quoted at a conference recently. Since I didn't ask permission, I hesitate to name names, but the quote had me thinking…could it be? Will the number of small town romances and small town series start hitting the shelves, and immediatly flying off because readers simply cannot get enough of them? I surely do hope so!
I was delighted when my editor asked if I'd like to write a small town series. I've always enjoyed using small towns as part of the settings in my books. The small town of Emerson, Colorado was the setting for my historical Irish Western Series, and Merewood Keep, the setting for my Medieval trilogy was a small town unto itself.
Read more
Zombies and Witches and Romance, Oh My!
This Halloween, we wanted to recommend some of our favorite spooky love stories featuring everything from ghosts and ghouls, to various creatures of the night. Below, pick your favorite scary romance sub-genre, and we'll have just the thing you're looking for. Click on each cover to read an excerpt and learn more. Read more
Romance and its overused sub-genres + Giveaway
One night, late at night, I was Tweeting and noticed a conversation going on with some of the Tweeters I follow about overused romance sub-genres. I thought that was an interesting word choice used to describe a sub-genre that was over published. After a few more Tweets I realized they were talking about a specific sub-genre and what has been 'lumped' into it. As the Tweeting went on it was clear they were talking about the paranormal sub-genre and that it was used too often to describe books, that in the 'Tweeters' estimation should not even have been included in the paranormal sub-genre. So in fact, it was not that the category was over published, but that the books categorized as paranormal were not paranormal at all.
That shed a whole different light on this topic and of course, had me thinking, what a great topic for a post! Lucky for you ladies I stay up late at night Tweeting!
So, lets take a look. Books with characters such as vampires, shapeshifters, demon slayers and so forth easily fall into the paranormal sub-genre. But, what about Christine Feehan's Ghosthunter series, including MIND GAME and so on . . . . our heroes in those stories were enhanced physically for their military exploits . . they were not vampires, or blood-sucking creatures of any kind for that matter, so would paranormal romance be the right category for them?
Or what about Virginia Kantra's Selkie romances, do they technically count as paranormal?
Or Jamie Rush wrote a dystopian type of series, that should be its own category, or no?
Has the industry lumped too much into this sub-genre that may have turned readers away? Do we even pay attention to how things are categorized or what sub-genre they are in? If a book with a futuristic slant is categorized as paranormal and you primarily read futuristic stories, would being categorized as paranormal turn you away? Do you care that we excessively use the paranormal genre to describe everything . . . . different?
Interesting topic, something I had not really thought much about, although it made me wonder if some wonderful stories have been mis-represented turning away potential readers – Love to hear your thoughts.
But the most important question is did you see HUNGER GAMES and did you like it? Is it all the buzz?
Remember, every week 5 winners are randomly chosen for a free book – winners announced on Sunday – Good luck!
The H. P. Mallory Starter Kit: How to Dive into the Jolie Wilkins Paranormal Romance Series
H. P. Mallory, the author of Fire Burn and Couldron Bubble and the Dulcie O'Neil series, was a self-published, bestselling sensation in eBook before signing a book deal with Random House for the next three books in the Jolie Wilkins series. On sale today is Witchful Thinking, the latest in this sexy, funny series about a self-deprecating psychic named Jolie whose life is forever changed when handsome warlock Rand walks into her life and insists that she's a witch. It turns out quickly enough that Jolie also has a unique ability to reanimate the dead, but really, it's not until she's crowned Queen of the Underworld that Jolie's life gets really complicated, and that's where this novel picks up the tale.
The books are cute, light reading, full of what we love the most about the paranormal genre (love triangle with a warlock and a handsome vampire? Check!). Somehow they also manage to be very sexy and funny at the same time, which makes them a favorite for us here at Romance@Random. When we first heard about Witchful Thinking, we were dying to know why these self-published books were so popular, so we imagine you too may be wondering how you can dive into this series. We have a few options right here for you:
1. Start right with Witchful Thinking! Since the other titles are only available in eBook, the book has has quite a bit of backstory to catch everyone up to speed. This may also be good for those who have read them but need help remembering all the events thus far. (H. P. promises this is going to be the only book with all the backstory for new readers, so seasoned veterans can rest assured that the plot will move right along in the next two Jolie books coming later this year).
2. Meet Jolie Wilkins via her adorable YouTube videos, dishing advice to new witches everywhere! Our favorite is Lesson #3: Men of the Underworld, but you should also check out Lesson #1: Witch Problems and Lesson #2: Bonding.
3. Whether you've read these before or not, it's worth diving into Be Witched, the $0.99 eBook short story from Rand's perspective. For us fanatics, it's more Rand, which is never a bad thing. Yum. For you newbies, it'll give a nice taste of what Mallory's world is all about.
4. Want to start right from the beginning? Book 1 of the series is available on the Kindle (where it has nearly 300 reviews and an average 4.5 star rating—crazy!), Nook, and Smashwords.


Buy Witchful Thinking | Buy the eBook | Find H. P. on Facebook | Read an Excerpt
Be Witched: A Jolie Wilkins/Rand Balfour Novella – Available for $0.99
H. P. Mallory was a self-published sensation before coming to Random House to continue her bestselling Jolie Wilkins series. In this sexy and spellbinding original short story, available exclusively as an eBook, Mallory presents the exciting Underworld from a never-before-seen point of view—through the eyes of Rand Balfour, a drop-dead gorgeous warlock and the love of Jolie Wilkins's life.
While the undead wage a brutal civil war, Rand Balfour has only one thing on his mind: protecting his true love, Jolie Wilkins, the savvy and spirited witch whose powers have made her the toast—and target—of the new Underworld order.
For Rand, keeping Jolie safe means guarding against allies and enemies alike. First there's Sinjin Sinclair, a dangerously seductive vampire who has his fangs set on Jolie, and who Rand suspects of harboring a sinister agenda. Then there are the factions of supernatural creatures causing chaos at every turn. But most shocking is Rand himself, whose wild desire for Jolie may put her very life at risk. Torn between his duty and his passion, Rand must summon all his strength to withstand temptation, even if it costs him the one woman he cannot bear to lose.
Follow more of Rand and Jolie's electrifying paranormal romance in this eBook's special bonus: a thrilling excerpt from H. P. Mallory's next novel, Witchful Thinking.
Start reading now | Follow H. P. Mallory on Twitter | Learn more about H. P. Mallory
A Taste of Midnight: A Midnight Breed Novella – Read instantly for $1.99
For fans who have been been waiting to devour Darker After Midnight, as well as new readers tempted by the seductive thrills of her Midnight Breed novels, New York Times bestselling author Lara Adrian offers up a tantalizing appetizer in A Taste of Midnight. In this spellbinding eBook novella of otherworldly desire, a woman whose destiny was born from a blood kiss discovers that second chances do come . . . even for immortals.
A shimmering holiday gala lights up an ancient castle in the Scottish Highlands, but beautiful widowed Breedmate Danika MacConn feels alone in the crowd. Even among the friends and festivity of the Darkhaven celebration, she can't forget her lost love, a fallen warrior of the Order. Her brief return to her mate's homeland has become treacherous after rejecting the advances of a dangerous Edinburgh crime boss with a taste for blood sport. As Danika seeks to expose the vampire and his dark trade, she discovers an unexpected ally in his forbidding, enigmatic henchman, Brannoc, a man who exudes heat, danger, and dark menace—and seems somehow achingly familiar. Bran has his own reasons for wanting to keep Dani out of his employer's business . . . and his own secrets he means to keep buried. The last thing he needs is to get tangled up with a woman who tempts the wildest part of his Breed nature—especially when that woman is Danika MacConn, the one woman capable of bringing him to his knees.
Contains a preview of the hotly anticipated nightcap of Lara Adrian's Midnight Breed series, Darker After Midnight!
Order now | Visit LaraAdrian.com | Find Lara on Facebook!
HOLIDAY HOP! 12/2-12/6/2011 Lots of books to win!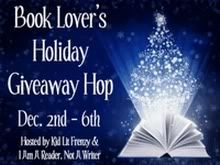 Click on the image to see other participating sites
5 winners will be Randomly chosen from the list created below – CLOSED
Happy Holidays & Good Luck! Winners must be US and will be announced in this post prior 12/8/2011
Winners are:
Evan Blanc
Gail Hurt
Shari Jung
Kim Cagle
Annette Jenkins – Congratulations!!!
Tell us about your job? + Giveaway!
Tell us about your job? xesands
I have the best job in the world – I truly do. I get to read amazing stories and then embody the author's intent with my voice, bringing a deeper level of intimacy and connection to the reader's experience. It's heaven.
What background does one need to become a narrator?
First and foremost, you must both love to tell stories and be a natural storyteller (they don't always go hand in hand). You need to have that drive to entertain, to truly bring your audience along on a experiential journey via the retelling. I feel very fortunate that my father is a natural storyteller who turns every interpersonal interaction into entertainment upon the retelling; his enthusiasm and really obsession with storytelling infected me at a young age.
On the technical side, you need to have a sense of timing and where to place emphasis so that your performance carries the intent of the author as authentically as possible. A background in acting or other performing arts is extremely useful and applicable. You also need to be able to truly inhabit each character (including the narrator) and carry their individual intent through only the use of your voice. And specific to the romance genre with its heroes and their "impossibly deep baritone voices flowing like honey" over the heroine, you need to be able to credibly voice both genders (even if you only do it via a shift in tone or inflection).
Do you like to read?
YES! I adore reading and always have. It is one of my favorite things to do. I have been getting lost in stories for as long as I can remember. Now my job is to help others lose themselves too.
Who are some of your favorite Romance Authors?
Of course I adore the romance authors I've been privileged to work with on audio versions of their books – so no picking favorites among them!
But I will throw out a name that I doubt most would consider a romance author, although I consider her to be: Audrey Niffenegger. Romantic relationships – how they develop, their ramifications in the lives of characters – figure prominently in both Her Fearful Symmetry and The Time Traveler's Wife. I have to confess that I love when authors surprise me – when there isn't necessarily a happy ending or a tidy wrap-up to the story – this is what I often enjoy most (after I stop cursing and crying, that is). What can I say? I'm a bit twisted that way. And both of Niffenegger's books are poignant, messy, brutal yet gorgeously told stories, centered around deep, romantic relationships.


What have you read recently that you've really enjoyed?
The only thing I don't like about my job is that it leaves me almost no time for recreational reading, so it's actually been quite a while since I've read a book that wasn't also for recording. The last personal romance read I had time for was The Time Traveler's Wife. It completely blew my mind – what a love story! I was an emotional wreck for about 3 weeks. But it might have a run on my favorite recent read, as I've just started reading The Silence of Trees by Valya Dudcyz Lupescu, in prep for recording and am already swooning. Oh, and don't even get me started on poetry!
What do you like about genres other than romance & wish the romance genre had more of?
What I really love are stories that are complex and unpredictable, when I can't see where the story will end up (specifically with respect to the romantic relationships), which usually typifies much of what I enjoy about literary fiction, so I suppose I would like to see less of a guaranteed happy ending (I know, let the flogging begin, right?). I confess that I do adore the bad boys, the dangerous heroes (Anne Stuart excels at these) – so no complaints there. But I would love to see more heroines who can hold their own from the beginning, who are more experienced and savvy (not cold-hearted and in need of breaking, mind you), and who don't necessarily give in immediately or believe everything the hero is trying to sell them from the get-go.
Of course, I'm laughing at myself because I'm realizing that perhaps I'm craving more "mature" heroines because I've recently hit my forties!
One last comment I would make is actually something I'd like to see less of: the virgin trope.
As for what I enjoy most about other genres, I think it is the realism and poignancy present – what a friend recently deemed, "messy fiction" that I thrive on. I think that I would love a bit more realism in my romance reads, but I know that I'm likely alone there.
Do you like reading on an e-reader? What do you miss about paper books?
Honestly, no, I don't. I know some love them, but I really love the feel of a book in my hands, the feel of the pages. Bit old-fashioned that way…but I do understand the appeal of e-readers. Being able to carry so many books with you is certainly an enticement, as is being able to easily search for names, phrases, etc.
What are some of your favorite movies?
The Matrix, The Two Towers…and yes, I'll confess it, Dirty Dancing (there may or may not have been some scene reenactment with a high school boyfriend back in the day. Ahem). At their core, all three have a love story that drives their characters. I don't necessarily need a romance to enjoy a flick, but when one is offered and done well, I certainly appreciate it.
To turn the tables a bit, I would love to hear from readers what you would like to see less of in romance – you know, what tropes make you roll your eyes?
For me, what I need/want from a romance has changed over the years – has that been true for you? If so, how have your needs/tastes/desires changed as a reader?
What do you think of the "bad boy" alphas? If you're a fan (I confess I am!), do you have a secret "line they better not cross" in order for them to appeal to you? What is that line?
I often see an age disparity in romance – what do you think of that? Does an age disparity matter in terms of your enjoyment of the relationship?
For the audiobook listeners/readers: how do you prefer your love scenes narrated? This is a tricky area for narrators, and I am always interested in what listeners are looking for.
5 winners are chosen weekly so comment below — winners announce on Sunday! Good Luck!!
Book Review by Anne – SWEET REVENGE & Giveaway!!
SWEET REVENGE by Christy Reece
(Book #8 in the Last Chance Rescue Series)
Reviewer: Anne
Grade: A
"Revenge is sweet and not fattening." Alfred Hitchcock
In a case of mistaken identity, Jamie Kendrick is abducted and abused by a maniac – then sold to another madman for his evil son's entertainment. Dylan Savage, an operative working for Last Chance Rescue serves as her knight-in-shining-armor when he rescues her from Stanford Reddington's grip. With a his-word-against-her-word complaint, no actual physical proof, and the use of his wealth and powerful influence in Spain, Reddington remains free of prosecution. Now Jamie wants revenge for what was done to her, but even more importantly she wants this monster locked away where he can never hurt anyone again. Justice will be the sweetest revenge of all.
Armed with a few secrets of her own, Jamie seeks assistance from Noah McCall, the head of Last Chance Rescue, to prepare her physically for a face off with her abuser. When Noah balks at Jamie's plans for revenge, she issues a "with or without your help" ultimatum. Confronted with his choices, Noah McCall agrees and assigns Dylan the job of training Jamie. What is unknown to Jamie is that neither Noah or Dylan have any intention of letting her play the avenging angel. The training is only a pretext for getting the information she keeps to herself and keeping her safe while LCR takes down Reddington alone.
No plan is ever failsafe and this one blows up in Dylan's face when his trainee proves to be more than she first appeared. He underestimates her strength and willpower as his own falters when he and Jamie become intimate. Their chemistry is sizzling and the author's extremely well written dialogue between the lovers sweetly intensifies each encounter.
From the first page to the last, you are caught up in a story masterfully thredded with danger and desire. Emotionally intense, positively captivating, heart wrenching and drool worthy, the love story between Jamie and Dylan is one that won't disappoint those of us who enjoy a full impact romance. This couple is irresistible, their romance a memorable one, and their HEA just perfect!
SWEET REVENGE is an unforgettable story, with an equally unforgettable cast of characters. You want to savor each and every detail. As with all the other books in this series, reappearances by former characters add an extra dose of sweetness to this one as well. Still going strong and packing a wallop of a punch, the 8th book in the popular Last Chance Rescue series exemplifies all the reasons why I'm a huge fan of both the series and its author, who, in my opinion, writes some of the very best romantic suspense on the market today.
QUESTION: Do you think there is ever an instance when revenge is the only answer? If so, would you be prepared to invoke that revenge?

remember every week 5 commenters will win a free book – winners announced on Sunday's good luck!!

My First Blog Post by Bobbie Baynard + Giveaway!
Hi and welcome everyone to my first blog post. Wow! I can't believe I just typed those words.
First, I would like to thank Sue Grimshaw for offering me this opportunity.
Second, I would like to introduce myself. My name is Bobbie Baynard. I am @mamaboo7907 on Twitter. I am a married mom of two wonderful children. Books are my addiction and romance is my favorite genre. You usually will not find me without a book or my children near. *grin*
When Sue offered me this post, I about fell over in shock. Me, the fan girl who finally worked up the nerve to apply to a review site and who still can't get over the fact I have authors as my friends on Facebook, doing a blog post? One word came to mind first–WOW, followed by YES!! I asked what she would like for me to write about and she said a review would be great. The first book that came to mind was Dark Empress by Anitra Lynn Mcleod.
Dark Empress
The Onic Empire Series
Book 5
By Anitra Lynn Mcleod
Epublished 9-13-2011 by Samhain Publishing
Lorren D'Buren is bored. Business is booming but something is missing. A hole that partner, best friend, and occasional lover, Errion Ald'Areed hasn't been able to fill or repair. Then, at a reception for the ambassador from Diola, Lorren sees her. Farjika.
As the intergalactic ambassador for Diola, Farjika has isolated herself, trying to live down her mother's wicked reputation for taking multiple lovers. One look at Lorren and all of her ideals and morals fly out the window in the wake of a torrid affair.
Errion is at first relieved, then dismayed by the affair, and sets in motion a night of bliss, dragging Farjika's head guard, Gabriyel, along for the ride. Unknown to Errion, the consequences of his jealousy are far reaching and potentially deadly.
Although this is book 5 in the series, you don't need read the other ones as this one can stand alone. Dark Empress has everything I love in a book: great setting, a character I love to hate, and smoking hot sex. My favorite character is Gabriyel. His strength and determination to protect Farjika from herself and himself made me fall in love with him. My only complaint is I would have liked to heard more of the back-story of Avalith, Errion and Lorren's home planet. Otherwise, it is a well written book with humor, political intrigue, and plenty of love in and out of the bed.
I give this 4.5 stars.
GIVEAWAY TIME!!!
Anitra has been kind enough to offer up a copy of any book off of her backlist to one lucky commenter!
***Note: the first three books of the Onic Empire are print only and can only be shipped in the US. The rest of the backlist is eBook and therefore can go internationally.***
At the end of today, October 11, I will pick a winner using Random.org and post the winner in the comments section. Good Luck!!!
Guilty Pleasures Plus Giveaway!!
Guilty Pleasure Reads…Prepare to Defend Yourself… Even If You Don't Have To
In last month's blog I surprised myself by responding to a commenter by saying "I'll admit…" I'll admit? As if I perhaps shouldn't?? Because what? Because of what someone might say or think? I unashamedly read romances, but yet I felt I had to qualify my response in order to make myself feel less guilty…
I'll say it again; I'm a Twilight addict, a Twihard. As in I read and enjoy rereading the Twilight Saga. All of them. Even Breaking Dawn…
Why did I feel this way? I've always been able to freely admit I love to read romances. I used to have discussions with my first book store manager. He would ask me, "You're so smart. Why do you read romances?" Yes, mentally rolling my eyes I'd explain to him so that he could better understand. Never once ashamed of what I read our discussions in later years became, "Okay, tell me again what the appeal of the pregnancy or children storylines are? How can it be romantic?"
But why was it that I felt, amongst romance readers, I had to take a defensive action when
responding? Are there books out there that even ROMANCE READERS are ashamed of reading?


Later I had a discussion about guilty pleasure books with a friend of mine who reluctantly "admitted" that she also continues to read a series even though the last few titles have been a disappointment to her. Yet in the next breath she's saying she can't wait until the next one comes out… Oh yeah, another one bites the dust in honor of the guilty pleasure read! Though, I'm also addicted to that same series and I am, in fact, counting down the days for the next installment! Yet she was reluctant to tell me? What is it about these series that we're willing to look past any disappointment and continue reading? Not just continue reading, but anxiously await the next book in the series?
So, what book or series do you consider your guilty pleasure? What books do you read over and over, yet might not want to completely admit to your obsession? Cough, cough Twilight cough, cough …
Guilty Pleasures Mash-Up Special:
Harry Potter – One part Butter Beer and a BIG (because the books ARE long) helping of Bertie Botts and read Harry Potter and the Sorcerer's Stone, because that's where the obsession started.
The Black Dagger Brotherhood – Get out your leather pants, listen to rap music, while sipping some Goose (Grey Goose that is) and read Lover Awakened by JR Ward.
In Death series – Tofu dog, tube of Pepsi and any JD Robb 'In Death' book, because truly all you need is Rourke…
Bookmatchmaker

What is your guilty pleasure? Comment below – 5 winners will be chosen & announced on Sunday to win a FREE book – Good Luck!!
First Crush by Louisa Edwards + Giveaway!!!
My first crush was the boy who sat next to me in 2nd grade, Shawn. He was a bad boy (of course!) always getting in trouble and mouthing off to the teacher—which was highly exciting to little goody-two-shoes Louisa. He wrote me my very first love letter, then immediately got embarrassed and ripped it out of my hands, wadding it up and cramming it into the depths of his desk. But I retrieved the letter and kept it in my dinosaur pencil case the whole year.
Decades later, I'm happily married and wouldn't change my life for anything—but I still wonder, sometimes, what happened to Shawn Last-Name-Forgotten.
What would you do if you came face to face with your first crush? What would you say? More to the point—what would HE say?
These are the questions my heroine faces in Too Hot to Touch when her longtime, unrequited first love shows up at her workplace. Max Lunden is back from traveling the world and learning exotic cooking techniques, called home to his family's restaurant in Greenwich Village to help them enter the biggest culinary competition in the United States.
But Jules Cavanaugh doesn't want his help. All she wants is to repay the Lunden family for taking her in when she was a runaway teen by winning the Rising Star Chef competition for them. Max Lunden, with his too-sexy smile and his wicked ways, is just a distraction from what really matters…until Max figures out that what he's been searching for was right in his own backyard the whole time, and starts waging a campaign to convince Jules that the sparks between them are more than just a crush.
Tell me about your first crush! Was he the boy next door? The older brother of a friend? Comment to be entered in the drawing for a signed copy of Too Hot to Touch!
***Louisa will choose her winner & announce in the comment section – check back & see if it's you!! GOOD LUCK!
Who Got You Hooked? + Giveaway!!
Who Got You Hooked? by Wendy Crutcher
I flat-out love talking books, but my favorite people in the whole world to chat with are romance readers. To a certain extent I think all avid readers are a passionate lot, with a wide variety of experiences and opinions – but romance readers hold the market share. Those who aren't savvy about the genre like to paint all of us with the same broad brush, but the truth is we're all very different people, with very different tastes. However, there are two things that romance readers share in common, across the board. One, we all love our happy endings and two, we can all pinpoint how we got hooked on the genre.
I was turned on to romance as a high school freshman – so around 13. Because I was in band, I had many friends older (and eventually, younger) than I was. One such older friend gave me a copy of Nevada Nights
by Ruth Ryan Langan to read when I found myself getting shuffled off on a family road trip. This particular historical western romance is full of 1980s goodness (or badness, depending on your point of view) that all long-time romance readers will be able to spot a mile off. Gently raised convent heroine? Check. Mysterious hero posing as a gunslinger? Check. Long-lost family members who aren't all that pleased the heroine has returned? Check. This book also has the distinction of being the first "grown-up" book I read in one sitting. I reread it several years later, only to discover it didn't hold up very well (uh, at all) – but I could easily see why I was so enamored with it as a teenager. It was exciting, there were naughty bits, and it had a soap opera plot that would make telenovela junkies swoon.
After this brief flirtation, which also included A Knight In Shining Armor by Jude Deveraux (I liked the ending), I happily went back to my poison of choice – gothics and mystery/suspense. Then it was off to college where the inevitable happened.
"Romance? Ick! Only frustrated housewives and dippy teenage girls read that trash!"
I know, I know. It's a period in my life I'm not proud of.
Fast forward a few years, I'm out of library school, and have been put in charge of purchasing adult fiction for 7 libraries. The problem being that I was in way over my head. My college years were spent taking classes geared towards academic librarianship, which meant my popular fiction knowledge needed some serious updating. It was through an e-mail loop that I heard about The Romance Reader (http://www.theromancereader.com). I checked out some of their reviews, and was really blown away by how funny and articulate they were. Not to mention that they made some of these romance novels sound really darn good! So I started picking up some of their highly-rated books, and it didn't take long for me to get well and truly addicted. Twelve years later, and I'm still hopelessly hooked.
What about you? Who turned you on to the romance genre? How did you get hooked?Remember, 5 randomly chosen commenters will win a FREE book every week – good luck!
MISTAKES NEW WRITERS MAKE, + Giveaway!
MISTAKES NEW WRITERS MAKE
Jax Cassidy & Kristen Painter
Kristen – Hi, Sue! Thanks for having Jax and I over to guest blog today.
Jax – Thanks for inviting us, Sue! We're excited to be here.
Kristen – I'm going to jump right in and say I believe the number one mistake I see new writers make is moving too fast. They're so eager to submit their work, they end up making numerous errors that could otherwise be easily avoided. Things like sloppy query letters, poorly polished manuscripts and submitting to agents and editors who don't necessarily rep the genre they're submitting.
Jax – To piggyback on that, I've noticed new writers can either over edit or under edit their manuscripts. They tend to polish the heck out of the first three chapters and the rest of the pages don't get the full polish treatment, which leads to an inconsistent manuscript. Another thing I've noticed is that some new writers don't value the advice of seasoned authors. They ask for help but will ignore the critiques outright. They're wasting the published author's valuable time when they could be helping others who really want to learn. The end result is that the newbies will do minimal polish because they feel every word they've written is gold. In this industry, a willingness to learn and accept constructive criticism can only help the writer grow faster if they open their mind to it.
Kristen – Another area new writers struggle with is being too concerned with is the market. They focus so much on what's selling that they start to lose the joy of writing. Yes, you should keep an eye on what's hot and what's not when you're first starting out, but not to the point that you're writing something strictly because you think it will sell. If you don't enjoy what you're writing, what makes you think anyone else will? And do you really want a three book contract in a genre you don't love writing? It only takes one great book in a not-so-hot genre to make that genre popular again. That firestarter book could be yours!
Jax – I've seen writers become overly obsessed with getting published or obtaining an agent. Sure it's wonderful to have one or both, but writers can lose sight of what's important and often they'll quit even before things really get started. The demands of the publishing industry are so much more than a writer can imagine. Most new writers come into this with preconceived notions that it's going to be a cake walk once they get published. Ask any pubbed author you know and they'll be happy to provide you will some hard realities about their publishing journey. Do you still want to be a writer? Ask yourself if you're writing because you really want to write or whether you're in it for the fame and fortune. Sadly, no matter how many books you put out, it doesn't guarantee financial success for every author…but it does guarantee that if you stay in this business long enough, you will forge strong friendships and find personal success which can be even more invaluable.
Kristen – I want to second the strong friendships part. As you grow as a writer, those friends will grow with you. Sometimes those friends are the best support you'll have in this business. Many of the people that took me under their wing in the early days have stayed with me and I'm grateful for their guidance. Besides building a support network for yourself, I'd add some other advice to newbies: have patience, don't take rejection personally and write to entertain yourself.
Jax – My best advice to newbies is to believe in yourself and your writing abilities. It's great to learn craft and find your voice but the journey is most difficult when you lose your self-confidence along the way. Stay strong and keep writing for the pure love of it. The only one stopping you from success if YOU.

If you're a published author, what advice would you offer to those just starting out?
What are some first time newbie mistakes you've made?
Reminder – 5 randomly chosen commenters will win a free book – winners announced on Sunday — good luck!
 
ABOUT THE AUTHORS:
Jax Cassidy followed her dreams to Paris, then Hollywood to pursue a film career but managed to fall in love with penning sexy romances and happy endings—finding Mr. Right was just an added bonus. She writes contemporary, paranormal, and multi-ethnic romances and is Co-Founder of Romance Divas, and award winning writer's website and discussion forum. Jax is also known as one-half of the retired writing team of Cassidy Kent.
www.jaxcassidy.com
When the characters in Kristen Painter's head started to take over, she decided to exorcise them onto paper and share them with the world. Blood Rights, the first book in her gothic fantasy vampire series, House of Comarré, comes out this October from Orbit Books. She has also been published in non-fiction, poetry and short stories. The former college English teacher can often be found online at Romance Divas, the award-winning writers' forum she co-founded with Jax Cassidy. A two-time Golden Heart finalist, she's represented by The Knight Agency.
www.kristenpainter.com
Karen Leabo & Loveswepts – Giveaway TOO!
Writing for Loveswept
I started submitting manuscripts to the Loveswept line when it debuted in the 1980s. I was a fan from the beginning (I still love the Delaneys!) , and I was thrilled when I finally sold to them. Alas, I only wrote seven books for the line before it closed, but those are some of my happiest publishing memories. My Loveswept editors encouraged me to write books that reflected what was important to me, books that I really, really wanted to write. Finding a welcoming home for my quirky, out-of-the-box stories meant so much to me. I wrote action/adventure, paranormal and romantic suspense as well as the ever-popular cowboys, brides and babies. The freedom to write anything I wanted was exciting, and I still cherish those books as some of my best.
My first Loveswept was called "Hell on Wheels," and it was about storm chasers—you know, those crazy people who run around the countryside trying to find tornadoes? To research this story, I actually tagged along with a group of "professional" storm chasers, possibly the closest I've come to dying for my art. The book was published in March of 1996, exactly two months before the hit movie Twister. (Ah, timing is everything.)
I had to fan myself when I first saw the cover of that book. This was in the heyday of those covers with hot guys surrounded by a flower border, and my guy was really, really hot. But having a studly cover model has its downside—namely, people get so riveted by the guy on the cover, they don't care anything about what's between the covers. I did a number of book signings to celebrate my Loveswept debut. Authors sitting at a table in the front of a bookstore get asked a lot of funny questions, but the question I got most with this book was, "Do you know this guy?" and once, "Can you help me meet this guy?" I used to answer with a straight face that he was my boyfriend, and a lot of people believed me.
I am thrilled that my Loveswepts are being re-issued as e-books. Electronic reading has changed my life—I have three e-book readers. I love finding backlist books from newly discovered authors as well as old favorites (I've already pre-ordered Lightning that Lingers by Sharon and Tom Curtis). I'm looking forward to finding a whole new crop of readers as well as re-connecting with those who might remember me from way back when.
Remember – 5 randomly chosen commenters will win a FREE book – winners announced on Sunday – good luck!
***R@R is happy to announced we are reissuing Karen's book in 2012 – with new covers! Congrats Karen!
The Appeal of the Small Town Romance by MJ Fredrick + GIVEAWAY
I'm a city girl—born and raised in San Antonio—but lately I've been on a small-town contemporary reading kick. I've read Barbara Freethy's first Angels Bay book, Suddenly One Summer, and Susan Wiggs's Summer at Willow Lake, Toni Blake's One Reckless Summer and now Blackberry Summer by RaeAnne Thayne. (Notice something else similar about all those books? Hey, I'm a teacher, summer is my favorite time of year!) I'm a bit behind on Robyn Carr's Virgin River books and Meg Benjamin's Konigsburg series, but I love those books, too.


So what is the appeal of the small-town romance? Here's what I think. Feel free to add your own.
1) A slower pace. I know I'm not alone in running dawn-to-dusk during the school year. I've been known to hit the grocery store at 6 AM before heading to school, squeezing in as many errands as I can after, then coming home, cooking a healthy dinner, keeping house and finding time to write! But in small-town stories, there doesn't seem to be this urgency. Yes, the characters keep busy and have responsibilities, but everything is calmer. No rush-hour traffic. No business meetings that run late. No crowds at the grocery store (unless they're there to gossip!)
2) Traditions. My city has traditions, too. We have Fiesta and parades and fireworks on the Fourth (except this year—danged drought!) But people don't feel as compelled to be a part of them as characters in small-town romances do. For instance, in the book I'm reading now, Blackberry Summer, the elementary school puts on a Spring Fling production, and most of the town goes. Doesn't that sound cool? It reminds me of the Little House on the Prairie books, where they'd have the spelling bees and the singing school and other things that everyone in the town was a part of.
3) Everybody knows your name. This can cause lots of delicious tension in a small-town romance, especially when the hero and heroine are just getting started. Do they approve? Disapprove? Other people are invested in the relationship. It's not a book, but I love the show Gilmore Girls. When Lorelei finally slept with Luke, and came downstairs to the diner wearing his shirt, then wondered why no one in town was talking about it…what a neat twist to the nosy neighbor trope!
4) Family. I come from a close-knit family, but it's small. I love to read about family dynamics in small-town romances, because they seem to play a large part. Even if the characters don't have a large family by relation, they have close neighbors or other people who love them and want their happiness.
5) Idyllic settings. Small towns are generally born out of an author's imagination, so they can be set on the California coast or in a small town in the Rockies or on a lake in Ohio. The characters can make a sustainable living running a bead store or an art gallery or a sporting goods store while living in this beautiful place.
So what do you think the appeal of the small town romance is? What are some of your favorites, and why?
Remember, 5 commenter's are chosen every week to win a free book – winners announced on Sundays.
HOT OFF THE PRESS:
It's CONTESTPALOOZA time! Today's prize is the complete set of my Regency Rogues trilogy–including The Sinner Who Seduced Me! Click here for details: http://on.fb.me/pn60w7
Cover Contest, The Tally is in!
7/12/2011 UPDATE – Winner's list — so this is how it shakes out:
The final tally :
104 Adore
130 Bonny
116 Cool
71 dull
19 Equals less than great
Overall, looks like the publishers have done a great job with the covers!
Now, by title:
Title
Adore
Bonny
Cool
Dull
Equals less than great
acheron
3
7%
5
11%
26
59%
8
18%
2
5%
storm heart
10
23%
17
39%
7
16%
8
18%
2
5%
just like heaven
11
25%
19
43%
7
16%
7
16%
0
0%
call me irresistible
14
32%
7
16%
8
18%
10
23%
5
11%
against the fire
10
23%
12
27%
15
34%
6
14%
1
2%
almost heaven
6
14%
6
14%
9
20%
17
39%
6
14%
any man of mine
8
18%
22
50%
10
23%
4
9%
0
0%
seduce me in flames
18
41%
12
27%
9
20%
4
9%
1
2%
a secret affair
16
36%
19
43%
9
20%
0
0%
0
0%
in the air tonight
8
18%
11
25%
16
36%
7
16%
2
5%
To further decipher this –
Acheron overall was cool with 59% of the vote
Storm Heart was bonny with 39% of the vote
as was Just Like Heaven & 43% of the vote
Call Me Irresistible was Adored with 32% of the vote
while Against the Fire was just cool with 34% of the vote
In The Air Tonight too was cool at 36% of the vote
Almost Heaven was dull with 39% of the vote & according to our poll the worst cover
Any Man Of Mine & A Secret Affair were both Bonny (50%; 43%)
Lastly, Seduce Me In Flames was adored at 41% & the overall favorite
(wonder why??? Oh yeah, the 6 pack — & people say we don't like sexy covers . . please
)
Thanks for playing Cover Contest — sounds like most of you enjoyed it so we may have to do this again sometime
SueG
***Results were tallied by the webmistress so if there are any errors they are completely & understandably her's, or mine, I'm the webmistress
Covers, covers everywhere! Gorgeous ones & some not so special ones
What do you think? How do you rate the covers below — let's duke this one out as these are all fav covers of mine so love to hear what you think!
I know we all like something different & that's why I'm dying to hear from you! – remember, 5 randomly chosen commenter's will be chosen every week to win a FREE book! Winners are announced each Sunday so GOOD LUCK!!
Covers are shown below in no sequence what-so-ever, just that they are there
The rating system is as follows:
A – Adore
B – Bonny
C – Cool
D – Dull
E – Equals less than great
Here we go — have fun!!
Why I Like Paranormal Romance Most Of All
Why Ellen Likes Paranormal Romance Most Of All:
The first single-title romance novel I ever read was The Wolf and the Dove by Kathleen E. Woodiwiss. I continued with books by Laurie McBain and Rosemary Rogers (am I dating myself?!). So my first love was the historical genre. But now I read mostly paranormals, including sci-fi/fantasy and urban fantasy.
Why? What's the appeal?
When I read paranormal romance, I can get lost in another world. Intricate, well-thought-out world-building and interesting new characters always draw me in. Some favorite authors who excel at this are probably on some of your shelves or e-readers, too: Nalini Singh (Psy-Changeling and Guild Hunter series), J.D. Robb (In Death series), and C.L. Wilson (Tairen Soul series).
I also got sucked right into The Iron Duke by Meljean Brook, Driven and Hidden by Eve Kenin, and recent debuts by Virna DePaul (Chosen by Blood) and Thea Harrison (Dragon Bound) were also fabulous.
When an author can paint a picture of an unfamiliar world with unfamiliar rules and I can see that world as if I were there? Amazing! And I love reading books in which authors introduce new "species" (Lora Leigh's Breeds) or enhanced humans (Sarah McCarty's Reapers Justice).
Whether they are based on legend, magic or science, these characters have a different set of rules to follow, either in addition to or in lieu of our accepted human rules. Those new rules certainly make life interesting for any non-humans in the vicinity. The creativity of authors who can think up such novel ideas and share them with their readers never ceases to impress me. It's hard enough for me to write a simple blog post like this one.


In paranormal romances, characters are allowed more leeway in their actions. Heroes can be over-the-top strong and even overbearing—behavior that just wouldn't fly in a contemporary romance. We would call the police on any man who tried to grab us off the street and confine us "for our protection." But demons, shifters and vampires don't have to follow human rules. So they're hot alpha males instead of psychotic stalkers. Heroines can be super strong, dangerous and deadly. Heroine Annwyl from G.A. Aiken's Dragon Actually is a warrior who likes chopping body parts off of her enemies. The dragon shifter heroes in the series eat large animals and people. Horrifying in real life, funny in the Dragon Kin series. And an upside of paranormals with immortals and destined mates? Since many heroes and heroines are immortal, they will be together forever or at least a really long, long time. Mmm, love everlasting…
Some elements transcend genre and are a part of all great romances. Story-lines that draw you in, great character development that makes you care what happens to the characters, descriptions that put you in the scene, the drawing out of your emotions that can make you laugh or cry—when a (paranormal) romance has all these and more, I am one happy reader! EllenH

So why do you love the sub-genre you read, any similarities to mine?
Remember, 5 randomly chosen commenter's, through-out this weeks posts, will be eligible to win a FREE book – so, comment away!!! (Winners will be chosen on Sundays & will be posted separately for all to view so make sure you stop by weekly to see if you're a winner!)